The American Muslim Civic Leadership Institute is now accepting applications for its 2023 Leadership Program! The 2023 program will be hosted twice: a virtual retreat in May and an in-person retreat in September. It will include sessions on effective leadership, community organizing, conflict resolution, storytelling, and organizational and cultural change. The dates are:
Virtual Retreat: Wednesdays-Thursdays: May 17-18, and May 24-25, 2023
In-person Retreat: Wednesday-Saturday: September 20-23, 2023
Click here to receive an application for the 2023 AMCLI Leadership Program
Below, you will find details about: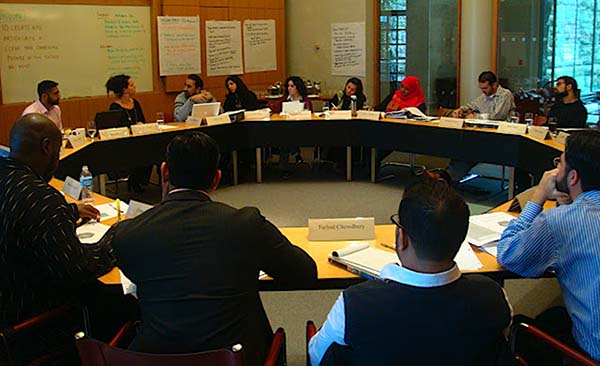 Section 1: Application Information
Please carefully review the information on this page before starting your application. Make sure to allocate sufficient time to complete the application. Successful applications cannot be completed in one night. Therefore, we recommend that you start the application early. Applications will be reviewed on a rolling basis. The second section of this page contains instructions for requesting an application.
Important Dates
AMCLI 19 Leadership Program

 
Deadline to submit application: Monday, March 20, 2023
Application notification: Tuesday, March 28, 2023
Confirmation of participation and submit program fee: Tuesday, April 11, 2023
Mail out materials: Monday, May 1, 2023
Program dates: Wed-Thurs: May 17-18, May 24-25, 2023
AMCLI 20 Leadership Program

 
Deadline to submit application: Monday, July 24, 2023
Application notification: Tuesday, August 1, 2023
Confirmation of participation and submit program fee: Tuesday, August 15, 2023
Printout and materials ready: Tuesday, August 29, 2023
Program dates: Wed-Sat: Sept 20-23, 2023
Program Requirements
Applicants must meet the following criteria:
Are committed to civic engagement in the American Muslim community
Hold a position within a nonprofit organization, government, network, media, or faith institution (paid/unpaid)
Are committed to advancing their community rather than simply advancing their personal platform
Are proficient in written and spoken English
Are at least 25 years of age
Pay a non-refundable virtual program fee of $250* (credit card ONLY).
*Accepted applicants are required to pay a non-refundable $250 virtual program fee to secure their place in the program. Credit card only. Please note that the program fee is NOT considered a tuition payment to the University of Southern California for tax purposes.
---
Section 2: Application Process
Step A: Prepare your application:
Prepare your resume and upload it into the application form.
Complete the following short essay questions in a word processing program, then cut and paste each answer into the online application form (500-word max per question):
Please describe your civic engagement work, particularly noting your work with the Muslim community. Please describe the primary organization through which you conduct your civic engagement work. This should include a brief description of its mission and activities, your role and responsibilities, and accomplishments in the organization.

What problem that is impacting your Muslim community do you want to contribute to solving or improving? Give details about how you might do so.

Describe a challenge that you have faced and how you dealt with it. What did you learn?

Why are you interested in participating in the AMCLI regional program? What do you hope to learn? What personal leadership challenges do you want to address?
Step B: Submit your application.
Click here to submit your application.
See the deadlines listed above for your specific leadership program.
Please ensure that ALL sections are fully completed along with your essay questions, and resume/CV has been uploaded.
---
Section 3: Accepted Applicants
All applicants will be notified of their acceptance status via email (see notification dates listed above).
Once accepted, forms and the program fee must be RECEIVED by the deadlines listed above.
Online forms: (Links to each form will be provided in the acceptance documents)
Acceptance Form

Program Fee Payment Link

Bio (250-word maximum written in third person) and Photograph (at least 300 DPI jpeg or tiff file)

Photo Release Form
---
Questions
Please review this page and the FAQs page for information about the AMCLI application process and program.
If you have any questions, please email us at amcli@usc.edu and include your full name and phone number.