A nation of nations, our actions in these troubled times must be guided by a notion of notions—let us call it "A Declaration of Interdependence."
We were founded to be a beacon of light to all nations. This flame of hope and faith has flickered but never faded over four centuries as we have wrestled with the spiritual darkness of Native American genocide, slavery, Jim Crow and lynch mobs. On the occasion of the 25th anniversary of Los Angeles' civil unrest, we acknowledge that race relations and police violence continue to cloud this light. We need one another not merely to survive but also to achieve transcendence.
Standing as the most powerful nation on the planet, we are challenged to use our power wisely and justly. God gives us this power so that we might tear down the barriers that divide us, excavate tunnels through the mountains of our historical differences, remove the clutter of prejudice that impedes our efforts to connect with one another and chart the pathways that lead to our mutual flourishing.
We are morally enjoined to share this power with the least powerful. If we do not—if we simply manipulate the levers of power to get more of what we already have in superabundance—we are indicted by the dictum of Lord Acton: Power corrupts, and absolute power corrupts absolutely.
Sharing power in our community today means acknowledging our interdependence. Praise from the least powerful citizens whom police are charged to "protect and serve" is the most important measure of their success. Members of these communities, likewise, cannot paint with a broad brush all those in blue who risk their lives daily for our protection. We pray that the most vulnerable among us will no longer ask, "Who will protect us from our protectors? Who will defend us from our defenders?"
Empowering the community and wisely guiding police power are both our mandate and our inheritance as citizens of a country that cherishes life, liberty and the pursuit of happiness. We ask everyone to endorse and broadcast this "Declaration of Interdependence." Let our interdependence spread far and wide through our personal commitment to liberty and justice for all.
Initial Signatories
Rev. Cecil L. Murray
Mayor Eric Garcetti
Chief Charlie Beck
Councilman Marquis Harris Dawson
Councilmember David Ryu
Bishop Clement Fugh
Rev. Mark Whitlock
Rev. Murray's Declaration of Interdependence was released on April 25, 2017, at an event commemorating the 25th anniversary of Los Angeles' civil unrest in 1992. Other signatories will be added on this page (see below). To add your name, please contact us. 
[RoyalSlider Error] Incorrect RoyalSlider ID or problem with query.
Click here to download a printable version of the Declaration: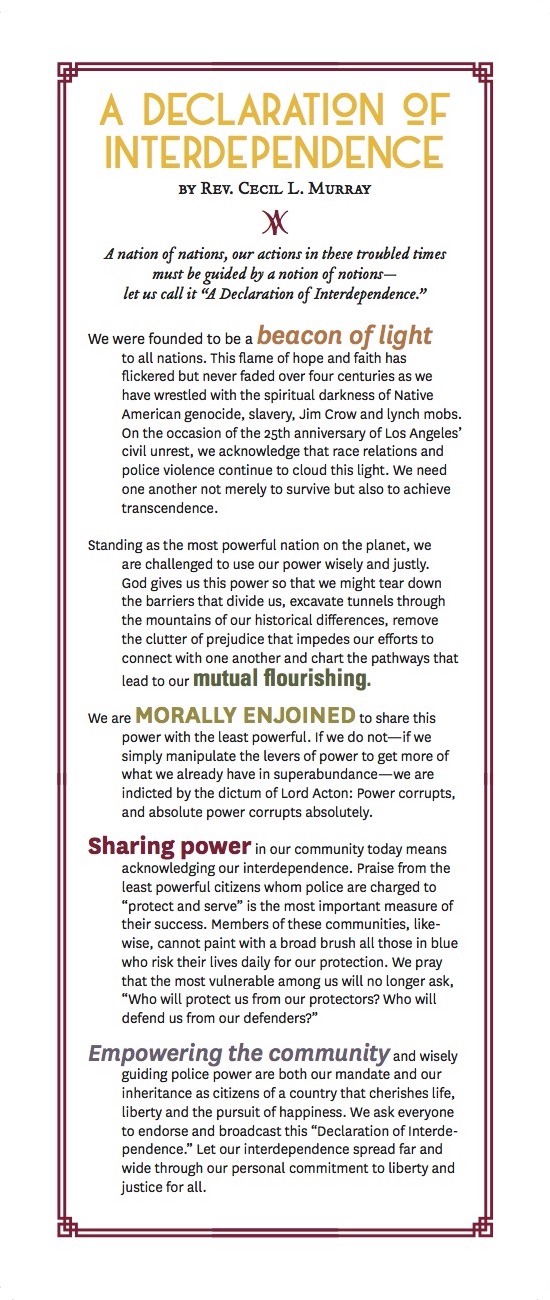 Additional Signatories:
Jorge Adame
Dawn Alexander
Ange Marie Hancock Alfaro
Mery Alverez, Watts Leaders
Bobby Arios
Sharon Blount
Rabbi Mark Borovitz
Sylvia Boch
Eric Burroughs
Katheryn Camer
Evert C.
Marcia Choo
Laura Conolan
Dr. Rhonda T. Crawford
Bill Deverell
Jill Dominguez
Charles Dorsey
Jackie Dupont Walker
Phil Ethington
Rev. Mary Fank-Pihl
General Jeff
Delonte Gholston
Umar Hakim, ILM Foundation
Anne Haley
Tom Hawkins
Pasha Hawthorne
ISLAHLA
Damona Johnson, Homeboy Industries
BJ King
Dexter Lery
Phillip A. Lewis
Lety Martinez
Michael Mata
Julieta Mejia Pedroza, Compton Family Preservation Network
R. Modesto
Cat Moore
Mai Mizuno
Alex Ramirez, Shields for Families, Inc.
Rashad Sharif, LAPD
Najuma Smith-Pollard
Javier Stauring, Healing Dialogue and Action
Megan Sweas
Yolanda Velasco
Cornell "Coach" Ward
Pam Washington
Marsha Young
Please note, we have made our best effort to decipher signatures on the board. Please contact us to make a correction or add your name, and thank you for your patience.

Cecil Murray is retired from the USC Center for Religion and Civic Culture.