Below are the remarks CRCC Executive Director Brie Loskota gave at Rev. Cecil L. Murray's 90th birthday celebration.
The first time I met Rev. Murray was just after it was announced that he would retire from First AME Church. He was already a legend in Los Angeles, and in my little corner of the Center for Religion and Civic Culture, he was a superstar.
They come to Rev. Murray because they seek to see themselves the way that he sees them, the way that he sees all of us, as fearfully and wonderfully made.
The Center was founded because Don Miller, a professor of religion, drove home the night the rioting and protests started after the Rodney King verdict in 1992 and he saw the spiritual witness of Rev. Murray on the news. The city seemed to be held together only by the power of his words of anger, admonishment, and calls for justice and peace. It was watching Rev. Murray be the united voice of truth and power in those moments that Don was struck by the tremendously important social force religion was playing at a time when most expected religion's ultimate demise.
CRCC began to study the work that Rev. Murray and many others across LA undertook to reweave the social fabric tattered by centuries of injustice. We had pictures of him, heard stories about his congregation and the FAME Renaissance Center. He, in my mind, had become this larger than life figure.
So when it became clear that he was going to leave First AME, USC made one of the better decisions it has ever made, and asked him to continue his work by moving from AME to USC. I was asked to call his office.
Dutifully, though nervously, with the number on a post-it, I dial. I ask for Rev. Murray. I'm transferred to him and he answers, "Yo Murray." I tell him why I'm calling and he says, "Yo Brenda" and the line goes silent. Assuming I'm on hold, I yell to my office mate, "I JUST TALKED TO REV. MURRAY." And then I hear the low chuckle of laughter slowly roll from a faint noise to a loud roar on the other end.
I wasn't on hold.
I recovered and got to be a part of helping make a home for Rev. Murray at USC over the last 15 years.
While he left his pulpit, he has never left his calling.
The first thing he did at USC was what he always did–he decided to build the next generation. He poured his wisdom into them. He created the Passing the Mantle program, I think because he realized that like Elijah and Elisha, there was a generation who wanted a double portion of his spirit and that he would not be around forever to guide us. He invited this generation into a relationship with him to train them to take up the mantle of his unique type of leadership in the public square.
And training he did. For many years hundreds of congregational leaders have come through our doors to be awakened to a call that rejected the false gospel of personal wealth for a deeper gospel of community abundance.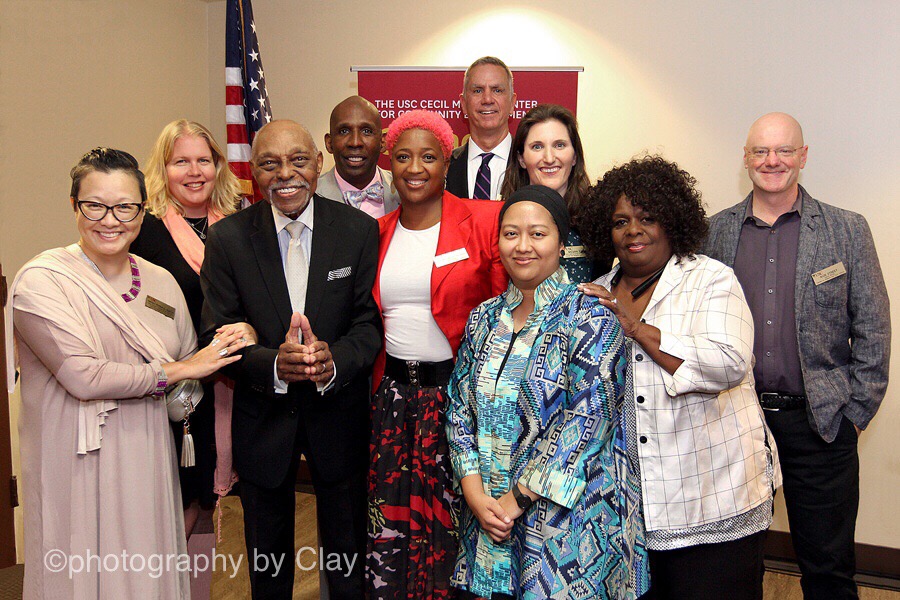 We realized that his coming to USC was not a retirement but a renaissance for him.  And really for us as well.
And yet he has never stopped being the pastor in chief for all of LA.
For more than 15 years, I've watched as people from all religions and walks of life come to our offices to get a few moments of his time. I've seen mothers drag sons by the ear to sit them down for a talking-to at the table of the one who many call Papa.  I've seen fellow pastors seek his guidance, political leaders seek his approval, community leaders seek his backing, couples seek his blessing.
They all come for different reasons or with different projects. But they are all actually motivated by the same thing.
People may say it's his wisdom, or his preaching, or his experience or simply his presence. But I think they come to Rev. Murray because they seek to see themselves the way that he sees them, the way that he sees all of us, as fearfully and wonderfully made.
Rev. Murray's power is that he invites you, me, each of us, to become what he believes we can be, what he knows we really are, which is better than we truly are, more selfless than we actually are, more generous than we may even want to be. Rev. Murray loves us because he channels divine love. And when we pour out the cold failings of our doubts and trials onto his conference table, he warms us with his smile and his slow bubbling chuckle. And we realize that maybe we can be who he believes we are.
He will laugh off this praise and say, "Oh child, preachers are a dime a dozen," but we all know that if we had more preachers like Rev. Murray, we'd be very rich in deed.
Thank you all for joining us here to celebrate this remarkable man, his 90 years of life, and the love that he has shown us all.
Gen. MacArthur said that aging wrinkles the body but quitting wrinkles the soul. Rev. Murray has never quit, has never wrinkled, and is as smooth as ever.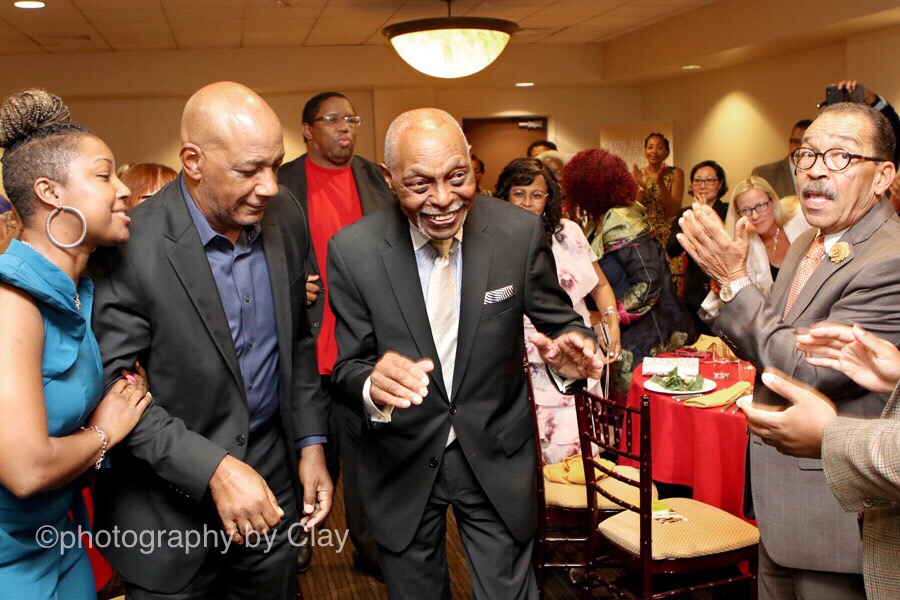 Photos Courtesy of Photography by Clay
Brie Loskota is the former executive director (2016-2021) of the USC Center for Religion and Civil Culture.