This article was originally published by Indian Country Today, with the support of CRCC's global project on engaged spirituality.
BEMIDJI, Minnesota — The offices of the Indigenous Environmental Network are located in the corner of a huge, old railroad building tucked away in an industrial corridor. A small sign with the letters, "IEN," discreetly marks the red door to the office.
Tom Goldtooth, Dine and Dakota, chief operating officer and one of the founders of the Indigenous Environmental Network, is running late.
He pulls up in his truck with the near-constant dings of incoming alert messages on his mobile phone. Several people are waiting for him in the gravel parking lot as he unfolds his tall, lanky frame to a standing position. He and the network are managing several projects that demand his attention.
Unfazed, he attends to a few minor crises before sitting down for an interview in his crowded office. A steady stream of co-workers pass through the office, picking up supplies and asking questions, as his phone continues to emit a constant stream of alerts.
Nonplussed, he begins to tell the story of his organization, how the work he's doing now got its start at an Indian bar in Phoenix, Arizona, and how he came to believe that people have lost their understanding of humanity's duties and responsibilities to each other and the Earth.
"In sharing our wealth, we keep in balance," he told Indian Country Today. "But if we forget these responsibilities and assimilate and acculturate to a society that doesn't understand these concepts, we lose something."
It's a mission that drives him forward every day as a leader of one of the top Indigenous environmental organizations in the US.
IEN has been there for water protectors opposing the Dakota Access pipeline at Standing Rock and Enbridge Line 3. The organization has helped take Indigenous peoples concerns to the annual United Nations Climate Change conferences for years including COP26 in Scotland, it offers grants to Indigenous communities threatened by mining and it regularly convenes gatherings to help educate, train and develop dialogue and development around environmental justice issues affecting Indigenous peoples and their lands.
An unexpected education
Although Goldtooth is the CEO, the network is made up of grassroots Indigenous leaders and community members focusing on various areas related to environmental and economic justice.
The organization's work includes Just Transition, a framework for shifting economic development to efforts that are ecologically sustainable; campaigns aimed at keeping fossil fuels in the ground; Indigenous Rising Media, a collective producing news by and for Indigenous peoples; and bringing attention to the impacts of climate change.
When the network was founded in 1990, the focus was primarily on the inequitable placement of toxic waste dumps and incinerators on or near Indigenous lands and the threats to the health and spirit of the land and people.
Goldtooth, 67, is a big-picture thinker who makes connections between the negative fallout of capitalist-driven resource development and the ways that communities of color are frequently forced to pay for profits from these projects with their health, land and cultures.
His interest in environmental, social and cultural justice, however, began in the unlikeliest of places, the Can Can cocktail lounge in Phoenix.
Born and raised on the Navajo Nation, Goldtooth moved to Phoenix when his mother's job as a microbiologist took her there in the late 1960s.
When the network was founded in 1990, the focus was primarily on the inequitable placement of toxic waste dumps and incinerators on or near Indigenous lands and the threats to the health and spirit of the land and people.
In those days, his main interest was car design; he built a dune buggy from parts he scavenged from a Volkswagen. Still a senior in high school, he would drive his dune buggy up and down Central Avenue, one of Phoenix's main streets.
With its big wheels and custom body, the car was an attention-grabber.
"Indian people were hitchhiking so I picked them up; some of them were going to the Can Can," he said.
Since he wasn't old enough to enter the bar, he and a buddy, a young Osage man from Oklahoma, sat in the parking lot, trying to figure out how to get inside. After securing fake IDs, they both finally gained entrance.
"I'm a big guy," he said, "and to make a long story short, I got hired on as a bouncer at the Can Can cocktail lounge."
Goldtooth received an unexpected education at the Can Can.
"I saw a lot of things there and in Phoenix that I never saw back in Navajo," he said. "I saw a lot of abuse, especially of women and that really bothered me. I thought that could have been my mom or my cousin getting beat up."
He enrolled at Arizona State University to study industrial design, but soon began to miss classes. He left school and since he was eligible for the draft, he decided to enlist in the Army. A sergeant from the Ho-Chunk Nation took him underwing, bringing him along in his work as an alcohol and drug counselor.
"I've always had older Native men take me underwing; they have helped me understand my responsibilities to Unci Maka (Grandmother Earth) and the community, myself and how to pass along leadership to the younger generation," Goldtooth said.
Soon he was drawn to pursue training in social work and counseling. After his honorable discharge from the Army, he enrolled in social work classes at Pacific Lutheran University in Washington state.
"I wanted to work with our Native families," he said. "I went back to Navajo where I became regional director of the state's social services. We did a lot of work around domestic and sexual abuse. I had to learn how to deal with all that."
Looking back, he realizes he wanted to be a savior for Native families. "It's not healthy to think you're a savior," Goldtooth said.
He began meeting with Indigenous people who were involved with NIMBY, the not-in-my-backyard movement that emerged in the 1980s in which poor and working-class people began actively opposing placement of oil wells, toxic landfills and developments that displaced low-income housing in their neighborhoods.
Connecting the dots, he soon realized that there was a correlation between a worldview that excuses capitalistic, profit-driven industries and overlooks violence against women, such as sex trafficking driven by man camps, as simply the cost of doing business.
"There is no way we can consider environmental issues without involving the sacred nature of water, air, land and fire," he said. "Our Indigenous teachings tell us that this is sacred work in which we and the Earth are related. Poisons from toxic landfills eventually settle in our bodies and the breast milk of women."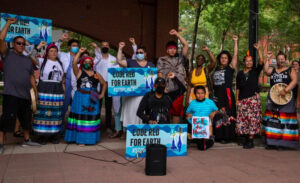 Indigenous water protectors and health professionals gather at Mears Park in St. Paul, Minnesota, on Aug. 17, 2021, calling for end to Enbridge Line 3 construction. The Indigenous Environmental Network has been active in drawing attention to pipeline projects. (Photo courtesy Chris Trinh / Indigenous Environmental Network)
Drawing from his childhood on the Navajo reservation, where his grandfather was a medicine man who included him in preparation for ceremony, he connected with traditional teachings of other Indigenous peoples that share concepts of responsibility to family, community and earth as well as generosity and humility.
Traveling north to South Dakota, he was introduced to his Dakota roots as well.
"Pete Catches Sr., an Oglala Lakota man, took me under his wings; he gave me teachings about responsibility," Goldtooth said. "That responsibility of generosity is woven into Indigenous concepts of how we relate to each other and Mother Earth. It's not about charity, which is a foreign concept."
'Final frontier of colonization'
Goldtooth began to understand the concepts of assimilation, acculturation, colonization and internalized oppression and the role that global economics plays in driving climate change.
Members of the network integrate this understanding into how industrial-driven capitalism commodifies nature through green-washing activities such as carbon trading, manipulating life into a market system.
"This is the final frontier of colonization; Indigenous people are tempted to participate," he said. "There is a need for Indigenous peoples to organize around these issues of how governments don't protect the health of our people."
In the network's work with the United Nations climate change conferences, Goldtooth learned more about the role of global economics in climate change.
Meeting with residents of slums in Mumbai, for instance, he was surprised by their sophisticated understanding of the roles that global economics and climate change play in creating their situation.
"Unfortunately, a lot of Americans, of all ethnicities, don't know much about economics because our education system doesn't lift up this subject," he said. "Why is it that we support an economic system that treats Unci Maka as if she's in liquidation?"
To this end, the network crafted a statement delivered at the 2015 COP meeting in Paris.
"In reading the Paris Agreement, our attorney Alberto Salimando, concluded that the agreement regarding reducing the impacts of climate change was actually nothing more than a trade agreement," Goldtooth said. "So we made a statement that the Paris Agreement with its emphasis on the marketplace would be one of the leading instruments for the violation of human rights and result in the final destruction of Mother Earth."
Recently, however, Goldtooth and his colleagues at the network realized a new phenomenon called earth jurisprudence, proving that Earth and its elements have legal rights that offer hope in fighting climate change. The network has partnered with the Global Alliance for the Rights of Nature, a global network of organizations and individuals committed to the recognition of the rights of nature.
"This is part of many of Indigenous prophecies in which we were told that White people would begin to understand what we've been saying for years about humanity's relationship with the Earth," he said. "It's been told that White people would come full circle and begin to understand their responsibilities."
Goldtooth noted, for instance, that Maori tribes and New Zealand established a paradigm giving the Whanganua River legal personhood aligning with Maori worldviews. New Zealand is working with the Maori to create similar frameworks for other locations.
"Just like having guardian ad litems for our children, we are creating legal structures to speak for nature," he said. "This gives me hope."
Mary Annette Pember is a journalist fellow with the Spiritual Exemplars Project.