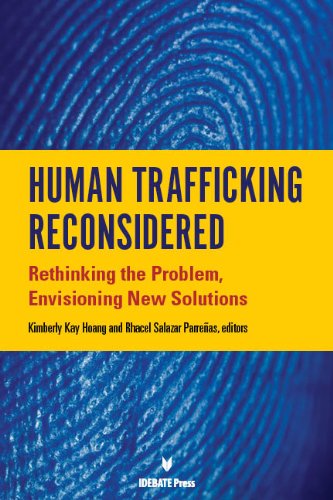 Human Trafficking Reconsidered: Rethinking the Problem, Envisoning New Solutions
Kimberly Kay Hoang and Rhacel Salazar Parreñas, editors
(Abe Books: 2014)
This unique collection of original essays investigates the issue of sex and labor trafficking. The book has three main objectives: (1) to examine the definition of trafficking; (2) to analyze the effectiveness of current anti-trafficking regimes; and (3) to discuss the challenges faced by anti-trafficking advocates on the ground. The volume reconsiders the problem of human trafficking by rethinking the zealous focus on sex work and by drawing on the current structural regimes that render people legally vulnerable to abuse. This analysis offers readers the critical tools necessary to begin envisioning new solutions to the problem of human trafficking. Three thematic sections address: (1) The definitional confusion of human trafficking with respect to sex and labor and (2) The ways legal and social institutions leave people vulnerable to trafficking (3) Life stories from advocates working on the ground.
CRCC's Hebah Farrag, Richard Flory and Brie Loskota co-authored a chapter in the book titled, "Evangelicals and Human Trafficking: Rescuing, Rehabilitating, and Releasing One Individual at a Time."