I grew up in suburban Philadelphia where Catholic sisters were a visible and integral part of our churches, schools and hospitals. Sister Immaculata, Sister Dolores, Sister Marcille and countless others educated, nurtured and cared for generations of Catholics and non-Catholics.
This picture has dramatically changed over the past few decades as the number of Catholic sisters in the United States has declined and people's awareness of them and their work have diminished. And if people do not see sisters, they are less likely to become or support a sister.
This is the challenge that National Catholic Sisters Week, March 8-14, attempts to crack. Building awareness of Catholic sisters is a priority for the Conrad N. Hilton Foundation, which funds NCSW through St. Catherine's University in St. Paul, Minnesota.
In learning about the Hilton Foundation's strategy for helping sisters this past year, I've met with many women who are considering religious life. Awareness of this potential path comes from more than an order having large numbers of sisters or displaying outward signs of religious life, such as a full habit. Rather, the visibility of sisters is intimately tied to their vitality, their connectedness in their communities and their ability to tell the stories of their vocation and the impact of their apostolic work.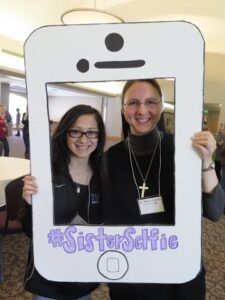 Last year, St. Catherine's "Discern Conference" was an essential part of NCSW. More than 25 sisters each invited a young woman to the conference who was in the process of discerning—figuring out—the next major steps in her life: career, marriage, family, religious life or travelling around the world.
The sisters at the conference have witnessed great change in their communities over the decades. They were eager to connect with this new generation and share their stories, faith and commitment to their missions.
The young women, I found, were just as eager to meet with the sisters. When I asked some what attracted them to the sisters, they described them as "happy," "spiritual," "serene," "energized," "passionate" and "engaged." Despite the diminishing numbers of sisters in the United States, these young discerners managed to meet sisters at universities, through volunteer work or even on social media. They participated in religious communities' spiritual retreats and made personal visits.
Likewise, the congregations that are succeeding to attract young women often work at the parish, school and community levels, where they have a great deal of contact with young people.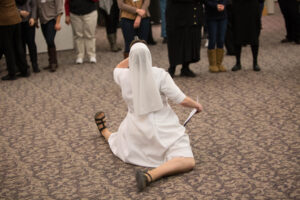 Witnessing the remarkable energy of the sisters and the discerners, it was not hard to see why the sisters were attractive. They were a motley crew of basketball coaches, chemistry teachers, counselors and even an actor. Ranging in age from their 20s to 80s, they swapped stories, exchanged friendly jibes about Dominican versus Franciscan spirituality and gently encouraged the young women to spend serious time praying and thinking about their futures.
Sr. Mary Soher, OP, the co-director of the National Catholic Sisters Week, told her discernment story. As a lifeguard from Orange County, California, she thought: "If Jesus can call fishermen, why can't he call lifeguards?" Her calling as an Adrian Dominican Sister took her from the sunny beaches of Southern California to the windswept plains of Minnesota.
We also find out that nuns are just like you and me. #IfNunsRuledtheWorld #NCSW2016 https://t.co/mnNQS7o4lC

— Jo Piazza (@jopiazza) March 10, 2016
With NCSW now in its third year, schools, hospitals, parishes, dioceses and non-profit organizations where sisters work are all picking up on the opportunity to share stories of Catholic sisters. Check out the hashtag #NCSW2016 or the Twitterchat #IfNunsRuledtheWorld. Here are a few examples:
What is it like to serve as a sister today? Meet Sr. Esther: https://t.co/jpFjk90Qj3 #NCSW2016 #catholicharitiesBOS pic.twitter.com/ai3CJIEbVJ

— Catholic Charities (@charitiesboston) March 10, 2016
100 women annually profess final vows as sisters. Other quick facts here: https://t.co/7CKY83Te2U for #NCSW2016. pic.twitter.com/yKmtvLcQRq

— Carol Zimmermann (@carolmaczim) March 9, 2016
But awareness requires more than a hashtag. This year, in-person events have been planned across the country, creating more opportunities for crucial, personal encounters.
Interacting with the sisters at the conference and over this past year often makes me reflect back on how much sisters influenced my intellectual and spiritual growth as a young woman.
This personal connection and dialogue between sisters and young discerners is critical for the future of sisters and their religious communities in the United States. But it's also critical for young women in need of mentorship and guidance as they navigate their lives.
Photos courtesy of National Catholic Sisters Week, with credit to Rebecca Zenefsky.
Tarra McNally is the assistant director of implementation and practice at the USC Center for Religion and Civic Culture.