UPDATE: OC Register columnist David Whiting wrote about the OC Solidarity March led by Pastor Mark Whitlock and Murray Center alum Charles Dorsey.
Over the years, I've witnessed dozens of marches – some for peace, some for hate, some for God and country. But I have never witnessed the hues of diversity I saw on Irvine Center Drive.
He also explained that the event included a summit that "dug deeper into challenges and solutions." CRCC's Brie Loskota participated in the summit conversation. He quoted OC Sheriff Sandra Hutchens:
"We seek truth in having the vital discussion about police-community relations. The police are the community and the community is the police. We have to be partners to ensure justice for everyone."
ORIGINAL POST: The Orange County Register wrote about the fourth meeting of the Orange County Sheriff Department's Interfaith Advisory Council, upon which Rev. Mark Whitlock sits. The Council will join Whitlock in a solidarity march and summit, hosted by Christ Our Redeemer Church in Irvine, on August 13. The summit is to bring together police, Black Lives Matter activists, community members and faith leaders.
An excerpt from the article:
Whitlock said the event is Orange County's response to the recent police shootings of African Americans around the country and the killing of police officers in Dallas and Baton Rouge.

"Until we begin to hear black people, things are not going to change," Whitlock said. "The question is: Do you hear us? Do you hear how we interpret situations based on our experiences?"
Here's a flyer for the march and summit: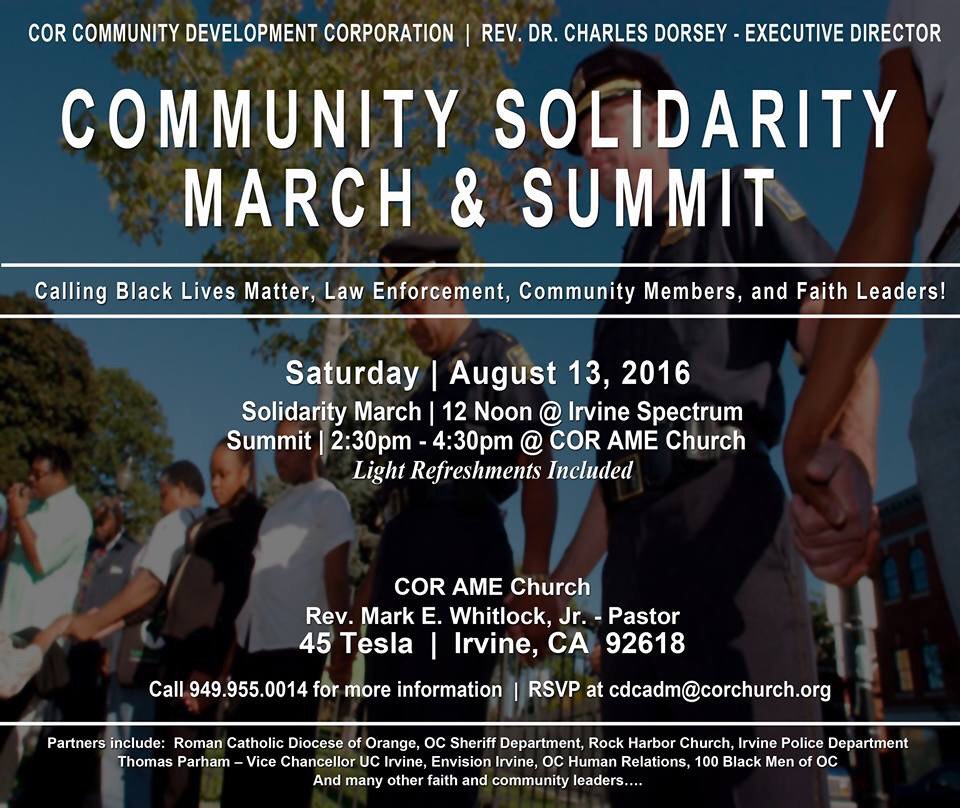 Orange County Register's columnist David Whiting also wrote about the march, encouraging his readers to attend:
At Christ Our Redeemer, Whitlock made a special effort this week to emphasize that the message of the march is simple: "Orange County solidarity."

The church, the reverend noted, "stands firmly behind the police agencies of Orange County and our country. These men and women sacrifice life and limb to protect us.

"At the same time," he said, "there are challenges in the midst of celebrations of their service. We need dialogue about mistakes made by some police officers against African American men."

Whitlock offered: "There is an implicit bias that we all have toward different people. The question is, 'How do we have this discussion about working together?'"

Answering his own question, Whitlock said that is the purpose of the town hall-style meeting after the march.

See you Saturday.