In the rugged landscape of the Kotayk Province of Armenia, Geghard Monastery rises from an amphitheater of steep cliffs like a revelation.
Even the long trek to the monastery complex, surrounded by towering cliffs and ancient churches set against a cobalt-blue sky, doesn't quite prepare you for this marvel.
Armenia is dotted with ancient monasteries in faraway hills, fields, rivers and villages.
But Geghard—founded sometime in the 4th century by Saint Gregory the Illuminator, the patron saint of the Armenian Apostolic Church—is like a leaf out of a gilded medieval text.
Stories abound that the main cathedral—completed sometime in the 13th century—once held the spear that pierced Jesus on the cross and relics were housed here for centuries. Locals say in pre-Christian times, it was worshiped as a sanctuary due to its sacred springs.
But Geghard speaks more through its sheer presence. Carved into an immense rock, this cave-monastery radiates the harmony between nature and imagination. The monastery complex blends seamlessly with rock-hewn churches, tombs and cross-stones all around.
In monasteries like Geghard, Lara Aharonian, a leading human rights defender whom I profiled as part of CRCC's global project on engaged spirituality, finds her "inner peace." It helps her continue her activism with renewed resilience.
"When you touch the stones, you feel they've weathered so many storms," says Lara, "I feel I can tide over my difficulties even if they seem insurmountable."
Taking Lara's lead, I decided to make my way up to Geghard with a bunch of slender yellow candles after a quick stopover at the nearby Garni Temple—the only surviving Greco-Roman colonnaded pagan temple in Armenia dedicated to the sun god Mihr.
At the entrance to the monastery complex, I was surprised to see several devotees from villages down in the lush Azat Valley aim stones at a shelf abutting a high cliffrock.
One believer, who was wearing an embroidered Armenian tunic, said the stones here have symbolic value. She was hoping one stone would land on the rock shelf so she could draw some of its energy. Over the last five years she's not had any success.
Local villagers say Geghard combines the energy of four elements: air, water, earth and fire. They said they come here occasionally to accelerate their spiritual growth.
When I stepped in, I could feel the sacredness of Geghard right away.
The monastery complex is imposing and preserved in its natural setting. There are princely tombs of the Proshyan Dynasty, rock-cut dwelling cells for clergymen and a scriptorium.
Even though the main architectural complex was completed nine centuries after Armenia embraced Christianity, I was drawn to the structures hewn in the rock.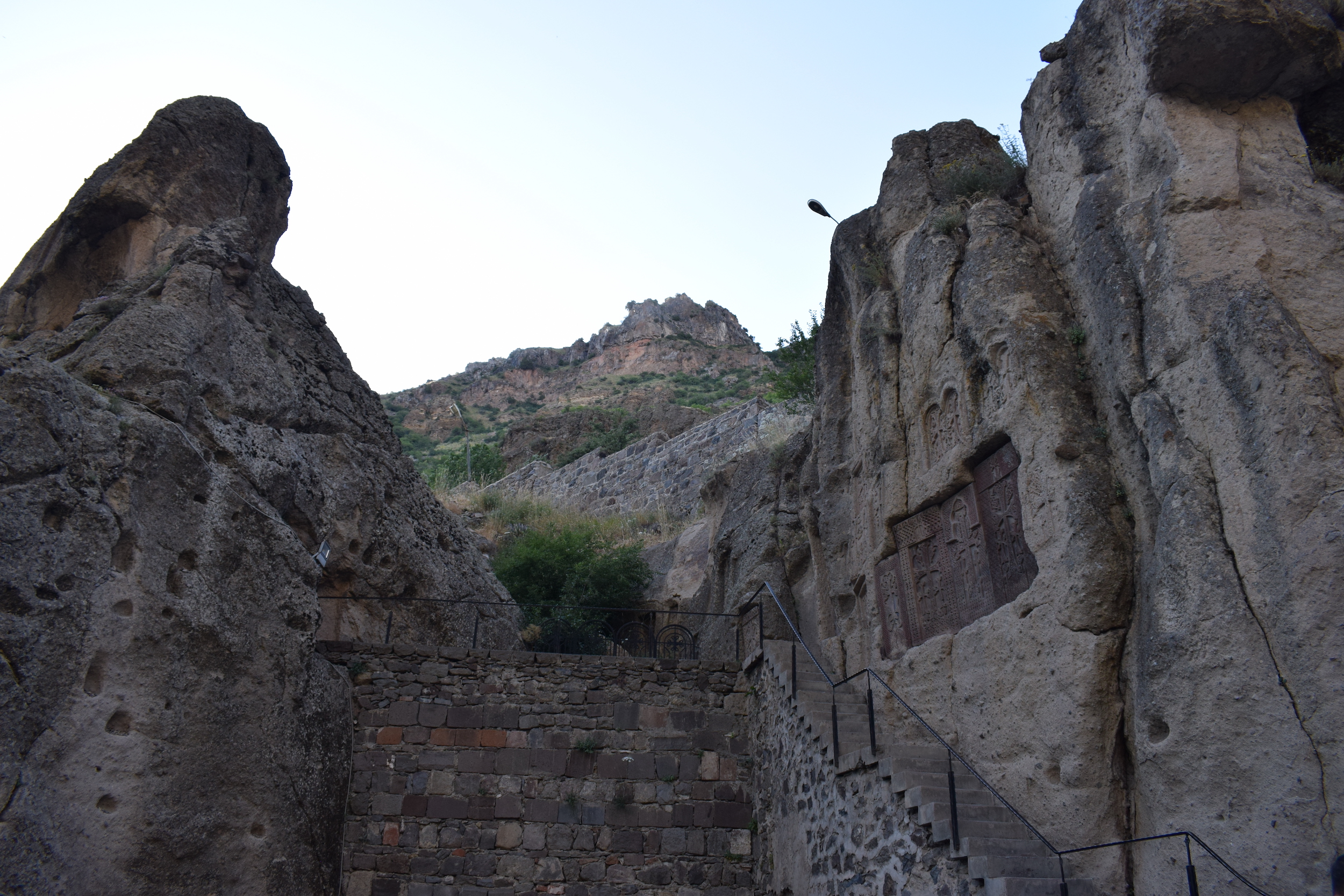 The pitch-dark of the monastery's inner chamber was broken by light streaming in through crevices in the rocks. Through the faint light, I could glimpse mythical images and inscriptions on the walls dating as far back as 1181 CE. A sculptural frieze under a dome with images of birds, human masks and animal heads stood out for its intricate detailing.
The quiet and coolness reminded me of the magnificent rock-cut Ellora Caves of India with sculptures depicting Hindu deities and relief panels outlining the two major Hindu epics.
I sat in a chamber between two ancient pillars and a circle of light above me to meditate. I wanted to imagine the inner world of the monks who've passed through these corridors.
There were people embracing pillars, peeping into rock crevices and murmuring prayers. I could hear the splash of water at a sacred spring inside the cave. Some devotees were throwing coins into the water, while others were filling their bottles with clear spring water.
After meditating, I drank some spring water, and someone splashed more over my head.
While taking in more sights inside the main complex, I overheard a group of Armenian tourists talk about how monks since pre-Christian times lived in cells built into the rockface. But now, the risk of rockslides and pollution is threatening their integrity.
They also feared that water sources would dry up and natural springs would become rarer.
I spoke to a woman paramedic who served during the recent Nagorno-Karabakh war between Armenia and Azerbaijan, and received a bravery award for healing the afflicted.
She said Armenia could not afford another war or to lose its identity in a geopolitical crisis. To counter these threats, she said more Armenians are pilgrimaging to Geghard.
"We've seen too many wars, there's a spiritual crisis in our world today," she lamented.
The doctor makes monthly pilgrimages to Geghard from her village in the valley below. She's especially fond of visiting the caves and rocky outcrops surrounding the sacred site.
I decided to visit one of the ancient caves past a narrow stream and rock-cut cross-stones. The orange glow of the setting sun made the trek up to the cave quite dreamlike.
The cave was littered with stones, inscriptions and religious embellishments. A few devotees were murmuring prayers, saying their rosaries, and building stone stacks.
It reminded me of the stone stacks at Buddhist monasteries in mountainous regions where they serve not only as talismans of faith but also as guardians against diseases.
I didn't build a stone stack, but I tried to decipher the religious messaging on the walls. There was very little I could understand, so I thought of local legends surrounding Geghard – legends containing the life-force that animates Lara Aharonian's work to uplift the marginalized in Armenia.
As I wound my way down, the monastery complex was aglow in the setting sun.
Priyadarshini Sen is a journalist fellow with the Spiritual Exemplars Project.