This story was originally published by Indian Country Today, with the support of CRCC's global project on engaged spirituality.
Covering the United Nations Climate Change Conference, known as COP26, was a binge-work undertaking filled with rabbit holes of scientific, economic and existential research that never seemed to end.
Now on the other side of this momentous world event, Indian Country Today is sharing some observations, takeaways and looming questions.
The biggest question to emerge from the meeting is what's keeping the world's leaders from taking quick and strong action, given the gravity of the global threat to humankind of fossil-fuel-induced climate change?
Although UN reports and leaders at the COP26 point to Indigenous knowledge and ways as a means to combat climate change, why do they fail to heed their direction and advice?
The overriding message from scientists and world leaders appears to be a keen interest in integrating Indigenous peoples' reciprocal worldviews and relationship to the planet in the battle against climate change.
But is that the reality?
'Watching for concrete measures'
Positive moves during the COP26 conference included pledges by the governments of the United Kingdom, United States, Germany, Norway and the Netherlands to give $1.7 billion directly to Indigenous peoples and local communities in recognition of their key roles in protecting lands and forests. The funding supports Indigenous self-governance, land reform, conflict resolution and mapping and registration efforts.
Incongruously, however, Indigenous peoples had almost no official representation or authority in the COP26 proceedings or in creation of the final document.
Tuntiak Katan, of Ecuador's Indigenous Shuar people and coordinator of the Global Alliance of Territorial Communities, was skeptical of the funding pledge to Indigenous peoples.
"We are happy with the financing announcement, but we will be watching for concrete measures that will reveal whether the intent is to transform a system that has directed less than 1 percent of climate funding to Indigenous and local communities," Katan said. "What happens next is what matters most."
And in the end, the COP26 agreement fell far short of realizing Indigenous messages of responsibility and urgent action to reduce reliance on and production of fossil fuels and keep global warming to 1.5 degrees. Promises to phase out fossil fuels were watered down to a pledged "phase down" coal power and fossil fuel subsidies.
Forbes reported that COP26 President Alok Sharma, who is the minister of state in Great Britain, was deeply disappointed over the lack of commitment to remain below 1.5 degrees.
"We have kept 1.5 degrees alive," he is quoted as saying. "But its pulse is weak and it will only survive if we keep our promises and translate commitments into rapid action."
Both U.S. President Joe Biden and Special Presidential Envoy John Kerry passionately described the threat of climate change as an existential crisis, a matter of life or death. Despite the catastrophic language, however, Biden continues to support sales of oil and gas leases on public lands and has failed to take action on controversial pipeline projects such as Enbridge Lines 3 and 5.
"The approved texts are a compromise. They reflect the interests, the conditions, the contradictions and the state of political will in the world today," UN Secretary-General António Guterres wrote in a public statement at the conclusion of the conference.
"Our fragile planet is hanging by a thread."
Climate anxiety and 'solastigia'
The climate change discussions among world leaders in general resemble a collective case of cognitive dissonance, when cognition and behavior contradict each other.
Indigenous and environmental leaders say the modern disconnect between humans and nature lies at the core of the dilemma, a disconnect that has roots in a worldview that emerged fully in Europe in the 16th and 17th centuries during the Age of Enlightenment. French philosopher René Descartes and his peers gave birth to an "empire of reason" that helped fuel scientific progress and divorce nature from human beings.
"Through Cartesian dualism, which enabled the flourishing of modern science by removing psych from the world, Descartes inadvertently structured modern science to conceive of the human being as outside of nature," according to writer Alexander Blum.
Today, however, "the ideal of human mastery over nature is swallowing its own tail," Blum wrote.
European settlers in America, already steeped in a Cartesian worldview objectifying nature as a resource to be exploited, have more recently embraced neoliberalism, the ideology that elevates consumerism and capitalism as the final drivers of human life. The term neoliberalism was coined in the late 19th century but today refers to the economic policies commonly associated with Ronald Reagan and Margaret Thatcher that elevated the use of free-market policies for social and governmental works versus supporting social-democratic reforms of the past.
Before this era there had been a distinction between the market and society, but in neoliberal ideology, all features of life including objects, services, knowledge, spirituality and experiences are commodified. Anything and everything can be measured, assigned monetary worth and ultimately reduced to a transaction.
Economist Edward Lazear describes the ideology as economic imperialism. Economic thought invades and colonizes domains previously occupied by logics such as family, tastes, politics, culture, religion, crime, law and war.
In addition to normalizing the careless treatment of our home, the earth, the consequences of neoliberalism and economic imperialism have fed human alienation and distress giving rise to new terms such as climate anxiety and solastigia to describe a collective soul sickness.
Have neoliberal politics, economics and worldview forever cast a vision of creating sustainable life on earth at irreconcilable odds?
Leaders such as Biden are now forced to govern in a world that is almost entirely fueled by neoliberal political and economic interests. Responding to complaints that he and his administration are moving too slowly to renewable energy and away from fossil fuels, Biden called on major oil producers to pump more oil as he headed to the COP26 meeting, noting, "The truth of the matter is … everyone knows that the idea that we're going to be able to move to renewable energy overnight … is just not rational."
He lamented that Russia and Saudi Arabia and others are decreasing their oil production in order to drive up prices, and expressed concern over the impact on U.S. working families.
Pursuing bipartisan cooperation in reducing reliance on fossil fuels while reducing global warming is a delicate balancing act. Michigan's 12 tribes and others opposing Enbridge Line 5 are pressuring Biden to intervene in closing down the pipeline, saying it poses a major environmental threat to the region.
But Republicans are forwarding the argument that shutting down Line 5 would exacerbate the country's surge in natural gas prices. They also say shutting down the pipeline would cause serious tensions between the U.S and Canada, one of the U.S.'s biggest trade partners, according to Inside Climate News.
"The optics of shutting down Line 5 in this market with elevated prices would be really poor," said Ben Cahill, climate and energy analyst for the Center for Strategic and International Studies.
Biden supporters point to his success in passing the $1 trillion infrastructure bill despite Republican and some Democratic opposition. The bill includes $54 billion for clean energy and grid-related investments, $7.5 billion to build a network of electric charging stations for vehicles, $21 billion to clean up Superfund sites and cap unused oil and gas wells, and $55 billion to expand access to clean drinking water.
What about the boom in Native oil?
Not all Indigenous peoples support the same path in curtailing climate change.
The latest oil boom has propelled an almost tenfold spike in oil production from Native lands since 2009, with tribal lands now producing more than 3 percent of U.S. oil. Biden exempted Native lands from a suspension of new oil and gas leases on government-managed land in deference to tribes' sovereign status.
"We're one of the few tribes that have elected to develop our energy resources. That's our right," Mark Fox, chairman of the Mandan Hidatsa Nation, told The Associated Press. "We can develop those resources and do it responsibly so our children and grandchildren for the next 100 years have somewhere to live."
Some tribal citizens, however, lament ills brought by the oil boom, such as increased crime and drugs, tanker truck traffic, road fatalities, and spills of oil and wastewater.
The Mandan Hidatsa Nation on the Fort Berthold Indian Reservation in North Dakota is located on one of the biggest U.S. oil discoveries in decades.
The Standing Rock Sioux tribe, about 100 miles south, however, tried to shut down the Dakota Access Pipeline that carries Fort Berthold crude. There is no oil worth extraction on Standing Rock lands.
Wasin Zi, whose ancestors followed Lakota leader Sitting Bull, wants to ensure the tribe doesn't fall victim yet again to a changing world, where fossil fuels warm the planet and bring drought and wildfire.
"We have to find a way to use the technology that's available right now, whether it's geothermal or solar or wind," she said.
Psychological impact
As people grow more dissatisfied with a value system that is costly to physical life, however, change may be coming.
According to the Climate Psychology Alliance the narratives of neoliberalism are difficult to relinquish because they have become part of who we think we are. Collective amnesia and anesthesia are symptoms of a pandemic of the Western mind, covering up the emptiness and soullessness that Western lifestyles engender. This emptiness and loneliness creates a hunger that makes us devour the world without ever being satisfied.
Many people are turning to Indigenous peoples for guidance and answers, according to Kyle Hill of the Turtle Mountain Band of Chippewa and Cheyenne River Sioux tribe. Hill, who attended COP26 in person, is an assistant professor at the University of North Dakota's Department of Indigenous Health.
"Indigenous peoples have sacred places that are a part of our creation stories involving the land and water," Hill said. "We protect these places because without them we are no longer who we are. We are spiritually dead."
"My impression is that non-Native people have a desire to establish a similar relationship with the earth but they have no idea how to go about it, " Hill said.
Unable to resist commodifying their spiritual relationship with the earth, non-Native people are consumed by the individual pursuit of excellence often at the expense of others and the earth.
Hill was saddened by the way Indigenous peoples who wore their traditional regalia to the COP26 conference were treated.
"Members of the media wanted to take photos of them but very few people asked to sit down and speak with them," he said.
Hill observed that many non-Native people are attracted to Indigenous efforts opposing fossil fuel development and pipelines but are often more fascinated by how Indigenous ceremony and spiritual practices can heal their personal disconnect with the earth.
"I don't think their healing is going to come from lifting us up," Hill said. "White people need to do their own healing work. They need to figure out what it means to get back to their own roots and stop commodifying and stealing our roots"
Can Western people re-establish their connection with the earth by working to reverse climate change?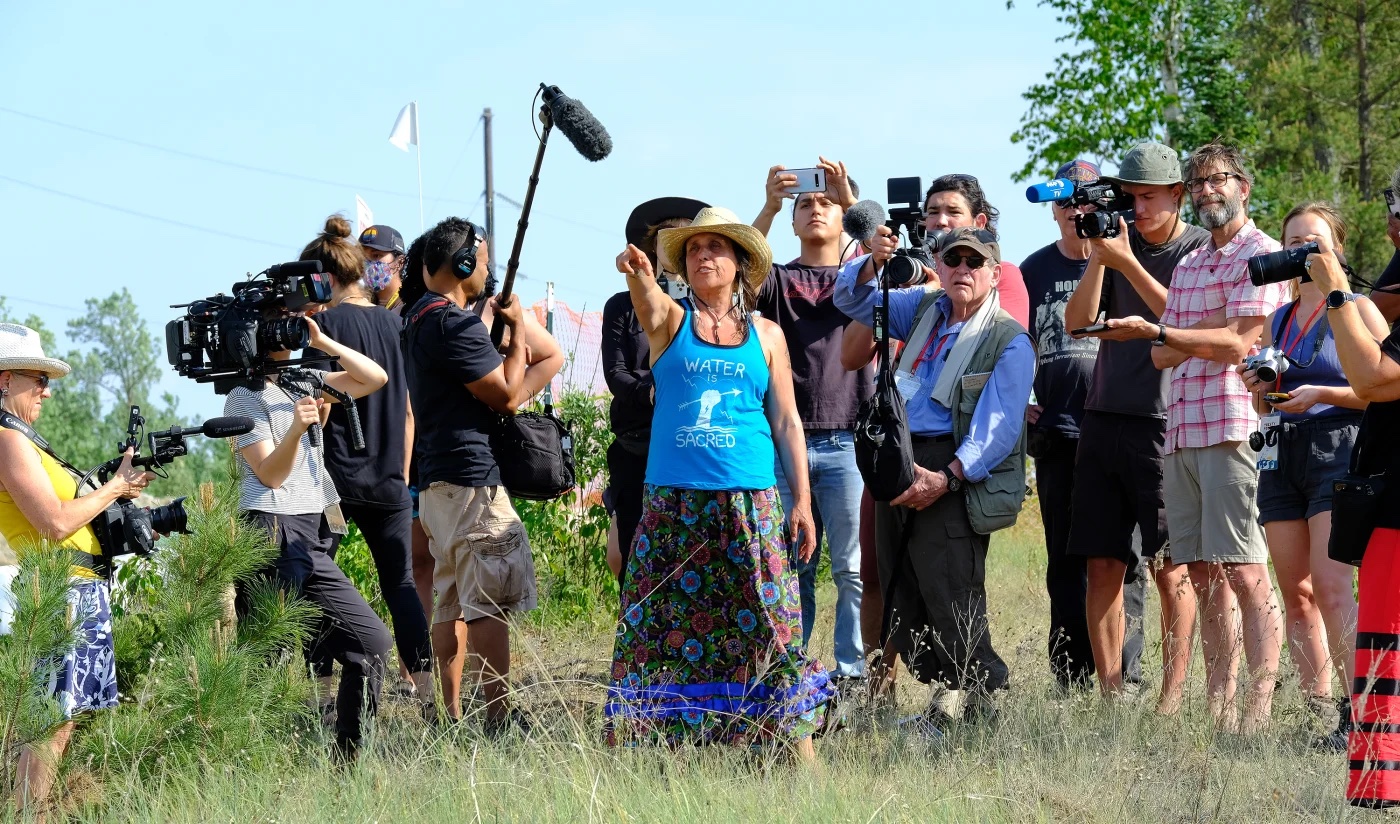 Winona LaDuke, White Earth Ojibwe and director of Honor the Earth, an Indigenous environmental advocacy organization, takes journalists on a tour of Enbridge's Line 3 construction sites near Park Rapids, Minnesota, on June 7, 2021. (Photo by Mary Annette Pember/Indian Country Today)
"I believe the land can heal people but only if they can humble themselves," said Winona LaDuke, White Earth Ojibwe and director of Honor the Earth, an Indigenous environmental organization.
"Unfortunately, most people won't let go of their stuff," LaDuke said. "They've got to carry all their trappings with them and that's way too heavy."
LaDuke has no patience for those who are unwilling to do the heavy lifting, the physical work of opposing fossil-fuel development and creating a just transition.
"We'll teach you but you have to be willing," she said. "Industrial man is not the person that the creator put here."
Tom Goldtooth, Dine and Dakota, executive director of the Indigenous Environmental Network, describes the battle to address climate change as the final frontier of colonization.
"There's a time and a place where White people are going to come full circle to understanding their responsibilities to the earth," he said. "But it has to be a natural process; no one can force them."
Some of the best work that Indigenous people can do is model good behavior and relationships with the earth, LaDuke and Goldtooth said.
Whenever Goldtooth and others from the Indigenous Environmental Network work on environmental issues related to air, water quality and land, for example, they frame the discussion within Indigenous teachings that see these elements as sacred.
"We can't separate the environment from spirituality; that is the foundation of our work," Goldtooth said. "That's why I talk about our sacred relationship to each other and the earth because I believe that's one of the biggest problems humans have throughout the world."
Goldtooth and the Indigenous Environmental Network have brought Indigenous spiritual connections and perspectives to the annual COP meetings for years. Lifting up that perspective often faces tough challenges from both Indigenous and non-Indigenous peoples.
Many Indigenous peoples are in favor of nature-based solutions such as carbon markets.
"People tell me to be practical," Goldtooth said. "Carbon markets are going to happen anyway. Let's work to put safeguards in place and prevent human rights violations. … Nature based solutions are putting nature into this 'financialization of nature' file. It's a movement around quantifying the sacred-nature, trees, grasslands. It's a false solution."
What about tribes that support carbon markets?
Although some Indigenous peoples may view carbon markets as false solutions, the markets appear to be winning. The COP26 agreement relies heavily on the lucrative carbon market system.
"Carbon markets are not the final solution but at least they give tribes opportunities to develop additional practices and protect and preserve their natural resources, "said Bryan Van Stippen, a citizen of the Oneida Tribe of Wisconsin and director for the National Indian Carbon Coalition.
Fawn Sharp, president of the National Congress of the American Indian and citizen of the Quinault Nation, compares carbon markets to gaming in terms of financial potential for tribes.
Several tribes, including the Yurok Tribe in California, participate in the California compliance market. The tribe was awarded the Equator Prize by the U.N Development Programme in 2018 for its climate mitigation work associated with the market.
The tribe dedicated a large portion of its forest for carbon sequestration. With the profits, they have supported housing and road improvement and bought back tens of thousands of acres of their traditional territory.
As of September 2020, 78.9 million carbon offset credits were issued to tribes or Alaska Native Corporations for forest projects through California's program.
Sharp envisions the carbon market as a means for tribes to confront the existential threat of climate change and a means to hold polluters responsible for generations of exploitation that has contributed to the forced relocation of tribal citizens, such as those in the village of Taholah in Washington State.
Reversing a world view is slow going, complicated and extremely nuanced.
Indigenous leaders, however, continue the work of modeling ways for the world to address climate change. LaDuke and others spent eight years opposing Enbridge's Line 3 oil pipeline through northern Minnesota, but the line was completed in October.
LaDuke has no regrets.
"I basically got my butt kicked by Enbridge," LaDuke said. "When someone asked me if I felt like I'd wasted my time, I said, "Are you kidding?' Someone has to stand up for what's right."
In the same spirit, Sharp calls for working within the existing political and economic system to pursue equity of world view and survival for Indigenous peoples.
"Tribes are gaining a seat at the world's diplomatic table," Sharp said. "We're going to continue to advance a clear agenda for Indian Country.
Mary Annette Pember is a journalist fellow with the Spiritual Exemplars Project.