How can disaster response professionals engage faith communities during crises?
Incorporating diverse religious and cultural groups into disaster response builds the resilience of the whole community. The USC Center for Religion and Civic Culture and National Disaster Interfaiths Network trains emergency managers and disaster response professionals on how to better engage faith communities.
Organizations can offer this training through a workshop, half-day course or full-day course.
Through this curriculum, participants will gain foundational skills to competently engage religious leaders and congregations in the field. Participants will also be given tools—tip sheets & a field guide set—that they can easily reference to increase their knowledge of a variety of religious communities.
Who should take this course?

CERT and MRC Teams
Disaster Responders and Volunteers
Faith-based Liaisons
Faith-based Organizations
Faith Communities' Partners
First Responders and Law Enforcement
Public Health Professionals
Religious Leaders
State and Local Emergency Managers
VOAD Members
Learning Objectives
At the end of the course, participants will be able to:
Frame the importance of engaging faith communities in disasters in terms of legal protections and effective whole community resilience.
Define the value and assets of faith communities and congregations in disaster operations.
Understand the key aspects and structures of the diverse U.S. religious landscape.
Access knowledge about specific religious groups.
Implement each step in the six-step "LEADER" process for successfully engaging faith communities.
Use new field skills, including Dos and Don'ts around clothing, etiquette, food, footwear, greetings, head coverings, meetings and physical interaction.
Successfully engage faith communities, religious leaders and congregations
Course Outline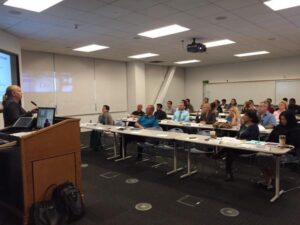 The curriculum is broken into six modules:
Faith Communities as a Cornerstone of Whole Communities
The Value, Landscape and Language of Faith Communities in Disasters
Ten Field Skills for Successful Engagement
Engaging Faith Communities through the LEADER Process
Tools & Resources for Engaging Faith Communities throughout the Disaster
Creating a Databank of Local Faith Communities
An organization can chose the length of training appropriate to them:
90-minute workshop: Modules 1 & 2
Half-Day Course: Modules 1-3
Full-Day Course: Modules 1-5
Additional Workshop or Half-Day Course: Module 6
Resource Materials Provided

Engaging Faith Communities-Field Guide
Engaging Faith Communities-Religious Literacy Primer
14 FEMA Faith Community Engagement Tip Sheets
26 Tip Sheets For U.S. Religious Leaders
5 Religious Competency in Mass Care Tip Sheets

If you're interested in bringing the course to your organization, please email crcc@usc.edu.
NDIN also has a Disaster Chaplaincy certification that can be paired with the Engaging Faith Communities in Disasters training. Chaplains and religious leaders are strongly encouraged to take both courses to build their field skills for mass-care and mass-fatality operations, and to better engage with other faith communities in building the resilience of the whole community.
A portion of the material within this course was developed for the Emergency Management Institute (EMI) through a collaborative training partnership between FEMA's Center for Faith-based & Neighborhood Partnerships, DHS Science & Technology Resilient Systems Division, DHS' National CenterH for Risk and Economic Analysis of Terrorism Events (CREATE) at the University of Southern California (USC), the USC Center for Religion and Civic Culture (CCRC), and the National Disaster Interfaiths Network (NDIN).