This article originally appeared on Intersections South LA.
By Jordyn Holman
Since late November, residents from South Los Angeles have been peacefully protesting courthouse decisions to not indict police officers in Missouri and New York who killed two young unarmed Black men in the line of duty.
For Rev. Dr. Cecil Murray, the former pastor of South L.A.'s First African Methodist Episcopal Church, the demonstrations in memory of Michael Brown and Eric Garner bring to mind L.A. protests of days gone by in that they aimed to shed light on the disconnect between police officers and the people they serve.
But, by at least one measure, the two eras of political activism are distinct.
"The 'test' in 'protest' is whether it is violent or non-violent," Murray said. This time, "the beautiful part is that unlike 1965 and unlike 1992, there was no violence of any nature."
In recent days, police have shown "sensitivity" in the marches snaking from Leimert Park to Downtown L.A., and protestors have shown restraint.
"We have been through this twice and that's enough…it's enshrined in the memories of most people," Murray said. "They remember those events and destruction. It is not us at our best."
Murray has long lifted his voice during pivotal points in Los Angeles history.
In the 37 years that he has lived and preached in South Los Angeles, Murray has seen religion play a consistent role in an ever-evolving neighborhood. Over these decades, Murray has been a familiar face in the faith-based community, spearheading various initiatives in response to residents' needs. He now counsels college students and local residents at the University of Southern California, drawing on years of assessing the church's relevance from his vantage point at the sanctuary lectern.
Boosting the flock, then dousing the flames
Murray, whom friends and colleagues call "Chip," grew up in the segregated Deep South in the mid-20th century and came to South L.A. after a career in the U.S. Air Force. Deciding he was meant to practice theology, Murray studied at the Seminary School of Theology at Claremont College. After graduating, he worked 16 years in the ministry before he was appointed senior pastor of First AME, the city's oldest African-American church. The church was founded in 1872.
When Murray first came to First AME in 1977, he presided over a congregation of 250 people. By the time he retired in 2004 at age 75, he left a flock of 19,000 members, according to the church's website.
He had been at the helm for 15 years when, on April 29, 1992, parts of the Los Angeles landscape burst into flames at the hands of despairing residents. The uprising became known as the L.A. Riots and as "civil unrest." The incident began after a jury returned a "not guilty" verdict in the Rodney King case, which involved a videotaped beating of a Black man by several White Los Angeles Police Department officers. When arson and violence broke out the streets of L.A., Murray opened the doors of First AME to the community, extending it into a meeting space.
He saw an opportunity for religion to play a role in easing the chaos.
"We had to ask was the church in place? It was a testing point for our city, our county, our nation, our state," Murray said. "I thought it was a testing point for our faith-based system," as well.
Then-mayor Tom Bradley, who joined congregants at the church, asked Murray to help pacify the city.
"Tom Bradley had just finished addressing the crowd when one of the ushers came up and got me and took me outdoors and showed me the fires down south and how they were spreading to the east and gradually to the west, then coming north," Murray said, recalling the sense of anxiety that reverberated through the church congregation, which at the time numbered some 8,000 members.
Over six days of rioting, Murray was tasked with calming disillusioned residents and providing shelter at First AME—nestled in West Adams near Western Avenue and Adams Boulevard between South L.A. and Koreatown— for individuals affected by fires and looting.
"Those neighbors that were burned out of their homes — we had about 75 of them — we brought them into the church, put some in the sanctuary, so they could sleep," said Murray. "We kept them for about a week until the Salvation Army and the Red Cross came and took them in."
Several weeks after the riots erupted, The New York Times reported that up to 1,500 a day were still coming to First AME to pick up donated food.
The 1992 riots grew into one of the largest acts of civil disobedience in U.S. history during the 20th century. It resulted in more than 50 deaths citywide, along with about 2,000 individuals with injuries. Thousands of people were arrested and the city sustained $1 billion of property damage, according to Los Angeles County data.
The widespread damage affected many racial groups, with the destruction mostly clustered in Koreatown and South L.A. Murray said the destruction and human toll helped him focus his efforts on the change he wanted to make in the community.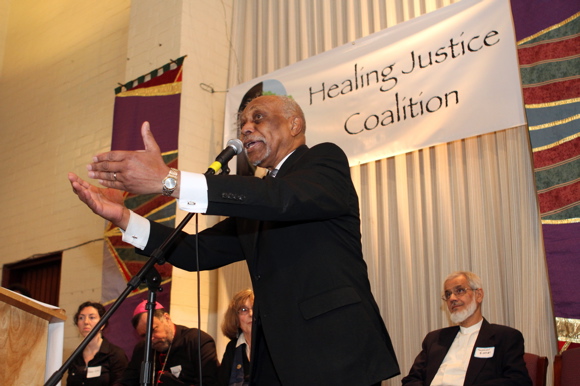 "We were determined that it would not happen again after 1992," Murray said, "and that's what keeps us going."
After the fires were extinguished, Murray continued working to bring the city back together. First AME stayed open 24 hours a day for the next six months, and provided housing and clothes for community members in need. During that time, Murray said, the First AME congregation "grew and grew and grew."
Barbra Streisand, a Jewish performer who frequently attended the church to hear Murray preach, donated $50,000 of aid a day after the unrest began. The money helped set up a first aid center and shelter for those affected by the destruction. The Walt Disney Company pledged to create jobs for impacted youth at Disney's theme park and hotel in Orange County.
Since his retirement from First AME, which was prompted by mandatory retirement provision in the church bylaws, Murray has continued his activism and outreach in South L.A. He told Intersections that he aims to continue connecting people through religion and applying his theological outlook to current events, such as the shootings of Michael Brown and Eric Garner.
Weaving in religion within and beyond the Ivory Tower
In 2004, Don Miller, founder and executive director of the Center for Religion & Civic Culture(CRCC) at USC, invited Murray to join the team as a senior fellow. The Center was launched in 1996 as a way to teach religion's civic role in an increasingly globalized world.
"If I'm the brains, he's the soul," Miller said of Murray's work. "What he says, we do. And if we don't do it, then we have to examine our consciousness."
As with past roles, Murray uses the center to localize his theological work, focusing his efforts on the changes taking place in Los Angeles. Under the auspices of Miller's CRCC, Murray runs the Cecil Murray Center for Community Engagement. The center's mission is to draw on the social, spiritual and leadership capital of churches and promote economic development and civic engagement in low-income neighborhoods.
"USC did not pick up and run because it got surrounded by the Black and Brown community like Pepperdine [University did] when they went all the way to Malibu," Murray said, commending the dedication the university has maintained to South L.A. in the years following the 1965 Watts Riots.
The Murray Center has developed several projects to continue connecting the religious community in the neighborhood with the resources at the university.
When Murray arrived in the neighborhood, a community consisting of predominantly Black residents surrounded the church, which stands on Harvard Boulevard. Today, the area is two-thirds Hispanic, according to a report from the USC in partnership with the Community Coalition. Murray said the church is trying to respond to the demographic changes and the ways various cultures practice religion.
He said he wants to train Latino pastors to better relate to Black congregants who may be accustomed to more lively church services than other denominations.
"With Latino culture, [Hispanics] were Catholic but then they started shifting to Pentecostal," Murray said.
According to a Pew Study conducted in 2013, more U.S. Hispanics are turning to other denominations than Catholicism. Evangelical Protestantism, the denomination of First AME congregants, is the fastest growing religious affiliation to which Hispanics are converting.
In response to this shift, Murray has established the Faith Leaders Institute, which recruits and trains theological leaders based South L.A. as well as Boyle Heights, Long Beach and Santa Ana.
During the program, they learn how to channel financial literacy, expand youth outreach and develop a vision for changing the community.
"We got the organization, we got the people, we got the calling," Murray said. "Now more and more we need to channel the communication that can reach beyond the imagination, if we have a story to tell."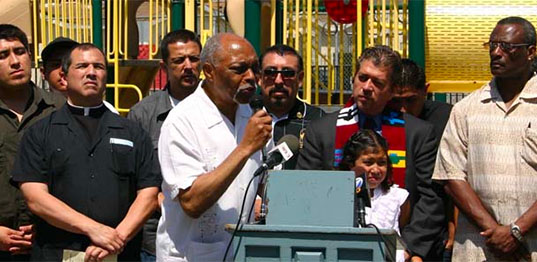 In the future, Murray sees the church carving a larger role for itself in the community, as long as the theological leaders have the insight to channel all the resources at their disposal. More than 2,000 churches are scattered throughout Los Angeles County, according to the Center for Religion & Civic Culture. Yet, Murray believes in the digital age there are so many more avenues for religion to reach people, even for those who do not attend church.
"With social networking here, now something [that's] happening in New York they know about in China or Australia," Murray said. "It's pretty much one world when it comes to talking to each other."
Looking ahead, Murray said that he is putting his energies into expanding and reaching more people through the Faith Leaders Institute. At the second annual Faith Leaders Summit, community and political leaders, including Supervisor Mark Ridley-Thomas and Councilmember Bernard Parks, assembled to hear Murray speak about the importance of drawing people from all backgrounds to contribute to the religious community in South L.A.
"We want to spread from Southern California to Northern California," Murray said of the program. "We're looking forward to growth, forming an endowment fund of $12 million. That way the program, the interest from it, would take care of itself so we wouldn't have to be sweating all the time to raise money."
He said the younger generations, including USC students in congregations, will have a huge influence in shaping the role of the church and how it interacts with the community.
"I think the millennial generation will play a big part in the church's mentality," Murray said. "The conservatives will see that the churches are empty of youths and young adults, and they know that sooner or later they will have to make a change."