CRCC's research partners in Seoul, South Korea hosted a conference for the Religious Competition and Creative Innovation project, inviting scholars from around the world to discuss the themes of the project. Korean media outlets wrote the following stories about the conference and the research presented there. We have translated those articles here.
Practices such as innovating church services, text-based expository sermons of the Bible, keeping the church finances transparent, etc. show hope in the future of Korean churches, according to a study.
A sociologist of religion professor Sung Gun Kim disclosed his research results after studying four innovative and currently developing megachurches in Seoul with the topic of Religious Competition and Creative Innovation (RCCI) at the 2016 RCCI Seoul Conference held in Sogang University in Seoul. His research focused on Kwangsung Church (minister Sung-jin Chung), Woori Church (minister Chansoo Lee), Oryun Church (minister Eunho Kim), and Presbyterian Church of the Lord (minister Wonho Park).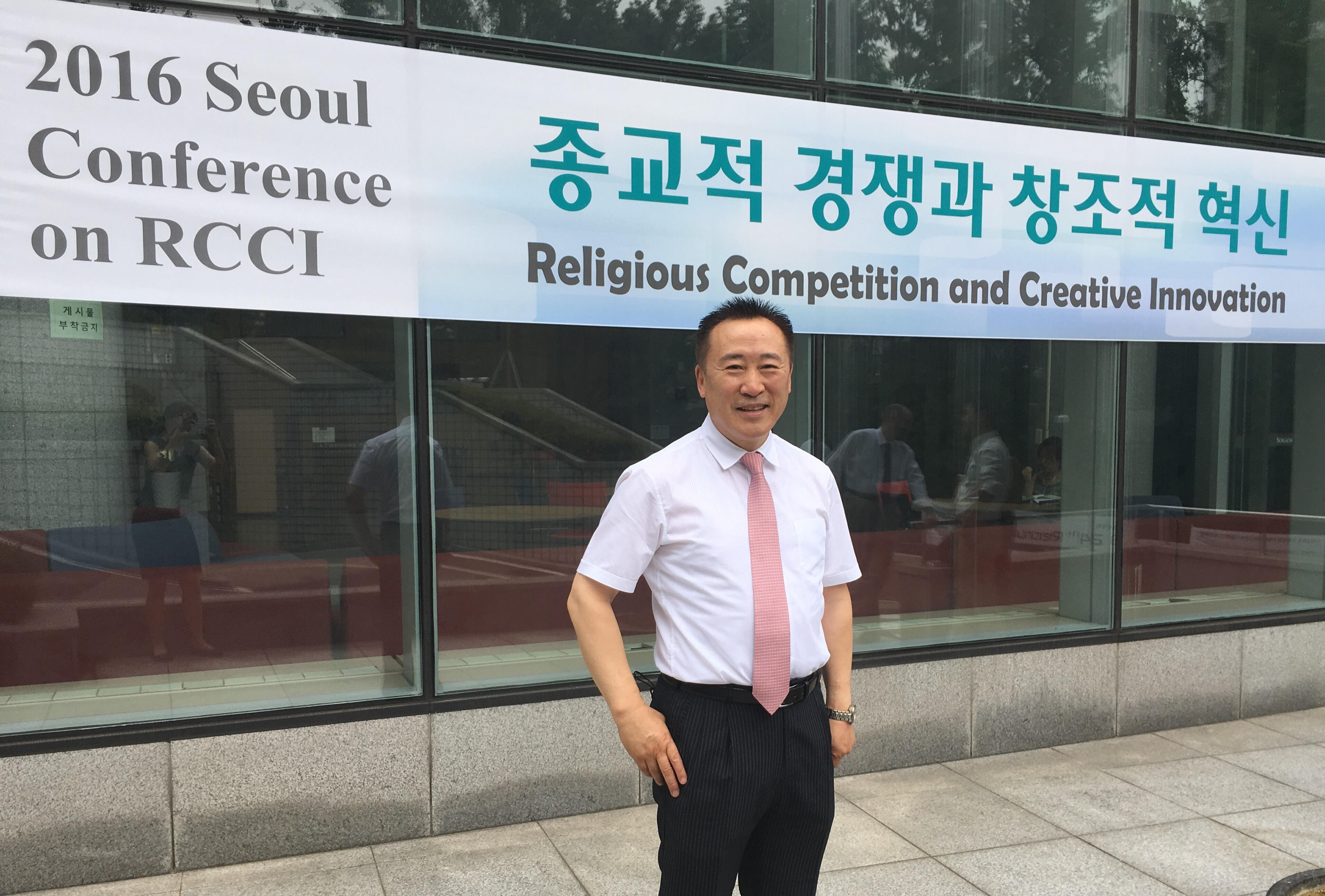 Professor Kim said he chose four megachurches out of twenty growing and reputable churches that had more than 10,000 attendees each. During his 20 months of research that started in January, he studied the churches by participating in the church's services, conducting surveys and in-depth interviews, and researching online.
"The in-depth relationship between God and the believers must come first," said professor Kim. As one of the most important factors, he highlighted "expository preaching," which is one of the "creative innovations of 4 megachurches in Seoul." His analysis concluded that the thorough studying of the Biblical text from historical, grammatical, as well as literary perspectives resulted in bringing the church attendees closer to God. This preaching method is contrary to that of megachurches in the United States, where 'topical' preaching (using Biblical texts to talk about a given topic) is in fashion.
Carried out in other of professor Kim's studied megachurches, "intercessory prayers and Bible studies" also caught our attention. Kwangsung Church holds intercessory prayer sessions at 9 PM everyday, where attendees pray for other people's health and recuperation. Meanwhile, Oryun Church holds Friday prayer nights (well-known for its effectiveness in curing people) as well as "Se Ire (21 days) Prayer meetings," where hundreds of churches around the world participate in, and the participants feel a sense of unity. The Presbyterian Church of the Lord has "12-level Wednesday Bible Study," that is available both online and offline. Another case of innovation of these "new megachurches" included "strictly limiting terms for pastors and church elders," and "not owning any church property."
"Korean churches that persist in innovating will have a brighter future," added professor Kim. According to his survey that involved 800 attendees (200 per church), they attended regular church services 2.9 times a week. 81 percent of them replied positively when asked whether they experienced "being born again," and 67 percent of all those surveyed tithed regularly.
Following professor Kim's report, professor Fenggang Yang of Purdue University in the United States remarked that we ought not make hasty judgments regarding the current Korean churches' stagnation and anticipated a bright future for Korean churches as long as there is innovation.
The next generation is one of the biggest keywords among present-day Korean ministers. Besides the decreasing population, the attention to this keyword is rooted in the young generation's declining interest in the church and evangelism, which is threatening the future of churches.
"Although they distance themselves from institutionalized religion, people in their teens to their 30's, as a matter of fact, are concerned about spirituality or the supernatural. This means they're still interested in faith," said professor Richard Flory, the senior director of research and evaluation of the Center for Religion and Civic Culture at the University of Southern California.
In an interview held at Baoro-kwan of Sogang University, professor Flory highlighted the hopes for attracting the next generation to the church.
He visited Korea to participate in the 2016 RCCI Seoul Conference to discuss the topic of Religious Competition and Creative Innovation (RCCI) in Sogang University which was held from August 25th to the 26th.
As a sociologist of religion who has been researching the religion and spirituality of the young generation for over 15 years, he argued that young people are increasingly becoming interested in experiencing and pursuing spirituality by themselves, without being involved in churches or subscribing to other forms of institutionalized spirituality professed by religious organizations. This particular shift in interest is due to the widening gap between the appeal of religion and the worldview held by the young people and their increasing distrust of groups and organizations in general.
According to him, in 2003, around 12 percent of the people in their teens to their 20's answered "no" when asked whether they have a religion. In 2013, this figure rose to 35 percent, which is about 3 times the original value.
Professor Flory interpreted the young generation's interest in New Age music as well as in meditation as an endeavor to reach at spirituality. He added that there were also a considerable number of young people who would go to regular church services while seeking other spiritual activities as if they were "choosing from a menu at a café." His observation is that this kind of movement is in fact, without being limited to the United States or Korea, a global one.
In an effort to speak on behalf of Korean ministers, we asked him a point-blank question: "just how would we go about attracting the young generation to the spiritual organizations of the church?"
He offered three points of advice.
"First, the church should accept the existence and values of the young generation and let them voice their opinions in church. Second, the church must find ways to let the young believers experience the Absolute Being (God) themselves. Third, the church should actively support their efforts to serve the community (like volunteering) so that they can translate their faith into action."
On August 25th, an international conference was held in Baoro-Kwan of Seo-Gang University involving several sociologists of religion, and it discussed the topic of "religious competition and creative innovation." The purpose of the conference is to share research results and case studies with a goal to prove the proposition that religious competition leads to creative innovation. Sponsored by the Templeton Foundation based in the United States, the conference featured 13 scholars from countries such as the United States, United Kingdom, Japan, China, and Korea. The conference ended on the 26th.
As the keynote speaker, professor Richard Flory of the University of Southern California delivered his topic "Understanding Religious Innovation: Why Does Locality Matter?" He pointed out the importance of competition, albeit an economics concept, which has been used frequently in understanding the change in religious landscapes. He attributed the increase of the non-religious population to the dwindling of religious competition. In order to boost competition, religious organizations have to find innovative ways to direct their religious activities to contribute to their local communities. Doing so lets the people recognize the cultural affinity between religion and their local community and accordingly strengthen the bonds between the two. Thus, understanding the locality becomes critical in promoting religious innovation. Of course, it is still an ongoing process for sociologists to define the content and extent of this innovation. That is why factors that have been outlined by case studies may still fail to incite religious competition.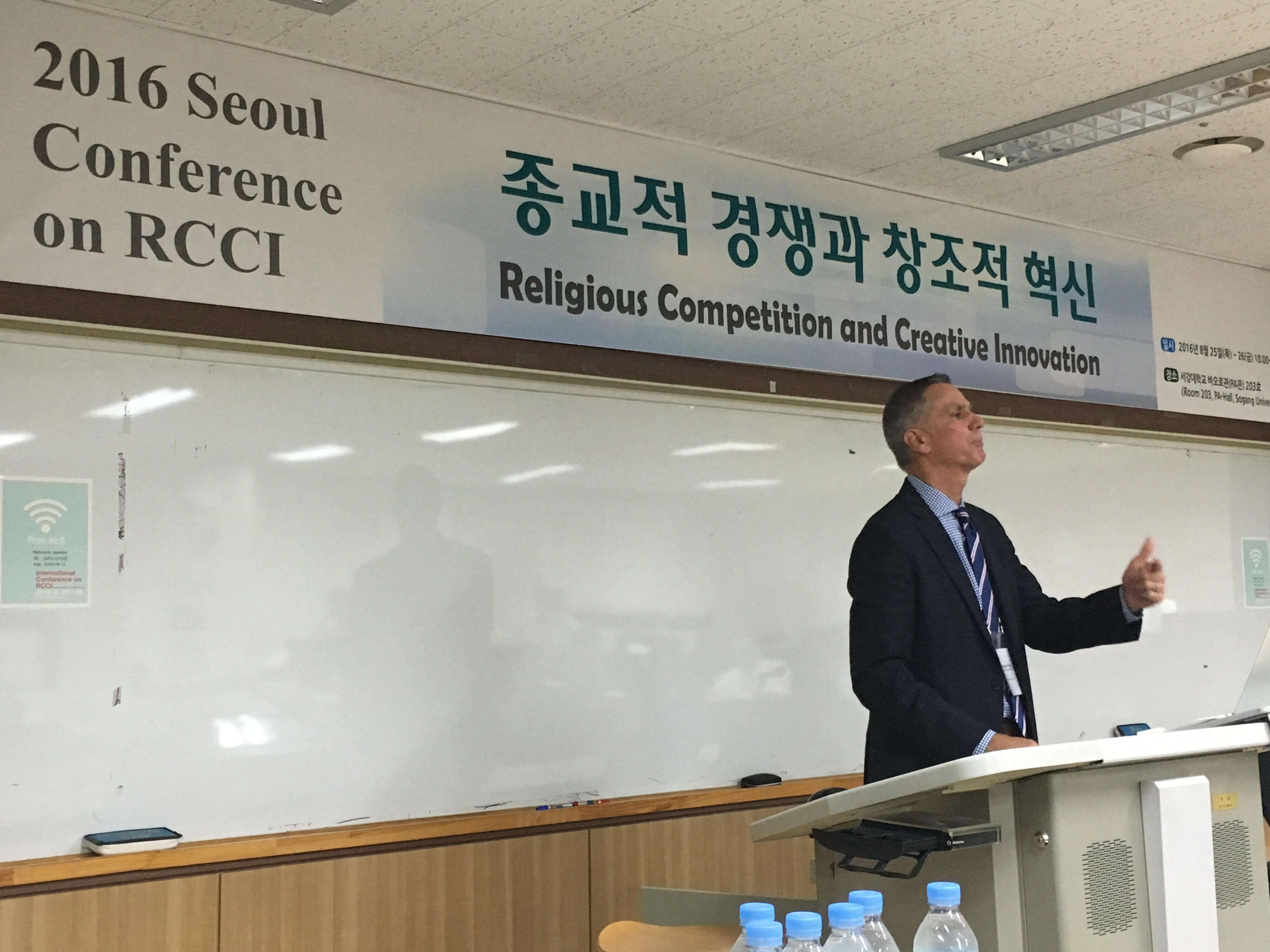 The organizer of the conference, Sung Gun Kim, a professor of Seowon University, lauded the idea of the conference given the current Korean Christian environment that is not yet entirely permissive of sociological analysis. According to him, although relating religion and innovation is somewhat new in the current Korean Christian context (given the minimal exchanges between Korean churches and civil society), the case studies that relate the two concepts in metropolitan cities such as Los Angeles and Seoul suggest the correct direction for religion in terms of its contribution to society. Even though it is difficult to pinpoint the concept of innovation, it is still a desirable effort to analyze religion from a socio-scientific standpoint (instead of trying to solve the problems of religion from within the boundaries of religion), which will doubtlessly contribute to a better future for Korean churches. Efforts of this kind will eventually lead to creating a healthy bond between religion and religious life, which will encourage sound development of civil culture and restore religion to its rightful place in society. This is the proper way to induce creative innovation in religion.