This article was originally published by Indian Country Today, with the support of CRCC's global project on engaged spirituality.
HONOLULU, Hawai'i — It's a weekday evening rush-hour in Honolulu, and Hina Wong-Kalu is driving us to a practice session of a Tongan choir she belongs to — her way of unwinding after a long day of meetings.
Kumu ("cultural teacher") Hina, as she is most widely known, is an activist, filmmaker and cultural liaison between Hawai'i's Indigenous community — which numbers about 150,000 — and non-Native entities such as the state's Office of Hawaiian Affairs, where we met her. As māhū, or a third-gender person, she is also called upon to administer spiritual rituals and serve as a touchstone for the revival of Hawaiian language and Native Hawaiians' relationship with the land.
Looking out at suburban sprawl encroaching on tropical hillsides and eight lanes of congested freeway traffic, she says, "Hawaiians are the most colonized of everyone."
Wong-Kalu, who is Native Hawaiian, explains that Native people from Tonga — a Polynesian monarchy that retained its sovereignty during the era of European and American colonization — never lost their Indigenous languages and folkways, largely because they have been able to preserve their relationship to the landscapes where those cultural traditions arose. Experiencing that unbroken spiritual through-line to Indigenous ancestors is what appeals to Wong-Kalu about singing with the Tongan choir. Among Indigenous Hawaiians, only a handful of families living on the protected island of Niihau — the smallest and westernmost of Hawai'i's inhabited islands — have managed to preserve a similar relationship to ancestral lineages.
"They haven't been dispossessed of their identity," Wong-Kalu says of Niihau Hawaiians. "Whereas most other Hawaiians are dispossessed in their identity through the land and culture, language."
In 1893, American businessmen staged a coup against the Hawaiian monarchy and installed a provisional government with the backing of the U.S. military. A few years later, the teaching of the Hawaiian language was banned in public schools. By the time the ban was lifted in the 1980s, only a few dozen young adults were fluent in Hawaiian.
"We know that we were colonized," Wong-Kalu said. "We know that they took over our schools. We know they took away our language. We know all of this, so we're just trying to bring all those things back."
She describes the uptick in activism among a younger generation of Native Hawaiians, particularly around resistance to the construction of another large observatory on Mauna Kea, as a process of de-occupation.
"Us going to the legislature, becoming elected officials — we could use those terms, de-occupy," she says. "But when I go there, I don't want to just de-occupy the building. I want to de-occupy the whole state."
That's a Quixotic ambition. Yet the very steepness of the odds against them also seems to galvanize Hawai'i's Indigenous activists across generations — from young firebrands like Lanakila Mangauil to mid-lifers like Wong-Kalu and elders such as Walter Ritte, who made headlines in the 1970s for evading arrest on an uninhabited island that the U.S. military was using for target practice. For all of them, a deep spiritual connection to the land — confronted with a colonizer-culture that is both implacable and oblivious to any sense of place — has become the driver for a movement that envisions a much more Hawaiian Hawai'i.
Even if de-occupying the entire state of Hawaii is a nearly impossible dream, inklings of what a more Hawaiian Hawai'i might look like help to keep the dream alive. Wong-Kalu smiles when we tell her we are going to Molokai to interview Ritte, whom she calls Uncle Walter.
"When you go to Molokai," she says, "it's a very Hawaiian place."
A visit with Uncle Walter
Ritte — a lean, bearded, gray-haired man in his mid-70s — met us at Molokai's modest airport in a well-used pickup truck. Molokai is about half the size of Oahu, but has less than one percent of Oahu's population. Though it boasts forested coves and spectacular sea-cliffs, there's little tourism infrastructure — a consequence of local resistance to the kind of development that has altered the landscape of other populated Hawaiian islands.
"We see Honolulu as something we don't want to aspire to," Ritte told us when we remarked on the absence of resorts, name-brand hotels and golf courses as he drove us to a local diner for lunch. He explained that the tropical coves that resort developers covet were used as fisheries by Molokai's traditional inhabitants.
Walter Ritte, a Native Hawaiian activist, first made headlines in the 1970s for evading arrest on an uninhabited island that the U.S. military was using for target practice. He is continuing his fight today for social justice and sustainability through Native Hawaiian sovereignty over the land. (Photo courtesy of Nick Street)
The relatively flat land on the west end of the island, once used for cattle ranching and pineapple plantations, is slowly returning to its pre-colonial ecology. Ritte, who is also Native Hawaiian, grimaces as we pass vast gated fields across the road from the local high school. The land is controlled by the seed development division of a global chemical conglomerate — the island's sparse population and year-round growing season make it an ideal location for developing new strains of corn and other non-Indigenous crops.
Though the agribusiness outpost is the island's single largest employer, Ritte still sees it as a blight on sacred land. "I know what all my ancestors did on the land," he said. "That also gives me the obligation for future generations — those are important to our ancestors. This is kind of like what we're trying to protect. It's really, really difficult."
Ritte's struggle against colonizing outsiders began when he was a young man hunting deer on Molokai. His initial encounters with newly erected fences and "No Trespassing" signs didn't faze him.
"The deer weren't paying any attention to those signs," he said. "So I ignored them, too."
That casual rebelliousness changed in 1976, when the U.S. Navy refused to stop using Kaho'olawe, an uninhabited island near Maui, as a training ground for military exercises. After a lawsuit to stop the bombing of Kaho'olawe failed in federal court, Ritte and several dozen other Indigenous rights activists attempted to occupy the island in a flotilla of small watercraft. Two activists were lost at sea when their boat capsized in rough weather. Ritte and eight others made it to Kaho'olawe, evading capture for a few days, until hunger and thirst compelled them to surrender to military police.
Ritte recounted his time on Kaho'olawe and eventual evacuation from the island on a military helicopter as we sat at a shaded table outside the diner where we stopped for lunch.
"When we went to Kaho'olawe, that changed my life," he said. "It had nothing to do with politics. Nothing to do with anything except the land."
That drive to protect and reclaim ancestral lands galvanized Ritte's generation of Native Hawaiian activists in the 1970s. Recalling the animating spirit of that era, Ritte said, "We were trying to figure out how to explain it to people, what we're doing. So we came up with this term called Aloha ʻāina — love of the land."
Aloha ʻāina is the antithesis of the colonizing impulse, which obscures the life-giving function of the land by commodifying it and conjuring rules of ownership that privilege those who wield power and control wealth. It also connects Ritte and other Native Hawaiians to their ancestors, whose language, religion and folkways were intimately tied to the landscapes where those cultural traditions developed.
"So today, it's not bombs that are killing the land," Ritte said. "It's the greed, and the uncontrolled commercialism, the need to make money by extracting from the environment to the point where you're killing the environment."
Ritte nodded as we remarked that push-back against the rapacious commercialization of land seems to thread through Indigenous activism in the continental United States, Brazil, the Philippines and elsewhere.
"People are now seeing this is a problem for the whole world," he said. "There's still this cancerous growth, that's how I see it. I have to stop that."
After lunch, we climbed back into Ritte's truck and got a brief tour of the homestead plots — land set aside for Native Hawaiians by the federal government in the 1920s — that Ritte and his extended family have cleared and developed over the past quarter-century. Ritte relished the fact that the hilliness of the area set aside for Native homesteads on the island's flatter, more arable west side made the homestead plots undesirable for growing pineapple during the plantation era.
We then headed east toward the lusher, mountainous side of the island, where Ritte wanted to show us one of the roughly 70 tidal fishponds that his ancestors had built in coves around Molokai before the American takeover of Hawai'i in the late 1800s.
Restoring the island's fishponds is a focal point of Ritte's current activism through 'Aina Momona ("fertile land"), a non-governmental organization he founded to promote social justice and sustainability through Native Hawaiian sovereignty over the land.
"We're needing some kind of way of living that's not dependent on extraction," he said, as he led us along a muddy path cut through reeds and mangroves to the edge of a lagoon. "A lot of people don't believe we can do it, but I believe we can. Because our ancestors did it for thousands of years."
Ritte noted that the availability of homestead plots, coupled with local activism that has curtailed the development of tourism and other industries that would despoil the land, has kept Molokai's population stable at about 7,000 inhabitants even as other islands have seen explosive growth.
"They managed to feed the same amount of people that we have today," he said, as he surveyed the low stone barrier at the mouth of the cove that allows the high tide to bring fish into the cove, then traps them in an artificial lagoon as the tide recedes.
"They didn't have barges or airplanes or oil," he said. "So we need to go back to our ancestors to get some of those answers."
Ritte said many Indigenous people who want to reclaim ancestral folkways must undertake a process of inward-looking, spiritual liberation, if their political activism is to have any chance of success. For a colonized people struggling to reclaim their identity, an individual's learning to venerate their precolonial history — particularly their ancestors' language and ritualized relationship to the land — can be a radical and deeply spiritual act of personal decolonization.
"We were brought up seeing that our ancestors, the Hawaiians, were lazy," Ritte said as we walked away from the fishpond to inspect a small field of taro — a starchy root vegetable that is a staple in the Native Hawaiian diet. "We were taught not to be proud of our past or anything like that. Total opposite of what I believe to be right. I'm pretty much convinced that the past is going to tell us how we survive."
Ritte said that the long-term survival of Native Hawaiians hinges on their relationship to the land, not just as a way of reclaiming their language and spiritual identity, but in preparation for the collapse of the unsustainable colonial systems that currently control most of the planet and its resources.
Future generations, he believes, will have no choice but to reclaim the farming and fishing practices of their forebears.
That sense of urgency is motivating Ritte and other Native Hawaiian activists to run for political office — a Trojan Horse strategy to dismantle systems of oppression that they have previously struggled against as outsiders. Ritte recently ran to represent Hawai'i's District 13 in the state house, and lost by just a slim margin, despite making no effort to soften the rough edges of his reputation as an activist.
"One of the first questions I got asked by the news media was, 'Do you believe that the state of Hawai'i is legal?' And I said, 'Of course not. Any fool knows that without a treaty you cannot just go take some country.'"
That ability to enter the fray of the colonizers' politics without compromising his devotion to his forebears is rooted in Ritte's experiential relationship with his ancestors — something he hopes to transmit to younger activists who seek his counsel.
"Hawaiians think that when you're born, there's a soft spot on your head," he explained.
"That's called the piko, and then the umbilical cord is the other piko. When the elders want to talk to you, they'll talk to your gut. That's what I tell all the young ones: Listen to your gut. That's your Hawaiian elders talking to you."
Ritte sees Native activists' two-pronged strategy — thwarting projects like the Thirty Meter Telescope on Mauna Kea while they attempt to win local political contests — as a sign that, after more than a century of dispossession, Hawaiians are finding ways to reclaim their power.
"That tells me that there's an awakening of people that understand that they can do something against a seemingly huge foe," he said.
Kumu Hina listens to her gut
Back in Honolulu, after the practice session with the Tongan choir, we head back toward downtown. The rush-hour traffic has abated, and Wong-Kalu is more relaxed.
"When I'm around Tongans," she said, "all the understandings of our culture — everything that I know from being around my Niihau Island family, who are still Hawaiian language as first-language speakers — it's all the same kind of aesthetic, it's the same kind of heart, it's the same kind of mind."
As a young person growing up in Honolulu, Wong-Kalu attended the original Kamehameha School, which was established in 1887 and funded through the estate of Bernice Pauahi Bishop — a great-granddaughter of King Kamehameha — to educate native Hawaiian children about their history, language and culture. Since the 1990s, the school has expanded to three K-12 campuses and 30 preschool sites statewide.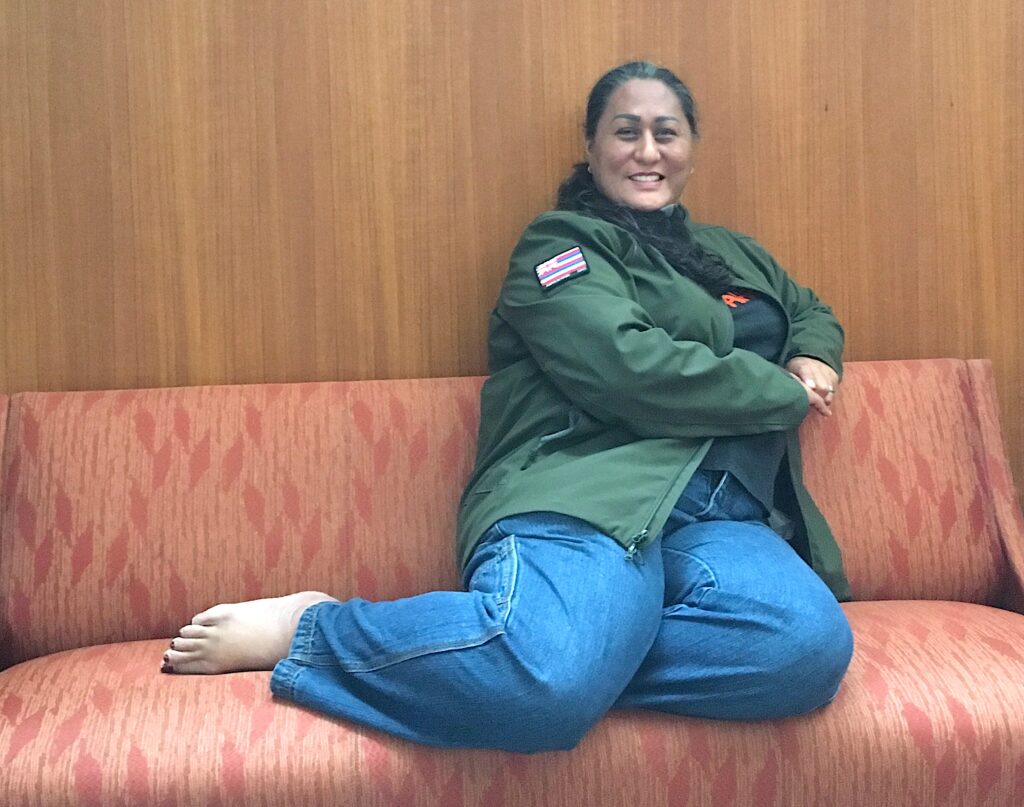 Hina Wong-Kalu, also known as Kumu Hina, or "cultural teacher," is a Native Hawaiian activist, filmmaker and cultural liaison between Hawai'i's Indigenous community and the state government and other non-Native entities. (Photo courtesy of Nick Green)
In addition to the Kamehameha Schools, where the language of instruction is English, Indigenous children can learn Native Hawaiian language and culture at a Punana Leo ("language nest") — family-run, nonprofit language-immersion preschools that initially operated illegally when they were started in 1984.
Wong-Kalu's early attraction to her Native Hawaiian heritage also brought her face-to-face with a challenge that Ritte and other Indigenous activists have had to confront: an antipathy toward their own culture that often pervades later generations of colonized peoples.
"There was a time much earlier in my life where some of my own family questioned why I was taking all the Hawaiian classes," Wong-Kalu recalled. "They said, 'What are you going to do with that? It's not going to give you anything. It's not going to help you. It's not going to get you ahead.' I knew I could not agree with that. It's not something that you can tell me is right."
Wong-Kalu said that the omission of Native Hawaiian instruction in the public education system was partly to blame for this cultural ignorance and self-loathing. The bigger problem is the fundamentally anti-Indigenous values of the religious and economic systems that have been imposed on Native people by Hawai'i's colonizers.
"Once you get sprung," she said, "once you have gone through the decolonization process and your sense of awareness continues to grow, it becomes very challenging to look at capitalism and Christianity in the same way."
Wong-Kalu felt the need to "get sprung" from an anti-Indigenous ethos as part of her coming out process as māhū — a third-gender person. The word is sometimes used as an epithet for LGBTQ people among Christianized Native Hawaiians, though Wong-Kalu described the presence of māhū people as "extraordinarily ordinary" in traditional Hawaiian culture, where they were often seen as healers and spiritual leaders.
For Wong-Kalu, reorienting Indigenous communities toward a more expansive view of gender identity and expression goes hand-in-hand with helping Native people find their voices and assert their authority in the public sphere — a sense of empowerment that was transmitted by Wong-Kalu's mother and her Niihau Island lineage.
"Speak in Hawaiian!" Wong-Kalu recalled her mother telling her when she began to appear before state officials as a young community activist. "This is our land."
"The people in political and economic power in our islands feel that we are an inconvenient nuisance," Wong-Kalu said. "Why is it that you feel that we have to speak English to you in our home? Because we can all speak English, you think we should just speak English? That's not right."
Wong-Kalu said that many "foreigners" — meaning any non-Native people in Hawai'i, including non-Native citizens of the United States — failed to appreciate the importance of their land and language to Native people, even as they traded on the allure of the Aloha spirit.
"Some of the foreigners in this state are really just despicable," Wong-Kalu said. "You think that Hawai'i should be promoted to the rest of the world — all the elements of Aloha and making Hawai'i so 'perfect vacation'-looking. You pimp us out, you prostitute our culture. Yet, when we actually stand up for who we are and the things that are a part of us, how do you justify treating us in the way that you do?"
The fight over who gets to determine whether the Thirty Meter Telescope will be built atop Mauna Kea has become a catalyst for activism around language as well as land rights. Following the lead of Wong-Kalu and others, many young activists have insisted on speaking in Hawaiian when they appear before judges, legislators and other officials. Like Ritte, Wong-Kalu believes that the assertiveness of a new generation of Native Hawaiian activists will beget broader discussions around governance and the political status of the state's Indigenous people.
As we returned to the parking lot at the Office of Hawaiian Affairs, Wong-Kalu wrapped up our conversation on a note of cautious hopefulness.
"It will probably never return to its rightful place as a very Hawaiian Hawai'i," she said. "But we can restore a greater level of respect and dignity. We can decide whose voice can start to prevail more."
Richard Flory is the executive director of the USC Center for Religion and Civic Culture.
Nick Street is a senior writer with the USC Center for Religion and Civic Culture.