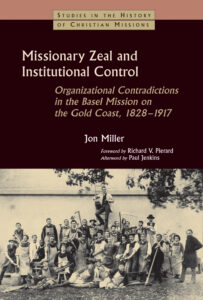 Missionary Zeal and Institutional Control Organizational Contradictions in the Basel Mission on the Gold Coast, 1828-1917
Jon Miller, Author
(Eerdmans: 2003)
In the historical literature on mission, this book stands out for its detailed examination of the organizational dynamics that gave shape — and brought enduring success — to the Evangelical Missionary Society at Basel.
A first-rate account of the early Basel Mission on the Gold Coast of West Africa (present-day Ghana), this volume takes readers inside the mission itself, revealing its dynamic, though sometimes contradictory, methods of motivation and discipline and how they impacted effective evangelism both at home and abroad. Working from archival records, Jon Miller details the collaboration across class lines that made the mission possible, and he shows how basic pietist beliefs about authority and obedience were the source of both the mission's strengths and its most serious internal weaknesses.
An excerpt from the book:
In order to prove whether a [seminarian] of God of whether he can be a missionary or not… it is necessary to smash him down mercilessly in order to determine conclusively whether he is capable of bearing the discipline… Just as was the case with the traitor Judas, whom the Lord had to bear for a long time, so must it sooner or later come to the same point of decision [for the individual seminarians].

Is this the way we follow the law of brotherly love?
Jon Miller is a senior research associate with the USC Center for Religion and Civic Culture.