Archivists and CRCC staff visiting the Bonnie Brae House.
Guest blogger Hannah Cohen describes a recent tour of Pentecostal sites in Los Angeles.

As residents of the Los Angeles Dream Center shuffled by in a most orderly fashion, I found myself to be a conspicuous visitor. It was the first stop on a tour of important Pentecostal sites in Los Angeles with Richard Flory, Jon Miller, and a group of Pentecostal archivists. Momentarily distracted, I regained focus as Pastor Clarence Olsson introduced the facilities and told us how Pastors Matthew and Tommy Barnett established the Dream Center in 1994. (The Barnett's procurement of the property from its prior owners, a group of Franciscan sisters, is still regarded as a miraculous purchase.) Today, the Dream Center is a volunteer-driven non-profit organization that works across Los Angeles to counteract poverty, gangs, crime, drugs, homelessness, and "moral decay." Pastor Clarence noticed the passing group and explained that they were participants in the Center's "Discipleship Program," a one-year alcohol and drug rehabilitation program. The program demands a grueling commitment to its firmly established routine — participants begin their day at 5 a.m., attend intensive prayer and study groups, and turn out long hours of often labor-intensive jobs around Dream Center grounds. The Center's project — to replace substance-dependency with a sort of God-dependency — is hard work. The participant's singular commitment to the structure provided them made our group conspicuous from them, though inconspicuous to them. While we aptly observed their comings and goings, they hardly seemed to notice us.
Teeming with visiting volunteers and working residents (including both Discipleship Program participants and in-residence volunteers), the Center's countless outreach initiatives leave no shortage of work to be done. Though we visited only a few, the Dream Center has over 200 ministries. They range from the Discipleship/Recovery program to homeless outreach, and deploying food trucks to needy Los Angeles neighborhoods. The facilities are huge with an institutional feel. Without Pastor Clarence to guide us, we would surely have been lost indefinitely within the building's concrete maze of an interior.
Following our tour of the Dream Center we headed off to the Bonnie Brae House, a landmark of American Pentecostalism, only to find it closed. A quick change in our itinerary brought us to Echo Park, where we toured Angelus Temple and the adjacent Aimee Semple McPherson house. Constructed by McPherson in 1923, the temple was initially built for her espoused "Foursquare Gospel." Today, Angelus Temple is a still a Foursquare Gospel church with a flair for trendy pop-rock worship music and exuberant preaching, much in the tradition of "Sister Aimee." Having attended a service there the night before, I was surprised to find that, when not stocked full of worshipers, it was much smaller than I remembered. Pastor Clarence encouraged our attention towards the structure's intriguing decoration — strange with its 1920s-style murals and stained glass juxtaposed against 21st century video screens and sound equipment.
Pastor Clarence then left us to the supervision of Jackie Miller, who quickly led us through the adjoining Aimee Semple McPherson house. McPherson's "parsonage," which has today been converted into a full-scale museum, the Foursquare Heritage Center, is a vivid testament to her life and her Gospel. The walls are covered with theatrical advertisements to her Foursquare Gospel. The posters, magazine covers, and portraits of McPherson herself all evoke the old Hollywood glamour upon which McPherson's charismatic appeal was founded. Upstairs, one can even watch an reenactment of one of McPherson's famous "Illustrated Sermons," which serves to demonstrate her contagious enthusiasm and theatrical fervor for teaching the Gospels.
When our tour of Aimee Semple McPherson's home was finished, we returned to the Bonnie Brae house. Small and unimpressive, the property might hardly have merited a second glance from the unknowing passerby. The inside was equally nondescript. Today, the interior is mostly empty, save for some dining room furniture in one of the back rooms, and the pulpit Katherine Kuhlman, another famous Pentecostal minister who followed Sister Aimee, in another. Being neither Pentecostal nor Christian, and thus disinclined to "feel" the Holy Spirit at this spot, it was strange to watch my fellow visitors, the Pentecostal archivists, marvel at a place which, to me, seemed so plain. As we moved from empty room to empty room, they were viscerally spellbound by their surroundings, whereas I, despite my foreknowledge of what had occurred at the house, had no such reaction. In 1905, William J. Seymour began preaching in Los Angeles, adopting the teachings of Charles Fox Parham, a Texas preacher who believed that speaking in tongues evidenced one's being baptized into the Holy Spirit. Although many criticized Seymour's mission, doubts were put to rest when Seymour's followers, having gathered to pray in the Bonnie Brae St. residence, began to experience the Holy Spirit for themselves. As news spread, the house attracted swarms of devotees, all eager to partake in the ecstatic experience. The Bonnie Brae house is today considered the nexus of the consequent Azusa Street revivals.
As we waited in the empty living room at the end of the tour, one of the archivists lent the day its true concluding note. She explained that she had been experiencing difficulty selling a property of hers and, while at the Bonnie Brae House, she had prayed that the property might sell. "God has delivered miracles to countless others who have prayed here," she explained. "If He worked for them, why not me?" Giddy with excitement, she marveled at how, just minutes before, her Blackberry had delivered the good news that the property had finally sold. Like so many who came before her, this small miracle seemed conclusive proof that the house stood on hallowed grounds.
Her "miracle" was characteristic of the tour itself. For me, the day was fascinating; for others it was, at risk of sounding trite, something entirely more. The day also presented a provoking juxtaposition of sacred spaces — how was it that the institution-like Dream Center, the theatrical Angelus Temple, the nostalgic McPherson parsonage and the bare Bonnie Brae House could all be such hallowed spots? Rationally, they all seemed so different. Reflecting back upon the day, these inconsistencies bothered me. Of course, it is this very "something more" that connects these four, otherwise incongruent, sites. The "something more" of our something-more tour of Los Angeles aside, the day was a successful glimpse into the area's rich history of Pentecostal traditions and community-based social initiatives.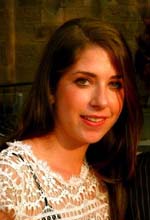 Hannah Cohen, a current senior in the Department of Religion at Princeton University, is working as an assistant at the Center for Religion and Civic Culture.
Richard Flory is the executive director of the USC Center for Religion and Civic Culture.