CRCC housed the Pentecostal and Charismatic Research Initiative from 2009 to 2013. Findings from the initiative can be found here.
Pentecostal and Charismatic religion flourishes at some of the most fluid and hotly contested boundaries—cultural, religious and economic—in the age of globalization. Broadly categorized as renewalist movements, these religious communities are experiencing their most dramatic growth at the frontier between Christianity and Islam in Nigeria; in the vast factory towns of China's interior; among members of the rising middle class in Kenya; in the slums that ring the rapidly modernizing urban areas of Central and South America; in Muslim-majority Indonesia and Hindu-majority India. Encompassing more than half a billion adherents and blurring many of the traditional distinctions between Protestantism and Catholicism, renewalism is widely believed to be the fastest-growing religious movement in the world.
With researchers deployed in over 20 countries across the global South and East, the Pentecostal and Charismatic Research Initiative (PCRI) aims to provide answers to three key questions related to renewalist movements: What are the defining characteristics of Pentecostal and Charismatic religion? Where is it growing and what factors account for its growth? And what are the social and political consequences of renewalism's proliferation in places where the upheavals of recent decades are most acute?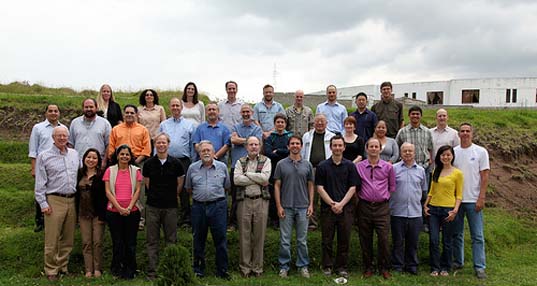 Through a competitive application process, the Pentecostal and Charismatic Research Initiative (PCRI) awarded five grants to research centers and 16 grants to individual scholars. The initiative provides funding for research in four specific geographic regions: Africa, Asia, Latin America and the former Soviet Union. Comparative research projects are also part of the initiative, including projects that explore the connections between Western countries and one or more of the four regions. Research projects engage topics of interest not only to Pentecostal and charismatic specialists, but to a broader group of scholars as well as journalists interested in the dynamics of social change and the potentially dynamic role of religion in this process. Projects involving only theological questions were not eligible under the request for proposals, but collaborative research and interdisciplinary projects involving theologians are included in the initiative.
Funded by the John Templeton Foundation, PCRI is intended to provide a scholarly framework to investigate Pentecostalism and the various renewal movements that have emerged in Roman Catholicism and mainline Protestantism. PCRI is administered by the Center for Religion and Civic Culture at the University of Southern California. The John Templeton Foundation serves as a philanthropic catalyst for research and discoveries relating to the Big Questions of human purpose and ultimate reality. The foundation supports work at the world's top universities in such fields as theoretical physics, cosmology, evolutionary biology, cognitive science and social science relating to love, forgiveness, creativity, purpose and the nature and origin of religious belief. It also seeks to stimulate new thinking about freedom and free enterprise, character development and exceptional cognitive talent and genius.
---
Regional Center Grants
Regional centers facilitate and create hubs for academic collaboration that enhance long-term scholarly cooperation around themes related to Pentecostalism and charismatic Christianity. Regional centers seek to develop networks that can engage multiple academic disciplines from multiple institutions in the region of interest. The centers facilitate the creation of a network through consistent communication between scholars (virtual or in-person), conferences, colloquia, seminars, and publications.
Center for the Study of Latin American Pentecostalism
Paul Freston, Universidade Federal do Rio de Janeiro (Brazil), Maria das Dores Campos Machado, Emerson Giumbelli, Cecilia Mariz, Ari Pedro Oro, Universidade do Estado do Rio de Janeiro (UERJ)
The Impact of the Pentecostal and Charismatic Movements on Local Community Organizations and Civic Participation in Central America
Jeannette Aguilar, University of Central America in El Salvador (El Salvador), and Richard Wood, University of New Mexico
Pentecostal Growth and Social Relations in Indonesia
Zainal Abidin Bagir, Center for Religions and Cross-Cultural Studies (Indonesia)
Nigeria Pentecostal and Charismatic Research Centre
Umar Danfulani, Musa Gaiya, Yusuf Turaki, and Danny McCain, University of Jos (Nigeria)
Center for the Study of Pentecostal and Charismatic Movements in Russia
Alexander Panchenko, EUSP (Russia), and Patrick Plattet, University of Alaska, Fairbanks:
Pentecostal and Charismatic Religion in Los Angeles
Through PCRI, the Center for Religion and Civic Culture is both conducting and sponsoring research in Los Angeles
Richard Flory, USC Center for Religion and Civic Culture
PCRI Los Angeles
Individual and Team Grants
Individual grants support research into Pentecostalism and charismatic Christianity in four specific geographic regions: Africa, Asia, Latin America, and the former Soviet Union.
Febe Armanios, Middlebury College
Coptic Charismatic Renewal in Egypt: A Modern History
Chad Bauman, Butler University
Pentecostals, Charismatics, Conversion and Hindu-Christian Conflict in Contemporary India
Karen Brison, Union College
A Cosmopolitan Ethnography of Global Pentecostal Networks: the View from Fiji
Graham K. Brown, University of Bath (U.K.), Center for Development Studies
Theological Resources, Ethnic Boundaries, and Civil Society: A Case Study of Charismatic Churches in Kuala Lampur, Malaysia
Richard Burgess, University of Birmingham (U.K.), Centre of Pentecostal and Charismatic Studies
Pentecostal Spiritualities, Inter-Religious Relations and Civic Engagement: A Comparative Study of Nigeria and Zambia
Robert Dowd, University of Notre Dame
The Roman Catholic Charismatic Movements in Sub-Saharan Africa: Its Causes and Consequences
Henri Gooren, Oakland University
The Pentecostalization of Religion and Society in Paraguay and Chile
Gordon Hanson, University of California, San Diego, and Chong Xiang, Purdue University
The Global Marketplace for Christianity
Andrew Johnson, University of Minnesota
Religion Behind Bars: Pentecostalism in Brazilian Prisons and the Social Consequences of Religious Prisoners
William Kay, Glyndwr University (U.K.)
Asian Pentecostal-style Church Growth: An International Comparative Project
Karrie Koesel, University of Oregon
Where Faith Thrives: The Rise of Pentecostal and Charismatic Christianity in Russia and China
John McCauley, University of Maryland
Pentecostal-Charismatic Christianity and the African Political Landscape
Robin Shoaps, University of Chicago
Making a Religious Difference: Communicative Ecology and Conversion in Two Maya Communities
Daniel Jordan Smith, Brown University
Pentecostalism and AIDS in Nigeria
Timothy Wadkins, Canisius College, Institute for the Global Study of Religion
The Preferential Option for the Spirit: Pentecostalism and Culture in Modern El Salvador
Jiexia (Elisa) Zhai, East Asia at the Institute for Global Engagement and J. Gordon Melton (co-PI), Institute for the Study of American Religion
The Spread of the Chinese Indigenous Pentecostal and Charismatic Movement in the East Asian Chinese Community: the Case of the True Jesus Church