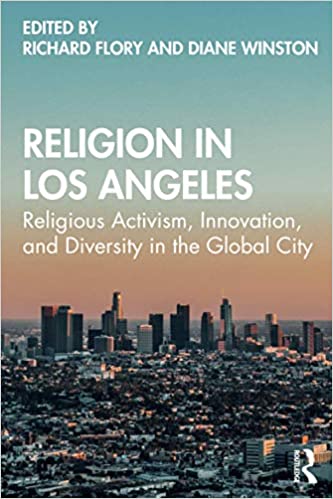 Religion in Los Angeles: Religious Activism, Innovation and Diversity in the Global City
Edited by Richard Flory and Diane Winston
(Routledge, 2021)
Why has Los Angeles been a hotspot for religious activism, innovation, and diversity? What makes this Southern California metropolis conducive to spiritual experimentation and new ways of believing and belonging? A center of world religions, Los Angeles is the birthplace of Pentecostalism, the site of the largest Roman Catholic diocese in the United States, the home of more Buddhists anywhere except for Asia, and home base for myriad transnational, spiritual movements. Religion in Los Angeles examines historical and contemporary examples of Angelenos' openness to new forms of belief and practice in congregations, communities, and civic life. Case studies include
Latino spiritualities and social activism
Hybrid Jewish identities
Capitalism and fundamentalism in early twentieth-century Los Angeles
The impact of the 1960s on Roman Catholic Angelenos
Christianity through a Hindu lens.
Highlighted throughout the work are themes including the impact of the city's diversity on religious experimentation, the importance of Los Angeles' location in relation to the Mexican border and as a gateway to the Pacific, and the impact of local politics, social trends, and cultural change on religious innovation. The volume also examines the creative pull between change and continuity and the recognition that religious communities participate in civic and global conversations.
Religion in Los Angeles includes contributions by leading sociologists, anthropologists, and historians. This cutting-edge work will be of interest to students and scholars of religious history, religion in America, sociology of religion, American studies, urban studies, and race/ethnic studies.
Richard Flory is the executive director of the USC Center for Religion and Civic Culture.
Diane Winston is a university fellow with the USC Center for Religion and Civic Culture.