Just before President Obama made his public remarks at the Islamic Society of Baltimore this week–his first visit to a mosque as President–he met with a dozen Muslim leaders from across the U.S. in a closed-door roundtable.
The diverse gathering of leaders included Ibtihaj Muhammad, of the U.S. fencing team, who will make history at this summer's Olympic games as the first American Olympian to compete in a hijab; Emtithal "Emi" Mahmoud, a student at Yale University (originally from Darfur, Sudan) and the winner of the 2015 Individual World Poetry Slam Championship; and Rami Nashashibi, executive director of Inner-City Muslim Action Network, a community organization in Chicago's southwest side.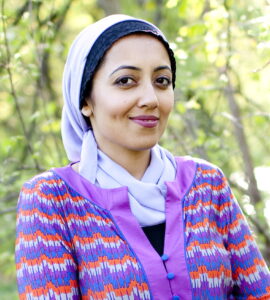 Sarah Jawaid, an alumna of CRCC's American Muslim Civic Leadership Institute (AMCLI), also participated in the roundtable. AMCLI has provided training programs for more than 200 young American Muslims who have taken on leadership roles in their faith communities and non-profit organizations.
Sarah Jawaid and fellow AMCLI alum Umar Hakim, for instance, are both organizers with LA Voice, an interfaith community organization. They were instrumental in mobilizing support for California's Prop 47 in both the Latino and African-American Muslim communities in South Los Angeles.
"I was reluctant to accept the invitation at first," Jawaid said of the event with the president. As a South Asian working in Latino and African American communities, she said, "I wondered if I was the right person to represent the community that I work and walk with. But I felt better when I learned there were going to be other people of color at the table. I was happy to see such a diverse group of participants."
That spirit of dynamic inclusivity animates many young Muslim American leaders today. All 12 participants in the presidential roundtable also were united in a commitment to issues of social justice at the intersection of race, class, religion and gender in the United States.
In his speech President Obama highlighted that civic-minded spirit when he recounted his experience at the roundtable.
"I just had a chance to meet with some extraordinary Muslim Americans from across the country who are doing all sorts of work," he said. "Some of them are doctors; some of them are community leaders; religious leaders. All of them were doing extraordinary work not just in the Muslim community but in the American community."
#Leadership #collaboration with inspiring #amclisummit peers! Thank you @usccrcc for supporting #faith based service pic.twitter.com/9Rd6EztitI

— Anisha Ismail Patel (@GlobalAnisha) February 3, 2016
These are the type of young #leaders @POTUS referred to in his #MosqueVisit: https://t.co/tLendQEw0k

— USC CRCC (@usccrcc) February 3, 2016
Though the meeting was mostly upbeat, the President also noted that Islamophobia and its wages in the American Muslim community served as the backdrop for the conversation.
"You couldn't help but be inspired, hearing about the extraordinary work that they're doing," he said. "But you also could not help but be heartbroken to hear their worries and their anxieties."
Also at the roundtable was Suzanne Barakat, a resident in family medicine at San Francisco General Hospital and sister of the dentistry student who was murdered last year, along with his wife and her sister, in Chapel Hill, North Carolina.
During the hour-long meeting with Obama, Jawaid said the discussion ranged from healthcare, immigration and criminal justice reform to challenging the profiling of Muslims and the need for the national political conversation to move beyond Islam as a national security issue. For her, the most powerful part of the experience was to see that the stories of the participants at the roundtable made an impact on the president, then to hear him share parts of those stories during his speech.
"He was reminding both the Muslims in the room and Americans listening to his speech that Muslims have been a part of this country since the very beginning," Jawaid said. "That made me hopeful—it was a real step forward in making sure there's an accurate representation of American Muslims and amplifying the voices of Muslims who are doing good work."
Nick Street is a senior writer with the USC Center for Religion and Civic Culture.