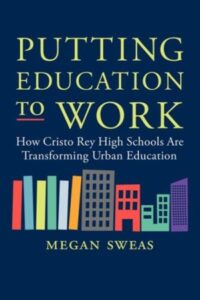 Putting Education to Work: How Cristo Rey High Schools Are Transforming Urban Education
Megan Sweas, Author
(Harper Collins Publishers: 2014)
The story of how the Cristo Rey Network's values-based education model and revolutionary work study program have improved urban schools and inspired education reform across the nation.
Combining the latest advancements in instruction, a focus on spiritual values and character development, and an innovative work-study program, the Cristo Rey Network has reinvented urban education and revived a broken system. Catholic school for the twenty-first century, Cristo Rey offers underprivileged students the opportunities they deserve and the structure and committed teachers they need to succeed and build a better life.
Filled with amazing stories of hardship and transformation, Putting Education to Work is a testimonial to the effectiveness of the Cristo Rey program, demonstrated through the lives of its students. Thanks to its rigorous college-prep curriculum and real-life job experience, students become "lifelong learners" who graduate with critical thinking skills and the experience needed for college and the work force. But the Cristo Rey education is not limited to the mind. Focusing on character growth, it ensures the formation of a "whole person" who understands his or her role in helping others.
Presenting the lessons learned along the way, Putting Education to Work shows how any school—religious or secular—can benefit from the Cristo Rey model and offers a hopeful outlook of what young people and determined educators can achieve together.
With its revolutionary work-study program and focus on character development, the Cristo Rey Network's values-based education model has presented a new vision in school administration and reinvented urban education. In Putting Education to Work, the inspiring Cristo Rey story is told from its humble beginnings in an inner-city Chicago neighborhood to its current network of 28 participating schools and 9,000 students in underserved communities across the nation, boasting an unprecedented 100 percent college acceptance rate. Through amazing stories of hardship and transformation, the effectiveness of the Cristo Rey method is brought to life, embodied by lifelong learners who can now reimagine their futures, unleash their inner potential, and fulfill their hopes and dreams by preparing for success in college and in life.
Proceeds from this book will go toward the Cristo Rey Network's mission of providing quality Catholic college preparatory education to young people who live in urban communities with limited educational options. By purchasing this book, you become part of the Network, joining schools, employers, university partners, and other benefactors in providing the opportunity for college success to thousands of students across America today.
Megan Sweas is the editor and director of communications with the USC Center for Religion and Civic Culture.