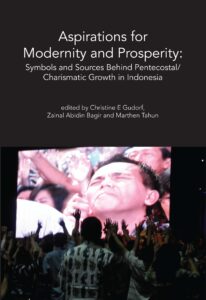 Aspirations for Modernity and Prosperity
Christine Gudorf, Zainal Abidin, Mathen Tahun, Authors
(ATF Press: 2014)
The writing of this book was supported by the Pentecostal Charismatic Research Initiative.
Indonesia is the largest Muslim majority nation in the world and at the same time has a growing Pentecostal/Charismatic movement, gaining more public attention, both for its size and wealth. Building on two years of research, thousands of member surveys, and visits to almost 300 churches, this book gives insights into the reasons for its growth. It explores the characteristics of the growing community and its social relations with other Christian communities as well as Muslims in Indonesia.