This article was originally published in Religion Unplugged, with the support of CRCC's global project on engaged spirituality. 
I first met Rachel Sumekh in August 2019 on the ground floor of a glimmering high rise in downtown Los Angeles. The organization she founded to address hunger on college campuses, Swipe Out Hunger, was housed there in pre-COVID days on a bright and airy co-working floor that maximized spaces for collaboration. Nothing about Sumekh is diminutive. Standing at 5'11", Sumekh carries herself with an ease and confidence that defy her youth.
"I'm a 27-year-old girl from the San Fernando fucking Valley, who spoke Farsi before I spoke English," Sumekh said in a moment of candor. "And I get to be literally the leading voice on this issue… sometimes it blows my mind."
Sumekh has a long list of achievements. In the time since I first met her, Swipe Out Hunger has grown in its ability to meet student's needs, even through a pandemic. Swipe Out Hunger has now served more than 2 million meals to food insecure college students and has scaled from 83 campuses in 32 states prior to the pandemic to 125 campuses across 39 states and Canada during the COVID-19 crisis. Named a Champion of Change by the Obama administration before she graduated from college, Sumekh has been featured in the Forbes 30 under 30 list and her work has made headlines in the New York Times, Washington Post, Vice and LA Weekly. Sumekh had previously authored the Hunger Free Campus Bill, and Swipe Out Hunger succeeded in passing the legislation in California and New Jersey. Today, the bill has been introduced or passed in six additional states, allocating more than $50 million to campus food security efforts.
This year Swipe Out Hunger also partnered with Michelson 20MM Foundation and Challah for Hunger to launch a student advocacy campaign targeting fair, equitable and transparent distribution of CARES act emergency aid funding to students and a website in partnership with the Congressional Hunger Center to demystify SNAP (food stamps) for the 1.65 million college students that are eligible for the program, yet do not apply.
Swipe Out Hunger calls this ability to make impact, their "recipe for growth": a multi-prong approach to ending student hunger that amplifies student leadership and voices, expands programming through cross-sectorial partnership and furthers impact through "systemic action".
Importantly, another ingredient in the recipe for growth is Sumekh's own values, informed by her faith and identity as a Jewish woman of color, which have consistently driven her to try to solve big problems, from hunger on college campuses to racial justice within and beyond Jewish communities.
The hidden cost of college
In communities across the United States today, students— along with their families— are struggling with the increased costs of basic needs such as housing and food as well as the increased cost of college tuition, which has more than doubled since the 1980s. While, in the public psyche, the higher education affordability problem centers mostly around student loans, it's issues such as food and housing that lend themselves to more immediate humanitarian concerns. A survey administered in 2018 at 123 institutions of higher education by the Hope Center for College, Community and Justice found that 45% of respondents were food insecure in the prior 30 days, 56% of respondents were housing insecure in the previous year, and 17% of respondents were homeless in the previous year.
"(In the early days) people were just in denial all the time," Sumekh said. "Now it's shifted from only students reaching out to us, to deans and administrators contacting us saying, 'We know it's a problem.' Every conference, people are talking."
Swipe Out Hunger's 2019 impact report cited 82% growth in operational budget in its prior fiscal year, and in 2020, the organization's agenda has expanded beyond ending college hunger towards meeting student's basic needs. Research done by the organization has shown that when a student's basic needs are met, it has a ripple effect on their lives helping them to perform better in the classroom, feel better physically and mentally while enabling them to be more financially responsible and contribute positively to their communities.
As the COVID-19 pandemic has made clear, students also rely on campuses for food, housing and basic needs, and when campuses stop providing them, students can suffer significant consequences.
According to Swipe Out Hunger, "one in three college students face food insecurity each year and with the financial strain on families combined with physical and emotional stress caused by the pandemic, student food insecurity has increased by 14 percent." During the pandemic, Swipe Out Hunger leaned on newly formed corporate partnerships to make impact.
In October 2019, Swipe Out Hunger announced three new corporate partnerships with Fortune 500 companies Sodexo, Aramark and CBORD, reflecting a pivotal moment in the organization's work to end student hunger. Aramark is the second largest food service company in the United States and CBORD is the leading company for ID card services on hundreds of college campuses. Following a successful pilot program, which provided more than 15,500 meals for 1,100 students in Spring 2020, Sodexo, the 18th largest employer in the world, announced the continuation of its partnership with Swipe Out Hunger, expanding its Meal Swipe Bank to 100 U.S. campuses by the end of 2021.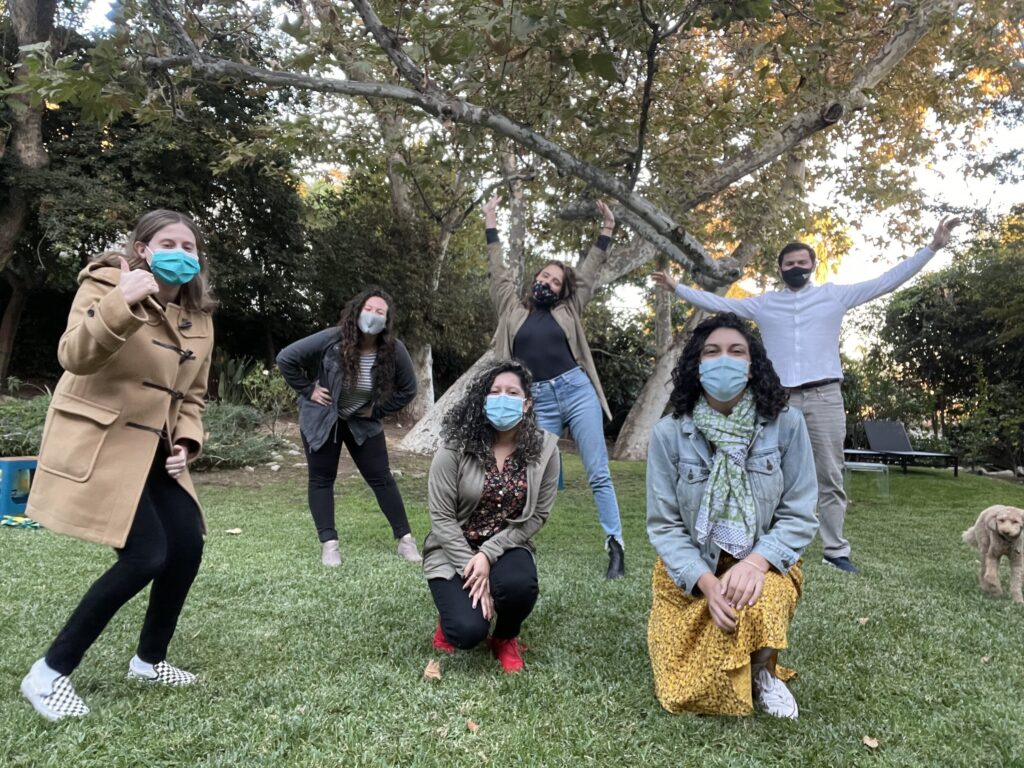 Some of the Swipe Out Hunger team during Thanksgiving week. Photo courtesy of Swipe Out Hunger.
When Swipe Out Hunger saw colleges and universities across the country begin to close as the pandemic unfolded, they knew it would leave thousands of students in financial, academic and personal crisis while compounding existing challenges that at-risk students were facing. The organization partnered with Rise to collaboratively launch a Student Navigator Network, an online student referral service that helps students through peer to peer interaction navigate and apply for emergency financial assistance, public benefits, local/communal support and information programs and services.
Swipe Out Hunger has continued to grow and respond to student's most imminent concerns because, as Sumekh said, it is "a scrappy, grassroots nonprofit, started by students, for students" that has learned to "navigate the delicate relationships between students, campus administration, policymakers and corporate partners, understanding each stakeholder's priorities."
For students by students
At the 4th annual Swipe Out Hunger Student Summit in August 2019, 40-50 campus leaders, aged 18-21, from universities across the country, philanthropists, entrepreneurs, and staff gathered at the Soylent Innovation Lab (Soylent is one of Swipe Out Hunger's corporate sponsors) in the arts district of downtown Los Angeles. The walls were lined with large post-its, representations of the discussions of the day; one was titled, Why We Respect People's Pronouns, another, Let's Collab on Solutions. The norms for the weekend included: Assume Best Intent and Take Space, Make Space. A diverse array of successful entrepreneurs shared best practices and a leading figure in philanthropy shared his best advice for young organizers.
It was clear that Swipe Out Hunger knows how to appeal and speak to college-aged leaders.
Swipe Out Hunger's rapid growth is only possible due to an adaptive organizational structure that has empowered student leadership. Swipe Out Hunger is composed of campus chapters supported by an institution committed to building the capacity of young leaders to solve hunger-related problems in a variety of local contexts. Swipe Out Hunger chapters across the U.S. have worked to end hunger on university campuses by establishing anti-hunger task forces, working with university administrators to develop a stigma-free system for sharing meal credits between students, assisting students in enrolling in Supplemental Nutrition Assistance Programs (SNAP), and hosting awareness events around issues such as hunger and homelessness.
One chapter has started growing food in an urban farm, another has partnered with university officials to create a food pantry that serves beyond the student population. Each student I spoke to at the summit felt as if their efforts were making a difference, and all found their service to be important, hoping to continue their work well past graduation.
Swipe Out Hunger collects data across all its chapters, learning from the aggregated results and adapting to what it learns from the ground. "Our best ideas have come from our students on the ground," Sumekh said without hesitation. "We talk to students all day… and we listen to them."
Swipe Out Hunger provides young adults the opportunity to do good for their communities while both contesting and working within existing systems. This is part of Sumekh's vision.
"I think this is something about young people, in our generation: We don't believe in the system anymore," she said. "We believe in people, and I will follow you if you're a person that's made it through my vetting process, I'll be in community with you, but I don't necessarily want to work on behalf of the system. I don't want to be associated with the system."
From Student to Leader
When Sumekh began this work in 2009, she did not see the deeper systemic problems Swipe Out Hunger now focuses on.
What she saw was a Facebook status from one of her Iranian Jewish friends referring to homelessness around campus and saying, "We should do something with our meal swipes," referring to the way college students swipe their student ID through a card reader to buy meals at dining halls, Sumekh immediately got involved but not initially as a leader "I know how to use Photoshop…I'll make all the flyers," she responded, joining the budding group focused on promotional activities.  But when campaign began spreading, they came into conflict with the university. Hearing a "no" only stirred defiance and determination in Sumekh. She became deeply committed to the project, and the students worked to get "Swipes for the Homeless" (as it was then called) approved.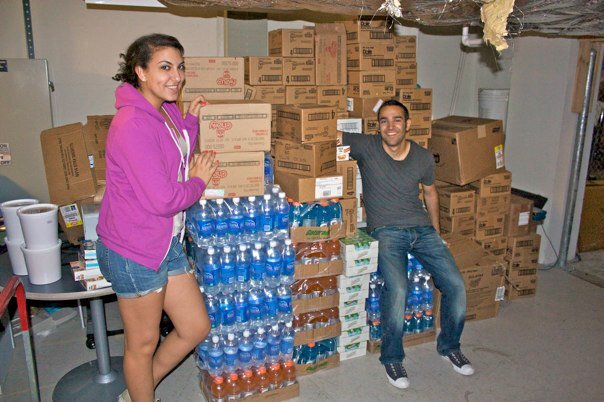 Sumekh started Swipe Out Hunger as a student at UCLA in 2009-2010. Photo courtesy of Swipe Out Hunger.
"Having it grow from 300 meals during a day, to 1,000 meals during a day, to 4,000, to 7,000, to 15,000 meals… then having our friends at USC call us and say, 'I want into your program.' I don't think it's normal for a young person to have a truth so quickly affirmed, with such certainty," Sumekh said. "We never spent money on marketing, right…a lot of my confidence came from [that early success]."
What began as a fleeting desire to put her Jewish values into action became her life's mission when she returned to Los Angeles from a year of service with AmeriCorps, at the Chicago-based Jewish organization Avodah,  and decided to turn her attention full time to turning 'the college project' into a full fledged non-profit organization.
"At the end of 2014, I remember sitting across from my laptop at the Excel sheet of the handful of chapters that we had at that point, and how many meals we had served…and I noticed that sites focused on supporting their own students first were the most high impact programs …and while people would serve on Skid Row…No one was serving the students. So at the start of 2015 I changed the name from Swipes for the Homeless to Swipe Out Hunger and committed the organization to ending college student hunger."
After the change in name, clarity of focus, and the incorporation of the organization into a 501(C)3, Swipe out Hunger grew rapidly.
At the time, Sumekh's work on hunger earned her a cover story in the Jewish Journal.
"Not a typical Persian Girl," the title read. She was taken aback.
"It broke my heart," she told me.
Sumekh grew up in a tight-knit Iranian American community, the daughter of immigrants. Though the community is socioeconomically (as well as ethnically and religiously) diverse, Iranian Americans are often assumed to have wealth. The reality show, "The Shahs of Sunset," epitomized the stereotype of "Persian princesses" living lavish, glitzy and extravagant lifestyles.
The first time Sumekh really got to know white Ashkenazi Jews was in college, through the Jewish campus organization Hillel, and it was then that she first encountered a sense of otherness, realizing that her Judaism was perceived as different.
"The moment that I developed a relationship with Judaism came in college, and I started going to the Hillel and I had this realization, 'Wait, all these people are going to something called Camp Ramah, and they all know these songs. All of you did this thing called BBYO, and have these moms who are on the Hillel Board?' I started to understand the difference between being an Ashkenazi white Jew and being a Mizrahi Jew."
Sumekh responded by working to show her peers that she didn't fit the stereotypes of Persian Jews in Los Angeles. In her year of service after college, Sumekh was able to re-examine her Persian Jewish heritage on her own terms through religious figures like Queen Esther and spiritual practices of hospitality and cuisine. "I was able to recreate my relationship with the Iranian Jewish community," she said.
After the publication of the cover story, the weight of stereotypes against Jews of color became too present to ignore for Sumekh, and she chose to embrace her difference and use her voice to empower other girls within and beyond her community. She penned a rebuttal entitled, "The Norm, Not the Exception." To this day she includes the phrase "typical Persian girl" in her Twitter bio.
Sumekh takes her role in the Jewish community as seriously as she does her food security work. She sees her faith and spiritual practice as a source of strength. Sumekh proudly identifies as "Mizrahi," a term that signifies that she is a Jew of North African/Middle Eastern origin. While many Iranians might categorize themselves as white—and are often forced to identify as white in population surveys such as the Census or college applications—Sumekh identifies as a person of color and feels compelled to advocate on behalf of racial justice, both within and beyond the Jewish community.
In an article by the Forward published in October 2020, Sumekh discusses her orientation towards racial justice work saying, "I'm proud to be a progressive Jewish activist. I've decided that it is my obligation as a proud Iranian American Jew to look at our country's history and move us towards justice."
During the racial justice uprisings that were sparked across the U.S. after the murder of George Floyd in the summer of 2020, Sumekh took her advocacy work to a new dimension and along with two other veteran Jewish community activists organized an open letter signed by more than 150 Jewish American organizations. The Not Free to Desist letter outlines seven obligations Jewish organizations should undertake to pursue racial equity, including reserving 20% of board seats, senior leadership and all job positions for people of color.
Sumekh uses this term, obligation, often when speaking of her duty as a Jewish person of faith to fight for justice and equity.
When Sumekh was named a changemaker by Repair the World, she was asked what role Jews should be playing in advancing social justice and food justice work. She responded by saying, "As Jews, we live on the edge between being insiders and outsiders. From that perspective, we can see things from both sides and have the opportunity to build bridges. That is our obligation."
Solving Big Problems
Sumekh now places student food insecurity within a larger structural problem.
"We used to fully fund higher education," Sumekh said. "You hear a lot about the student debt crisis right, but not many people talk about higher education in and of itself, as a whole, being the issue structurally, right? I mean, policy makers have defunded higher education, leaving our universities in a position to have to make everything profitable, starting with food. Food has been commodified."
There was a time when higher education was a central tenet of the American dream—the great equalizer, whereby, through hard work, one might achieve success and security. Education was seen as the birthright of every American once, and the dream of every bright mind around the world. Today, as the student debt crisis looms unsolved and the fiction of the meritocracy erodes, the dream of higher education has lost its allure.
Sumekh, a second-generation Persian Jewish immigrant, embodies a "third wave" mentality. While her father was a first wave immigrant who first came to the U.S. in the 1960s to pursue education, and her mother was a second wave immigrant who fled the persecution of the Islamic Revolution, Rachel's upbringing reflects a different reality.
As immigration of Iranians to the U.S. slowed after 9/11 due to an increasingly hawkish foreign policy perspective towards Iran and bias against Middle Eastern communities rose in the U.S., younger generations of Iranian Americans have worked to create institutions, participate in governance and civil society and create art all while redefining their ethnic, religious and political identities. Sumekh is an embodiment of this ethic, a woman who, as religious adherence declines, has carried her beliefs and values with her into the marketplace. Sumekh has chosen a third path to success, and in her innovation, has become one of the emerging voices on not just student food insecurity, but also higher education reform.
"I don't want to do this forever," Sumekh said. "I want to actually solve this problem."
Hebah Farrag is the assistant director of research of the USC Center for Religion and Civic Culture.