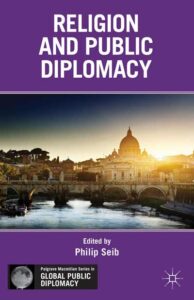 Religion and Public Diplomacy
Philip Seib, editor
(Palgrave Macmillan: 2013)
Religion and Public Diplomacy discusses the volatile consequences that can be a result of mixing religion, new communications technologies and a variety of foreign policy issues. By addressing key issues of faith in an increasingly technologically connected world, the book argues that religion is integral to the planning and implementing public diplomacy.
CRCC Managing Director Brie Loskota and Director of Research Richard Flory co-authored the opening chapter, in which they discuss the many reasons why religion is still a vital, necessary part of today's modern, turbulent world.
An excerpt from the chapter:
"While many believe that there has been a resurgence of religion in the world, a closer look shows that religion, as beliefs, associations and a motivator for public action, has never gone away.
…Religious institutions, leaders and adherents represent an important segment of the global publics that public diplomacy seeks to influence and partner with.
The renewed attention given to the power of religion by diplomats and public officials may not be the result of religion having drastically changed, but instead the result of a heightened awareness of what has always existed.
Brie Loskota is the former executive director (2016-2021) of the USC Center for Religion and Civil Culture.
Richard Flory is the executive director of the USC Center for Religion and Civic Culture.