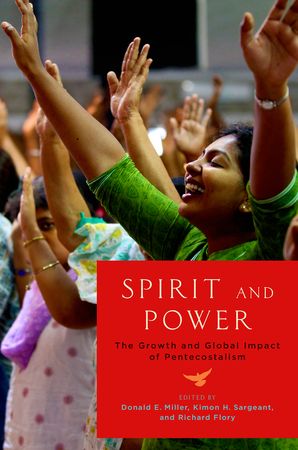 Spirit and Power: The Growth and Global Impact of Pentecostalism
Donald E. Miller, Kimon Sargeant, and Richard Flory, editors
(Oxford University Press: 2013)
From the publisher's description:
Pentecostalism is the fastest growing religious movement in the world, currently estimated to have at least 500 million adherents. In the movement's early years, most Pentecostal converts lived in relative poverty, leading many scholars to regard the new religion as a form of spiritual compensation. Yet the rapidly shifting social ecology of Pentecostal Christians includes many middle-class individuals, as well as an increasing number of young adults attracted by the music and vibrant worship of these churches. The stereotypical view of Pentecostals as "other-worldly" and disengaged from politics and social ministry is also being challenged, especially as Pentecostals—including many who are committed to working for social and political change—constitute growing minorities in many countries.
Spirit and Power addresses three main questions: Where is Pentecostalism growing globally? Why it is growing? What is its social and political impact? The contributors include theologians, historians, and social scientists, bringing diverse disciplinary perspectives to these empirical questions. The essays draw on extensive survey research as well as in-depth ethnographic field methods, with analyses offering diverging and sometimes competing explanations for the growth and impact of Pentecostalism around the world.
Richard Flory is the executive director of the USC Center for Religion and Civic Culture.
Donald E. Miller is the director of strategic initiatives with the USC Center for Religion and Civic Culture.