The USC Center for Religion and Civic Culture, in partnership with the Interreligious Council of Southern California (IRC), is pleased to announce the selection of a talented and diverse group of faith leaders for Future50—a project that seeks to discover, spotlight and provide support to the rising generation of leaders inspired by their faith who are committed to the IRC's core values.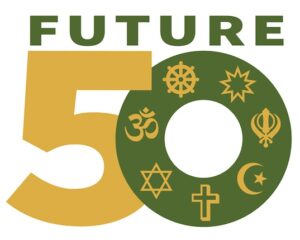 We selected 50 emerging leaders who are beginning to shape the future landscape of faith in Los Angeles. Interfaith work today is not simply a feel-good endeavor or an adjunct to other modes of civic planning and preparedness—much more than this, interfaith activism is essential to creating the social infrastructure that our city will require over the next half-century. Unprecedented challenges face Southern California over the next 50 years: Climate change will cease to be a matter of conjecture; shifts in immigration patterns will dramatically alter the region's cultural landscape; and disasters—natural and perhaps also human-made—will inevitably test the ability of faith-based organizations to provide social services and cohesion, as responsibility in times of crises continues to devolve to organizations at the local level.
Anticipating these urgent needs is the impetus for Future50, and the cohort of leaders at the heart of the project represents the vanguard of a new generation whose innovations and spiritual entrepreneurship will help us meet the coming decades with strength and optimism.
The individuals highlighted in the Future50 report represent the leading edge of work that bridges divides, builds communities and brings together the astonishing array of religious groups in our region. They include young congregants, non-profit professionals, volunteers, board members, organizers, artists and activists. Their passions are as varied as their institutional homes, but they are united by the idea that faith can inspire them to do great things for the interconnected communities in which they live, work and worship.
"There has been a sea change in how people understand, articulate and live their religion in the public sphere," said Brie Loskota, CRCC's Managing Director. "At least among younger community leaders, interacting with people who are 'other' seems more natural, which in turn suggests that we are looking at the beginning of a new way of doing 'interfaith'–or perhaps better, 'multifaith' work."
Nurturing the individual talents of these young innovators and helping them to establish synergistic relationships with like-minded leaders are the two primary goals of this project.
"Future50 participants will benefit from exploring diverse traditions and finding common cause both now and for the years ahead," said Robert Williams, an IRC vice president representing the Episcopal Diocese of Los Angeles. "IRC is honored to collaborate with CRCC and the Future50 cohort, honoring the varied ways that faith communities engage and nurture young adults, particularly those with leadership potential."
Since IRC's founding in 1969, Los Angeles has evolved into one of the most religiously distinct and diverse cities in the world. Every faith that exists can be found here, and several religious movements even trace their roots to this region. Greater Los Angeles is home to almost 10,000 congregations across the spectrum of traditions and denominations, which could be a point of great tension, as it is in many parts of the world. In L.A., however, religious pluralism is a tie that binds our diverse, ever-changing populations together.
The Future50 project is an attempt to highlight the coming wave of faith-inspired leaders who will help to shape this dynamic religious landscape for the next half century, just as the Interreligious Council of Southern California has made a distinctive contribution to the metropolis over the often tumultuous decades since its founding. In the coming months, Future50 cohort members and IRC will join together to build connections within the group, and also between current IRC members and the communities represented by the cohort. This project aspires to strengthen the ties that bind these leaders to each other, and to forge a bond between a seasoned generation and an emerging one that together will blaze a new, innovative path for Los Angeles.