Since 2021, in response to the emerging needs of AMCLI fellows, the USC Center for Religion and Civic Culture (CRCC) has crafted a toolkit focused on deepening our understanding of Islamic modalities for healing and wellness. Released each Ramadan, Healing Heartwork is a three-part toolkit that can be applied toward self-care and community care.  
Each year, the objective of the series is to:
Educate fellows on the Islamic modalities indigenous to the faith that can be used as tools of self-care and community care.
Provide fellows with the agency and opportunity to ground their well-being practice in the example of the Prophet Muhammad ﷺ and authentically reconnect to our rich and comprehensive spiritual tradition. 
Boost fellows' mental health and resilience through healing heartwork and the creation of a community of practice and care,
Volume 1 of Healing Heartwork, Exploring the Self, focused on cultivating afiya, or emotional well-being, through practices that create moments of sakina, or tranquility. Volume 2 of Healing Heartwork, Exploring Loss, centered on janazah, or funeral rites, as a way to address experiences of grief during the global pandemic while creating opportunities to pause and reflect on the losses endured, drawing peace from spiritual practices focused on honoring the body, mind, heart and soul.
Volume 3 of Healing Heartwork, Exploring Joy, will focus on humor and comedy in Islam, alongside other modalities for cultivating joy and lightness of being, both in our everyday lives and in our work in the world. 
For a donation to AMCLI of more than $100, you will receive a printed gift set of three Healing Heartwork toolkits. Please click here to make a donation.
For the past three years, grief, pain and loss have dominated the pandemic narrative. We have a choice in how we respond to hardship, and Islam offers several healing modalities–from practiced patience to prayer–as explored in previous Healing Heartwork installments. The less often explored but equally healing response to challenging times from the Islamic tradition is humor – that is, taking difficulties less seriously and allowing ourselves to laugh at the unpredictability of life. So, in the words of Lorne Michaels, producer of Saturday Night Live, on the first show after 9/11: "Can we be funny [now]?"  
Ramadan is a time for reflection, spirituality and nurturing our connections to the Divine, self and community. After many difficult years, AMCLI hopes that this series will continue to provide useful tools that can support the resilience and mental health of American Muslim civic leaders in the AMCLI network. 
AMCLI has once again partnered with Chaplain Sondos Kholaki, who will lead the program based on her years of experience in supporting and accompanying individuals in crisis on their healing journeys. Over the month of Ramadan, CRCC will release the AMCLI Healing Heartwork series with Ch. Kholaki in three parts, with each part focusing on a relevant Ramadan theme. At the conclusion of the series, interested AMCLI fellows can sign up to receive a mailed copy of the toolkit, along with other useful tools to facilitate your incorporation pf Islamic Healing Heartwork into your journey and spiritual practices. 
Part One: Mercy: Haqq, Humor and Honoring God's Divine Creation
Part Two: Forgiveness: Comedic Relief, Belief and Creating Ease
Part Three: Safety: Holistic Healing in Humor
This year, AMCLI is featuring author and illustrator Huda Fahmy with each part of the Healing Heartwork: Exploring Joy.
Download Healing Heartwork Volume Three: Exploring Joy
For a donation to AMCLI of more than $100, you will receive a printed gift set of three Healing Heartwork toolkits. Please click here to make a donation.
About Chaplain Sondos Kholaki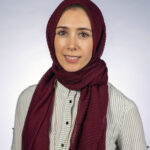 Ch. Kholaki serves as a hospital staff chaplain and a volunteer community chaplain in Southern California and is an AMCLI fellow. She is board-certified with the Association of Professional Chaplains (APC). Sondos earned a Master of Divinity degree in Islamic Chaplaincy from Bayan Islamic Graduate School/Claremont School of Theology and a Bachelor of Arts in English and Creative Writing from UCLA as a Regents Scholar. Kholaki completed five units of Clinical Pastoral Education (CPE) residency, where she served care-seekers of all faiths and educated staff and volunteers on Muslim spiritual care. Kholaki is the author of the award-winning book, Musings of a Muslim Chaplain (2020) and the co-editor of Mantle of Mercy: Islamic Chaplaincy in North America (2022). She enjoys sipping a perfectly brewed cup of coffee, listening to Quran recitations by Turkish reciters and singing her heart out at spiritual gatherings. She is married and has two children.
About AMCLI
The American Muslim Civic Leadership Institute (AMCLI) develops and trains American Muslim leaders who are committed to civic engagement. AMCLI strives to accompany these pioneering leaders as they realize their full potential and, in doing so, have a more effective and sustained impact on the issues affecting their communities and America at large.
Chaplain Sondos Kholaki is an AMCLI fellow and guest contributor with the USC Center for Religion and Civic Culture.