I had just announced our church's plans to resume in-person worship when someone called and told me they had contracted COVID-19. Immediately, I second-guessed the decision to reopen our worship building for services on Pentecost Sunday, May 23.
With nearly 50 percent of Californians vaccinated and less than 2 cases per 100,000 in Los Angeles County, the end of this phase of the pandemic is in sight. Restrictions are being lifted and guidelines on masking are changing. At the same time, the decision to resume in-person indoor worship is a challenging one—fraught with both complex logistical issues in a stew of anxiety and hope.
For more than a year, most congregations—from megachurches to small prayer groups—pivoted with the pandemic and utilized social media, Zoom (and other platforms like it), conference calling and outdoor spaces to maintain the collective forms of worship and spiritual practice that anchor their communities. Pastors, lay leaders and participants learned together how to continue congregational life in a pandemic. Social media sharing reinforced the spirit of people's personal faith, despite limited access to actual brick-and-mortar spaces.
To be clear, the people who make up congregations were never on lockdown. They kept their faith going. It's the buildings that are re-opening.
Nevertheless, the re-opening of prayer and worship spaces is not without its challenges. I asked a few faith leaders about their pressing concerns. Here is what they shared:
Generally speaking, it is "the unknown." How do we make preparations for re-entry, not knowing how many members/attendees will recommit to physically attending weekly services?
How should we balance ministering both to the now firmly established e-church and to those who deeply desire the love and warmth of in-person fellowship?
How do we ensure a healthy, wholesome environment, especially for the senior population and those with pre-existing conditions, including myself?
How should I respond to the anxiety and fear—of those who want to stay home, of those who want to return, of myself and fellow ministers?
How can we trust that those who come in-person do not have the virus, have not been exposed or have been vaccinated, especially with the fake vaccination cards circulating?
How do we deal with people who want to "visit" our worship services?
The weight of the pandemic and its impact are heavy on faith leaders' hearts. From spiritual care to managing the humanness of re-gathering, leaders are burdened and in need of support. Below are some considerations to help congregational leaders work through these questions as they restart in-person, indoor worship.
Ready yourself for this moment
From a personal perspective as a pastor, I have to be honest: I am wrestling with my own anxiety about our first in-person indoor service. I have two recommendations for dealing with these anxieties.
First, if a person is seriously concerned and possibly dealing with pre-existing conditions for themselves or someone in their home, they should continue to abide by some of the tighter social distancing regulations and recommendations from 2020.
Second, I see reopening as a personal process best conducted in phases. Start with close family and friends, then move into larger gatherings outdoors only, then move into larger indoor gatherings, as one sees fit.
Make sure you are ready to restart in-person worship before you ask members of your congregation to do so.
Plan for a slow transition and stay online
In California, houses of worship received clearance to fully "reopen" their worship building on April 12. Capacity limits that restricted indoor capacity to 25 or 50 percent (depending on the county's tier) are no longer mandatory, but they are recommended.
The California State Department of Public Health guidelines still "strongly discourage" indoor gatherings, according to the Blueprint for a Safer Economy (updated May 10, 2021). Just because regulations are being lifted does not mean you must resume in person services. Ultimately faith leaders  will need to discern what is best for their congregation and community as it relates to reopening.
Many congregations have conducted some form of formal or informal polling of their members. Pastors tell me that they have a core of members who will always choose an in-person experience; they will gladly return. A majority of people will not come back immediately, but adopt a wait-and-see approach, eventually returning on a scaled-back schedule—two Sundays a month rather than every Sunday, for example.
Still, as one pastor told me, "Pastors must grow their online/virtual ministry. This is a MUST." Some people will remain virtual indefinitely.
Stay up to date on public health guidelines
The Centers for Disease Control and Prevention (CDC) changed its COVID-19 guidance, telling vaccinated people that they no longer have to wear a mask or physically distance themselves from others outdoors or indoors.
California, however, is upholding its indoor mask mandate until June 15. Even after that, private organizations can still follow the existing guidelines. Doing so frees congregational leadership and volunteers from having to trust people to be honest about their vaccination status.
Though capacity limits are no longer mandatory, places of worship also can continue to follow recommended limits: 25% of a building's capacity for the two-highest levels of the state's four-tier COVID-19 restrictions (areas where virus spread is most acute) and 50% of a building's capacity for the two lower levels — those areas with moderate to minimum spread. Los Angeles and Orange counties are currently both in the least restrictive "yellow tier."
With all of this in mind, here are some of the key guidelines that congregations might want to implement:
Require masking indoors, regardless of vaccination status.
Require physical distancing between members of different households.
Encourage frequent hand-washing and install hand-sanitizer dispensers.
Regularly clean and disinfect the building, particularly high traffic areas and high contact surfaces (pulpits, podiums and microphones).
Discourage singing, chanting, shouting, cheering and similar activities (restrictions are not mandatory, but strongly recommended).
Discourage touch (holding or shaking hands) or sharing/passing items (books, cushions, rugs, communion cup, offering plates) between people of different households.
Improve ventilation (open windows, install air cleaners, upgrade air filters).
For detailed guidelines, look at these resources from national, state and local public health agencies:
Establish policies and train staff/volunteers
Places of worship are also places of work. Public health guidelines instruct places of worship to establish written, workplace-specific COVID-19 prevention plans.
Leaders of faith organizations also need to train and communicate with staff and volunteers about these plans, including prevention methods, self-screening (ensuring that they do not have symptoms before they come into the facility) and what to do if they have symptoms or are diagnosed with COVID-19.
The public health guidelines above can be used to write your plans.
Encourage vaccinations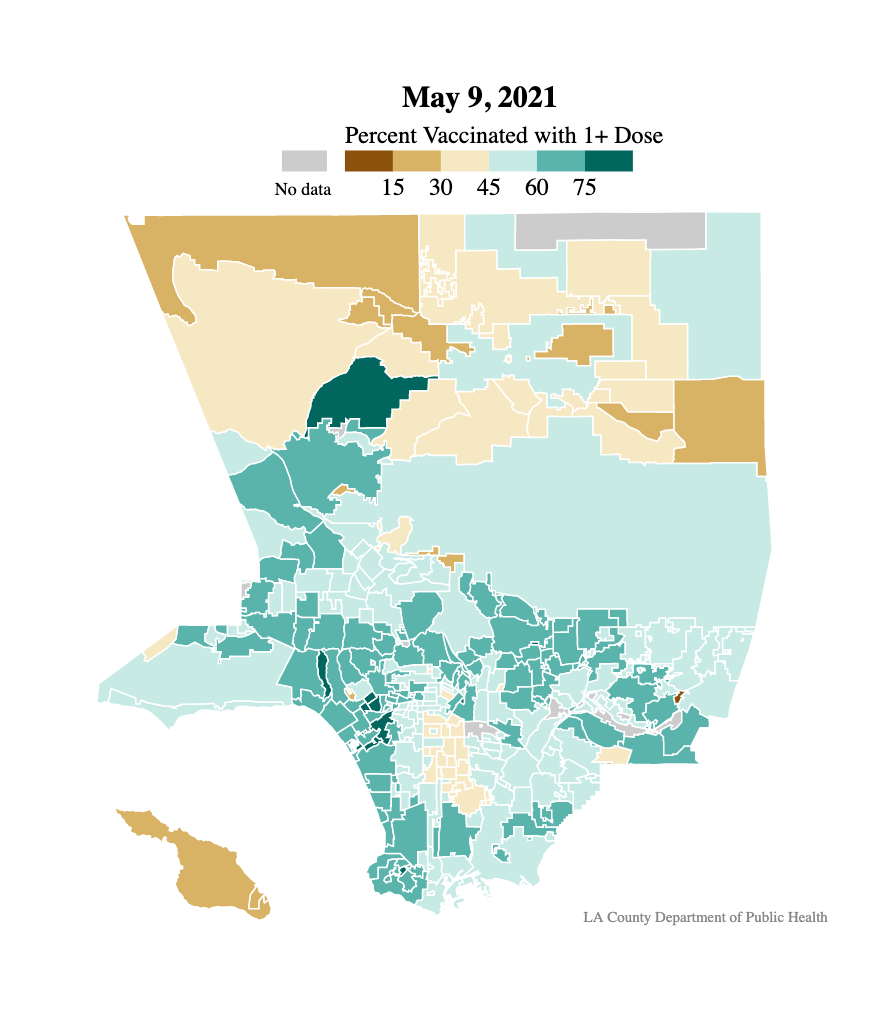 The way to end the pandemic is to ensure that everyone that can gets vaccinated. Dr. Francis Collins, director of the National Institutes of Health, called this "a 'love your neighbor' moment." Vaccination helps protect yourself, and everybody around you.
Vaccination rates are lower in South Los Angeles than the rest of the county (see the tan island–where rates are 30-45 percent on the map).
Several alumni of the USC Cecil Murray Center for Community Engagement's programs have stepped up to help educate communities on COVID-19 and utilize their parking lots or other spaces as testing and vaccination sites. This is the kind of community engagement work that Dr. Murray encouraged when he taught from his "Murray Method" of church leadership, in particular his focus on the mission of the church to see and meet the needs of the people.
According to a recent press release from the Los Angeles County Department of Public Health, at least 230 faith-based congregations across L.A. County are partnering with the Department of Public Health to deliver thousands of vaccines in zip codes with high poverty rates.
Faith leaders can help vulnerable communities get access to vaccines as well as help their members overcome vaccine hesitancy. A national survey found that, among Black Protestants, the most influential approach for overcoming vaccine hesitancy would be a forum on vaccine safety.
Below are resources with more information about vaccines and messaging around vaccination:
Many vaccination sites no longer require appointments. The following tools can be used to find vaccines.
Text your zip code to GETVAX (438829)
En Español, envía un mensaje de texto con tu código postal a VACUNA (822862)
In California, visit Myturn.ca.gov or call (833) 422- 4255
County of Los Angeles – links to vaccine providers
In LA City/County, call 1-833-540-0473
National vaccine finder: Vaccines.gov
The White House Office of Faith-Based and Neighborhood Partnerships hosted a webinar on how houses of worship can serve as vaccination sites. You can watch it here or access the accompanying toolkit (accesible en Español – Kit de herramientas de comunicación para establecer un centro de vacunación local).
Communicate with congregants
Communicate clearly with your congregants about what they can expect during in-person indoor worship. Share what they will be required to do to attend services, such as masking, physical distancing, symptom screenings or advance registration. Tell them how practices might change, such as singing, communion and offerings. Spread the message during online services in advance of restarting in-person worship. Also send it out via social media, websites and newsletters.
At your place of worship, post signage at entrances and other critical areas to remind people to mask, stay distanced from other households and wash or sanitize their hands. Ushers can also remind congregants and visitors of these policies.
Repeat critical messages—like the importance of staying home if they feel ill—often.
Your congregation and community needs your leadership and guidance now just as much as in the early days or the darkest moments of the pandemic. While many feel relief about a light at the end of the tunnel, the uncertainty of it all can be unsettling.
Remind your congregations of what our traditions teach us about the moral duty to save lives because each one of us is born in dignity and crafted to love one another. This is not the time for psuedo-science or conspiracy theories. This is the time to double down on loving each other, keeping each other safe and healthy, and building the beloved community.
Rev. Najuma Smith is Assistant Director of Community and Public Engagement with the USC Center for Religion and Civic Culture.