This article was originally published in The Washington Post and Religion News Service, with the support of CRCC's global project on engaged spirituality.
Last year, Ramadan ended just days before the murder of George Floyd in Minneapolis, as the first wave of COVID-19 was beginning to intensify. It was the beginning of a year when the burden and isolation of the pandemic left Black Muslim organizers like Umar Hakim feeling depleted on the one hand, and targeted on the other.
"It's 2021 and we're still advocating for our freedom, like we're not just as human as the next person," said Hakim. "It makes me wonder, what's the bigger truth? Why are we so targeted? Why do we need to be held down? Why do nobody want to share power?"
For Hakim, executive director of the Intellect Love Mercy Foundation, a Muslim organization that advocates for the homeless through community organizing and interfaith work in South Los Angeles, Ramadan 2021 couldn't come fast enough.
For 10 years, Hakim has organized ILM's Humanitarian Day, one of the country's largest Muslim-led charity events. On a single weekend during the last 10 days of Ramadan, Hakim, 51, brings together nearly 800 volunteers and more than two dozen organizations to provide food, medical and dental services, and hygiene kits to an estimated 3,000 homeless people across Southern California, from Los Angeles' Skid Row to Pomona and San Bernardino.
Last year, COVID-19 forced Hakim to move Humanitarian Day online. As the summer went on, a dozen other events, including "actions" for Floyd and two other victims of violence, Breonna Taylor and Ahmaud Arbery, went online as well.
Hakim, used to managing one of the biggest Black Muslim-led charity events in the nation, instead spent last Ramadan bottled up. "Ramadan for me is the chance to work, to bring people together, to organize," said Hakim, from home on Zoom. "I really believe that the good deed of it all is a blessing from Allah. And, (during) this time, I also get to show off my skills, my talents, my abilities."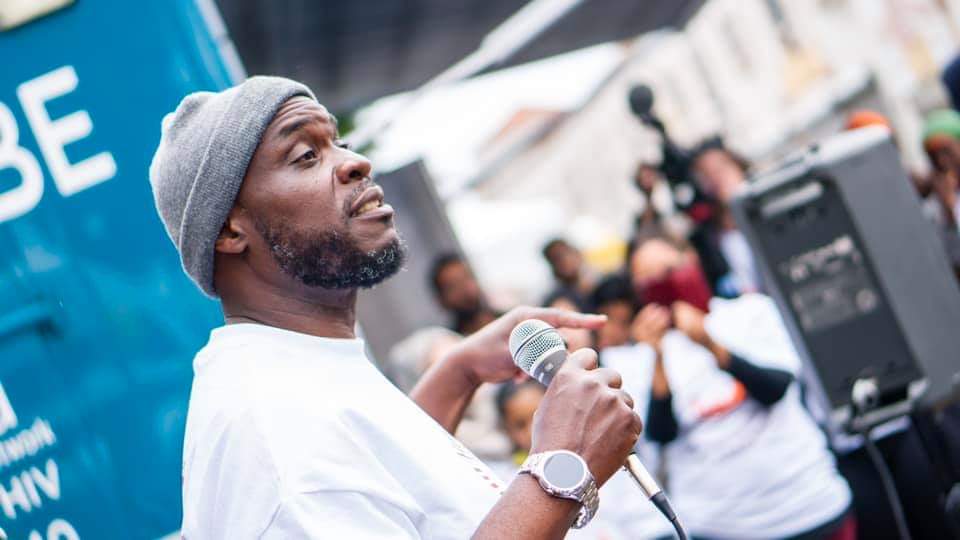 Photo Courtesy of the ILM Foundation
An integral part of the holy month of Ramadan worldwide is zakat, or charity, most often interpreted as feeding the needy. For the African American Muslim community, which makes up 20% of the U.S. Muslim population, lifting up their own economically disadvantaged is deeply rooted in their own history. Many Black Muslims' connection to the faith, even those who practice mainstream Islam today, is rooted in the Nation of Islam. The movement, founded in the 1930s, held out to Black Americans the promise of fixing their own communities though economic independence.
"Humanitarian Day embodies why Islam is relevant in America today," said Margari Aziza Hill, the executive director of the MuslimARC, also known as the Muslim Anti-Racism Collaborative. "It's why many Black Muslims embraced Islam, to be part of the solution, not only in their personal lives, but in their communities.
"When we're serving our community," she added, "we're serving ourselves and fulfilling our own religious obligation to address a social ill with our hands."
This year, as COVID restrictions have lifted slightly in California, Hakim has reimagined Humanitarian Day using what he calls the Amazon Prime model: instead of bringing people to a central location in their communities, he will bring Humanitarian Day to them. On Saturday (May 1), volunteers will gather in Santa Ana to assemble individual bags with masks, towels, a hygiene kit, a blanket, socks and information packets for the homeless in Los Angeles and Orange County, along with bags of fruit.
The following day, Hakim and a few volunteers will head out in vans to deliver the bags to various encampments, parks and places known to have homeless populations across the city. They hope to distribute 2,500 bags on Sunday.
A Compton native, Hakim was raised by his single, Guyanese, Episcopalian mother, on a street that was the dividing line between the Bloods and the Crips, the local ruling gangs. By the sixth grade, Hakim had joined the Crips. Even then, he knew he had to get out before he was 18.
"I had the consciousness to know that when you're 18, at my time, you are no longer being tried as a minor," Hakim recalls. "So I set a limit for myself of how long I'm going to do this."
After high school, Hakim got a job as a cable repair technician for a telecommunications company. On a house call in 1998, he met a Muslim woman who gave him his first Quran. Many of the notions of justice and equality that he encountered in Muslim scripture were already familiar to him from hip-hop and rap, as well as from a relative who used to read the Nation of Islam's weekly newspaper to him when he was a kid. But now he took its verses to heart.
A few months later, at the age of 28, Hakim converted to Islam, quit his job and decided to try to become an online music entrepreneur.
Gang life taught Hakim the importance of community and loyalty; his cable repair job gave him a strong work ethic and taught him to troubleshoot problems; being a music entrepreneur taught him to navigate the needs of different groups.
But it was becoming a Muslim that taught Hakim that he was meant for something bigger. Imam Saadiq Saafir, the founder of ILM and the leader of Masjid Ibadillah in South Los Angeles, had been called to mediate between the congregants of Hakim's Compton mosque and its imam.
"We went through the night, and at the end of the night, (Imam Saadiq) said, 'Man, you should come out with us,'" said Hakim.
His new mentors provided him with spiritual guidance, leadership training and a small stipend, and taught him to work from what he calls "the middle," with principles of "love and mercy."
In 2011, Hakim took the helm of ILM. With a $100,000 annual budget, he works with fewer resources than larger, better-funded organizations but has been able to inspire, train, connect and negotiate between groups from different parts of California's religious, social and political spectrum.
With ILM, Hakim has held forums to improve his South Los Angeles community's relations with the LA Police Department, advocated to decriminalize six nonviolent crimes as misdemeanors and partnered with the mayor's office, United Way and Social Model to create 10 paid positions for the Skid Row Brigade, a group of local activists who monitor and report on more than 60 new portable toilets and hand-cleansing stations on Skid Row. (This year, they are set to create 10 more positions.)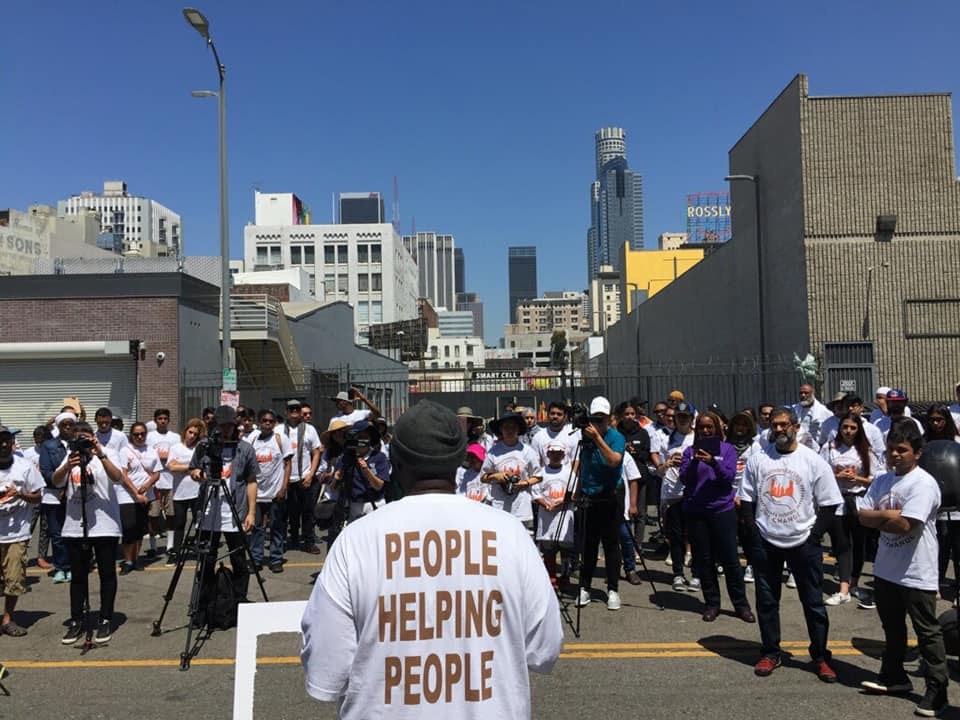 Photo Courtesy of the ILM Foundation
Last year, Hakim founded Inkerij, a consultancy that designs solutions for individuals and organizations looking to effect social change.
He is also board chair of LA Voice, a grassroots network of 57 churches, synagogues and mosques that collectively lobbies and organizes around citizenship, the vote, incarceration and the justice system, and housing in Los Angeles.
In its 22nd year, Humanitarian Day is the clearest example of how Hakim has been able to both inspire and bring people together. He built strong ties with partners from Orange County south of Los Angeles to Oakland in the Bay Area.
"We need to highlight this effort," said Hill. "We need to lift up these narratives of Black muslims that lead, because this stuff gets erased. And anti-Blackness shows up in the lack of trust of Black leadership, which includes the distribution of money and donations."
Kiran Wali, who attends a largely South Asian immigrant mosque in Los Angeles, had never stepped foot on Skid Row before she volunteered for Humanitarian Day in 2015 and met Hakim. Her experience led her to start LifeKit, a company that produces hygiene kits and distributes them monthly in Koreatown, East Hollywood and Skid Row.
"Umar's message was, 'Take one day and convert it into a life's mission," explains Wali. "His message was so clear and palpable. We could see it for what it was. This was what it was to be Muslim."
Rhonda Roumani is a contributing fellow with the USC Center for Religion and Civic Culture and a journalist fellow with the Spiritual Exemplars Project.