This post also appeared on Huffington Post Religion.
What makes a church, a church? Is it the buildings? The programs? The members? These questions come to mind with recent real estate transactions involving (formerly) sacred ground.
The Los Angeles real estate battle over a former convent involving pop star Katy Perry has attracted great attention, but it's not the only controversial sale of church property in Southern California.
In Newport Beach, the L.A. Episcopal diocese has apparently decided that townhomes should replace a local church. In May, unbeknownst to its ministers or parishioners, Bishop J. Jon Bruno announced that the diocese had sold St. James the Great Church for $15 million to a local developer who has plans to build pricey townhomes on the site.
These two examples are the leading edge of what is likely to be a more common occurrence—churches being sold for their real estate value because of declining memberships and aging parishioners who can no longer support the needs of the physical plant. We saw this with the Crystal Cathedral. Both it and St. James the Great are wealthy, but small and aging, congregations.
So, what exactly is a "church"?
The St. James the Great leadership and members have focused on their building (and understandably so), stating on their "Save St. James the Great" website that the Episcopal diocese is "selling the soul" of the church.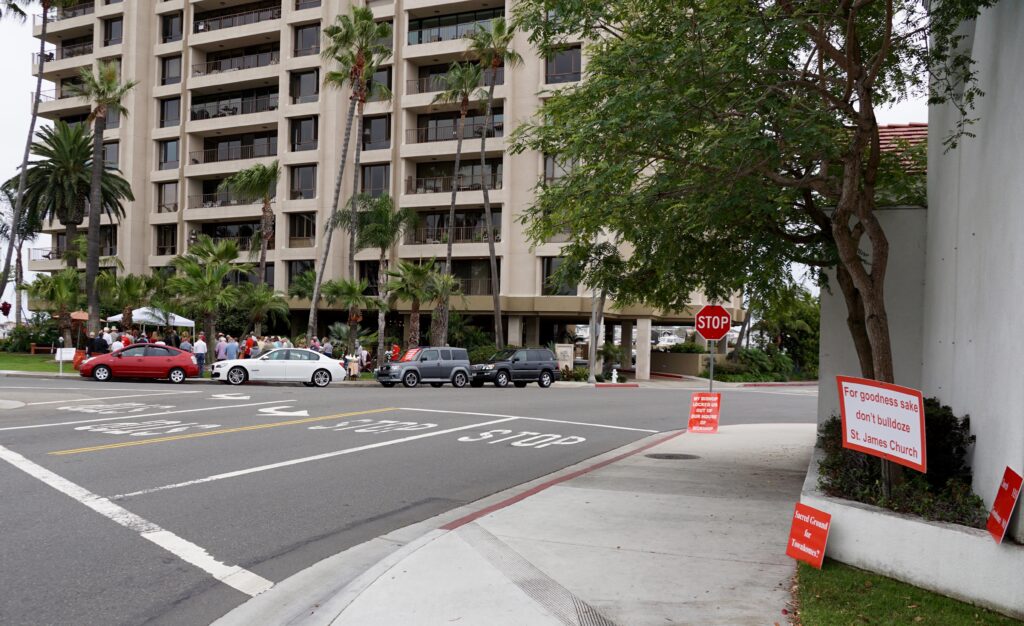 St. James the Great is a young church, started after the original St. James Church withdrew from the U.S. Episcopal Church and aligned itself with the Anglican Church in North America. The new St. James the Great invested in building this mission congregation into a successful church, given only 20 months within which to do it, although apparently they were never apprised that the clock was ticking on their efforts.
In fact, I wouldn't be surprised if this whole deal was a long-term real estate play from the beginning. In 2013 the diocese won a long court battle over the same property with the former congregation, which wanted to keep the church building. The diocese may have planned to sell the property after winning it back from the break-off church all along.
But, if we look at either the Anglican St. James or the Episcopal St. James the Great, neither church is attracting large numbers of members, nor are they attracting very many younger members and their families. These are, to put it bluntly, older, white, upper-middle class churches that maintain a liturgy that appeals to fewer people these days.
St. James the Great is located in a town where many people are at the beach or brunch on Sunday mornings, and it is also situated in a vibrant local religious marketplace. Within a couple of miles of St. James, there are no fewer than a dozen churches of all types, including another Episcopal church, several megachurches, a franchise outlet of Saddleback Church (the megachurch from south Orange County) and other smaller churches. Their future is dependent on their ability to compete with whatever these other churches have to offer their current and potential members.
There are people within the L.A. Episcopal Diocese—including Bishop Bruno—who both recognize the problems facing the church, and are supporting experiments within the church to see if other forms of congregational life might be developed that also maintain ties to the older traditions.
Through the USC Center for Religion and Civic Culture's research on religious creativity and innovation, we've seen several examples of such experimental Episcopal congregations in the L.A. area: Holy Spirit Silver Lake, which meets in an art gallery space above a restaurant; Thom's in Huntington Beach, which now is focused almost entirely on their Laundry Love efforts (serving others is "church" for them); and perhaps the most successful to date, Thad's in Santa Monica, which meets in the Bergamot Station Arts Center.
Watch a video about Laundry Love:
What these have in common with each other and with the larger Episcopal Church is a commitment to an inclusive community and pursuing social justice and social service. Where they part company is in how they administer the Eucharist and how they feel when you enter. You really don't feel like an outsider when you enter, as is often the case when someone enters a more traditional Episcopal (or Catholic for that matter) church.
From this perspective, the $15 million from the sale of St James the Great takes on new meaning. Maybe those townhomes will provide some needed capital to put more churches in less-obvious places, whether school buildings, bars, coffee houses or parks, thus making them more accessible to greater numbers of people who would never darken the door of a traditional church building—of whatever sort.
Does it matter where a church worships? Certainly religious traditions and theologies say that buildings matter, but worship spaces are also shaped by other factors not having anything to do with religion, such as generational preferences and trends. How churches balance tradition, theology and economic and demographic change will go a long way toward explaining their future viability.
Meanwhile, St. James the Great is not going down without a fight. Although they have been locked out of their former building, they have been meeting across the street in a small park outside of a high-rise condo building. They even claim to have attracted new members as they've faced their location crisis.
In fighting for its building, St. James the Great has shown that a church is more than just a building. It is also its members, however and wherever they manage to gather to create community—even in a park.
Richard Flory is the executive director of the USC Center for Religion and Civic Culture.