This post originally appeared on Washington Post's Acts of Faith blog.
Katy Perry wants to live in a convent.
No, she is not among the young women who want to become a Catholic sister (and yes, they do exist). She has negotiated with the Los Angeles Archdiocese to buy a former convent in Los Feliz, one of the trendiest neighborhoods in L.A.
The real estate deal attracted national media attention recently because two nuns are blocking Perry's purchase, saying they've already sold the property to another buyer.
[iframe height="480″ src="https://www.today.com/offsite/katy-perry-battles-nuns-over-sale-of-former-la-convent-472842819956″]
But beyond the celebrity factor, this story highlights an important question about the future of religion: What should happen to hallowed buildings left empty not only by the decline of nuns but also by the rise of religious "nones," those who don't identify with religion?
The L.A. legal battle is ultimately about the control of assets. The sisters want to make sure they manage the proceeds of the sale after buying the property from a benefactor in 1970.
As Heidi Schlumpf points out at CNN, the threat of the "church hierarchy, mainly bishops, trying to get their hands on the vast property owned by women's religious orders in the United States" is all too real coming off a Vatican investigation of U.S. women's orders that included requests for financial information.
Catholic sisters take vows of poverty, but institutionally, they can be rich in real estate, schools or hospital systems. With fewer younger sisters to support the old, congregations of women religious sometimes cash in those assets.
Similar fights over property and the proceeds of sales take place when denominations close declining churches.
It's not unusual for convents and churches to be sold to the highest bidder, typically a developer. Holy Trinity Church in Boston is one of the most recent to go, with architects revealing plans for a glass and steel structure that would rise out of the remaining church building.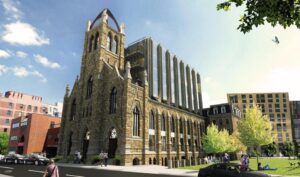 "A church that served as base of operations for a day program for homeless adults and at-risk youth will now be marketed as housing for the wealthy," a Boston Globe columnist wrote in reaction to the plan, capturing many people's uneasiness with such a transition.
I have previously written on a congregation of women religious that had sold their former motherhouse to Loyola University of Chicago. Catholic sisters know that their numbers are shrinking, and they want their spirit to live on. "We were happy that a religious community was taking it and a community that was dedicated to education, because that's exactly what we were dedicated to," a sister told the Chicago Reader.
But Loyola turned around and sold the property to a developer. The village council intervened, and the convent survived as senior housing, with 12 "affordable" units. But in a building where one unit sold for $1.7 million, affordable meant $200,000 (before the housing crash).
LA Times columnist Steve Lopez, who broke the news of the Perry-sisters-bishop fight, focused on the sisters' disapproval of Katy Perry. They were not impressed, he wrote, when they saw her sing, "Let you put your hands on me in my skin-tight jeans," during the Super Bowl halftime show.
What the story didn't include was the background of the sisters' buyer, a restaurateur and driver of gentrification. Dana Hollister, according to the LA Times, once ran a club called Bordello and wanted to transform another former convent into a hotel. Earlier this year she obtained permits to transform Pilgrim Church into a boutique hotel with 4,000 square feet of restaurant and bar space. (I've been to her bar Villains Tavern and enjoy her eclectic, preservationist style, but bars are not exactly pious businesses.)
There are other options for these spaces.
Not far from the disputed convent, the Dream Center, a Christian organization that fights poverty, is housed in a former Catholic hospital. After Queen of Angels Hospital closed, the Franciscan sisters who ran it had lucrative offers from entertainment companies, yet they sold the building to the Dream Center at a greatly discounted rate because of its alignment with their mission.
In wake of declining numbers, some churches are becoming community arts centers, renting space out to non-profits during the week. In Los Angeles, the Pico-Union Project provides a home for multiple congregations—Jewish, Christian and Muslim—that couldn't sustain a building on their own. It's housed in the original Sinai Temple, which served as a Presbyterian church for 88 years.
Nathan Marion, who helps churches redefine their spaces in Seattle, says that such arrangements align with the mission of churches, helping them survive despite falling numbers and meet a need among the un-churched. "Having a place where people can connect and be in a community where they feel welcome and as safe as possible in a public event, I think that's really important, and it's missing in a lot of people's lives," he told Religion Dispatches.
In dorm-like convents, other groups can move in. I lived in a former convent after college with 11 other recent graduates (both women and men) as a part of a full-time volunteer program.
Other Catholic volunteer programs allow young women to live with sisters while serving their community for a year or two. Non-profit organizations generally pay the volunteer organization to support the young people's living expenses in exchange for their service.
Two sisters in Chicago are behind shelters for migrants housed in a former convent and theology school dorm. An interfaith organization has raised funds to support the houses.
The sisters tipped me off to what Pope Francis had to say about empty convents. "Empty convents are not for the church to transform into hotels and make money from them. Empty convents are not ours, they are for the flesh of Christ: refugees," he said at Centro Astalli, a Jesuit refugee center in Rome.
Pope Francis's statement was directed at religious congregations in Italy – Centro Astalli served 34,000 migrants in 2014, but more than 500 monasteries and convents advertise rooms for rent to tourists on MonasteryStays.com. I went to Italy last fall to see how the church responded to the pope's challenge. Relatively few congregations had opened their doors to migrants, but at least in active convents, hotel revenues help sustain sisters' ministries with "the flesh of Christ."
In the Los Angeles dispute, Hollister denies the archdiocese claims that she wants to transform the former convent into a hotel and restaurant, saying she doesn't have plans for the property yet. But if Perry wins, it's unlikely to become a shelter for the poor either. The proceeds from the convent's sale could be invested in another ministry, but both the sisters and the archdiocese also could think creatively about what the space could become.
"It'll be left to the courts, if not the pope, to figure it all out," Lopez wrote.
If Pope Francis has his way, he may have to amend his previous statement: Empty convents aren't to house tourists, pop stars or even bars.
Photo Credit: Huntley Paton/Wikicommons
Megan Sweas is the editor and director of communications with the USC Center for Religion and Civic Culture.