The USC Cecil Murray Center for Community Engagement's Faith Leaders Institute (FLI) helps organizations build their capacity to respond to their communities' needs.
"Equipping Faith Leaders
to Empower Communities"
Through the Institute, clergy and lay leaders of churches and faith-based organizations gain the knowledge and skills necessary to make and change public policy and hold government accountable. Past cohorts have met with public officials and held forums, protests and educational events about transportation, immigration reform, gang violence, health disparities within communities of color and other social issues.
PROGRAM DETAILS
In 2017, FLI is taking on a new format, allowing participants to dive deeper into a number of community issues. Murray Center alumni will be given a priority for this program. FLI will consist of four sessions covering:
Recidivism and Prop 47
School to Prison Pipeline
Gentrification
New Models of Civic Engagement
In each session of the first three sessions, participants will hear about all sides of the issue and how their congregation or organization can get involved in the issue. In the final session, participants gain insight into the Black Lives Matter movement, the Trust Talks model and other new ways of creating change in your community.
After the sessions, participants will take what they learned back to their community through public forums or other creative means, either working on their own or with members of their cohort.
The institute is made possible with grant support from the California Endowment. Throughout FLI, participants will have the opportunity to network with congregations, funders, nonprofit organizations, and local and state public officials, such as Christ Our Redeemer Church, Village Solutions, West Angeles Community Development Corporation, Crenshaw Christian Center, Homeboy Industries, City of Refuge, Bank of America, Union Bank, Wells Fargo Bank, the Economic Development Administration, Vermont-Slauson Economic Development Corporation, California Community Foundation and the California Endowment.
Join us to gain actionable ideas and skills to improve your community!
PROGRAM DATES
Cohort2
Orientation: February 2
Sessions (retreat): February 9-10, 2018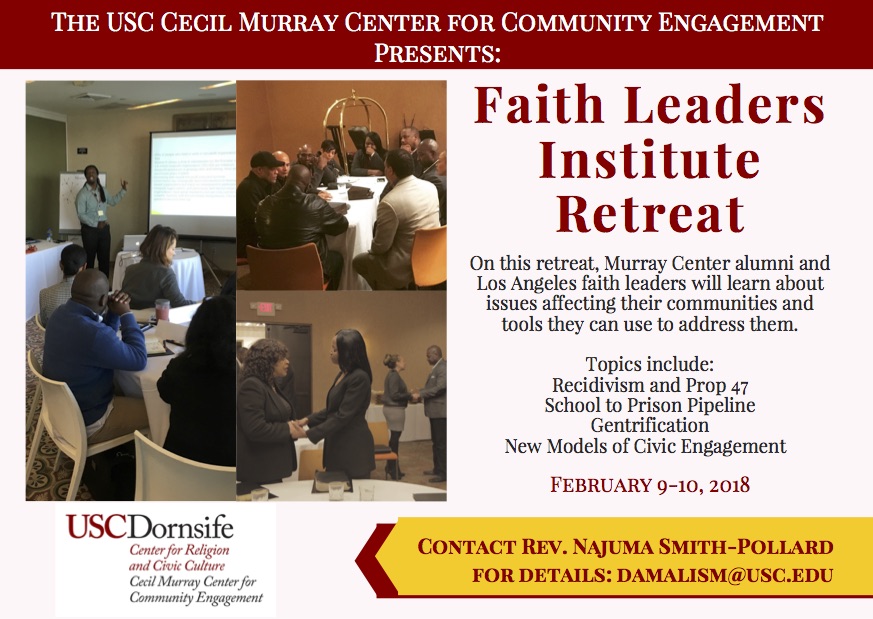 If you would like to apply for the program, please contact the Rev. Najuma Smith-Pollard:
damalism@usc.edu
213.743.2141
PROGRAM REQUIREMENTS
There are no formal academic requirements for program participation. We prefer that applicants represent organizations that meet the following requirements:
Organizations should have an interest in recidivism and Prop 47, the school to prison pipeline, gentrification and new models of civic engagement.
Organizations have two or more years of operation
Organizations have between two and ten employees
Organizations have an annual budget of at least $100,000
Multiethnic and multi-faith organizations are encouraged to apply
Program completion requires:
Attendance
Participation
5-page final paper
Community project
Program Fee: $150, payable to USC ($100 for program; $50 for materials)
To find out how to apply for future programs, please sign up for the CRCC newsletter and indicate your interest in the Murray Center: