The Federal Emergency Management Agency (FEMA) released a groundbreaking online training course to help disaster and emergency management professionals and volunteers work with religious communities.
The web-based course, IS-505: Religious and Cultural Literacy and Competency in Disaster, is one of the e-learning and certification offerings listed on the Emergency Management Institute website. Its inclusion in the Institute's offerings indicate the critical importance the Department of Homeland Security and FEMA place on religious literacy for all emergency management personnel, at the federal, state, local and tribal levels.
"Until this course, there wasn't a way to truly help equip the emergency management community to develop and foster knowledge and skills to make this collaboration [with the faith community] a reality."
The USC Center for Religion and Civic Culture (CRCC) and National Disaster Interfaiths Network (NDIN) developed the course and its companion resource materials, in partnership with the University of Southern California Center for Risk and Economic Analysis of Terrorist Events (CREATE) and under the leadership and partnership of the DHS Center for Faith-Based and Neighborhood Partnerships.
As FEMA Administrator, W. Craig Fugate began to promulgate the "whole community" concept in 2011, which asks FEMA to partner with individuals and organizations to prepare for and respond to emergencies and meet the needs of the entire community.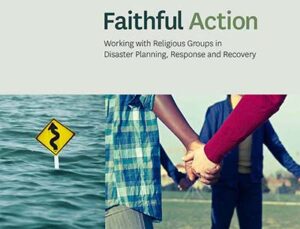 CRCC's 2012 report, Faithful Action: Working with Religious Groups in Disaster Planning, Response and Recovery, found that faith-based organizations and faith leaders serve as focal points for people seeking physical, social, emotional and spiritual care when disasters strike. Faith-based organizations, for example, represented two-thirds of recovery efforts in response to 9/11 and Hurricane Katrina.
Because people of faith, congregations and faith-based organization provide essential relief and recovery functions, they are a key component of "whole communities." It is essential for government personnel and institutions, therefore, to understand the potential contributions and unique needs of America's faith communities, CRCC concluded in Faithful Action. CRCC recommended that public agencies build knowledge of faith communities, particularly through a manual on working with faith communities and training programs and materials.
"At the time, there were trainings on particular religious groups, but no agency that we knew of had trainings that would give their employees the tools to effectively partner with religious communities as a whole," said Brie Loskota, CRCC's Executive Director and a co-author of Faithful Action.
In 2012, Peter Gudaitis of NDIN proposed a practitioner-academy collaboration between NDIN and CRCC to build these resources for field operations. Together, NDIN and CRCC created a catalogue of print materials and training curricula, including for an interactive full-day classroom course called "Engaging Faith Communities in Disasters: Increasing Religious Literacy & Competency."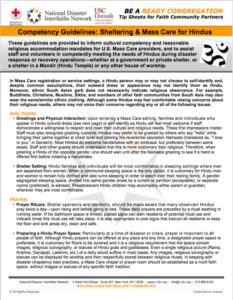 NDIN/CRCC materials include:
FEMA's online course (EMI IS-505) is based on these materials and includes downloadable copies of the tip sheets for engaging religious leaders. FEMA personnel also contributed to the development of the content. (CRCC and NDIN did not have final editorial control of the FEMA EMI IS-505 course.)
This is a "must-take course," said Jamie Aten, founder & co-director of Humanitarian Disaster Institute. "We have known for some time that faith communities play an important role in emergency and disaster response. Agencies like FEMA and others have encouraged collaboration between all levels of emergency management and faith communities," he said. "Until this course, there wasn't a way to truly help equip the emergency management community to develop and foster knowledge and skills to make this collaboration a reality."
Participants in the USC/NDIN "Engaging Faith Communities in Disasters" in-person course, Los Angeles, May 2016.
Participants in CRCC/NDIN's day-long in-person training courses have reported that they not only learned more about the language of faith communities, but also gained skills and resources that they could use in the field. "I am ready to engage with different religions and cultures when I teach preparedness and serve in mass shelter," one participant shared after a recent course in Los Angeles.
"We hope that the success we have had educating emergency managers skills to engage with religious groups through the in-person courses will translate to a wider audience with the web-based course we created for FEMA," Gudaitis said.
These efforts ultimately make the whole community more secure in event of an emergency.
"Communities of faith are an essential element of our resiliency efforts. In times of crisis they are natural and trusted points of congregation and capability," said James G. Featherstone, president & CEO of the Homeland Security Advisory Council. "It is imperative that emergency managers develop the literacy and skills needed to ensure that communities of faith are heard, understood and included."
For more information on CRCC/NDIN resources, including how to bring the "Engaging Faith Communities in Disasters" curriculum to your organization, please email crcc@usc.edu.
Click here to take the web-based FEMA course, EMI IS-505.
Media: Please contact CRCC if you're interested in writing about the courses or the role of faith communities in responding to disasters. CRCC can connect you with experts and training participants.
To learn more, please see the tip sheets on engaging faith communities.