creatThis post originally appeared on Huffington Post.
Shawn Porter is not the only one skipping meals in preparation for his WBA welterweight title bout this Saturday night at the Barclays Center. In the boxer's adopted hometown of Las Vegas, members of the prayer team at Porter's church, Remnant Ministries, participate in their own version of "fight week" by praying and fasting on behalf of the fighter who's also the usher at their church.
Remnant Ministries' pastor Randall Cunningham isn't impressed by the hype surrounding Porter's fights—he played quarterback in the NFL for 16 years and understands the hype and pressure surrounding professional athletics. As Porter's pastor and mentor, Cunningham sees boxing as what Porter does, not who he is, and his interest in the twenty-eight year old challenger does not hinge on the outcome of one fight.
"In church, Shawn is just Shawn," Cunningham said, "but when he is ready to have a boxing match, we say, 'Okay, let's get on our knees and fast and pray for him.'"
Las Vegas is not a city known for piety. Remnant Ministries grew from an informal Bible study group that met in the Cunningham family living room to a megachurch where over 1,200 people come to worship on any given Sunday. Thousands more participate via digital streaming. Cunningham says the church's growth wasn't due to an innovative evangelism strategy or savvy advertising campaign.
"We love people. That's our marketing,' he said. "When you come here you are going to learn the Bible, you are going to be loved by people and you are going to worship."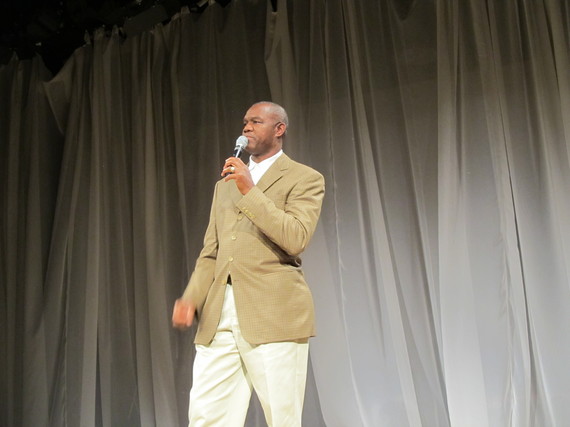 Remnant Ministries and Pastor Cunningham have become important members of Team Porter since Shawn and his father moved to Las Vegas in 2013. The former Eagles, Vikings, Ravens and Cowboys quarterback doesn't give advice on when or how Porter should throw his jab, but he is nonetheless uniquely equipped to serve as a mentor. Like Porter, he has had to learn how to navigate celebrity, faith and the spiritual challenges that playing a violent sport for a salary inevitably entails.
I spoke with both Porter and Cunningham inside their church in Las Vegas before his fight Keith Thurman to talk about the relationship between pastor and fighter, how the church supports Porter and how the boxer serves his church.
"Pastor Cunningham has done some very unique and unbelievable things for me and has elevated my spirituality as a Christian," Porter said. "I take a lot of knowledge just from watching him and how he carries himself. You need someone who is going to challenge you. As an athlete, as a black man and as a Christian, he has set the bar for me to reach."
People hit and get hit in both boxing and football, and part of what Cunningham talks to the younger Porter about is how to perform at a world-class level in a sport that demands violence without compromising religious commitments.
"There is a thin line that and you can 't cross over," Cunningham said, "you have to be able to turn a switch on and you have to know when to turn the switch off. That is how it was for me in football. I had to go out and act a little crazy, but keep my mentality strong, my integrity and my morals at a level where I am representing God."
Cunningham is intentional in the way he talks about Porter's profession and always says "boxing matches" and never "fights" when talking about what Porter does to make a living. Like he said, it's a thin line.
Humility and serving others are central themes in the two men's conversations. As a pastor, Cunningham purposefully downplays his personal successes in the NFL. He recently auctioned off nearly all of his own football memorabilia to raise money for an addition to the church building. He has also made some small, symbolic gestures to push back against the celebrity culture that has become prevalent in some large Protestant churches in the United States.
When I pulled into Remnant Ministries' parking lot, I rolled into the spot closest to the door, but before I got out of my car, I checked for the "Reserved for Pastor" sign before taking the keys out of the ignition
"I don't believe in giving people special seats in the church or spaces in the parking lot, no," Cunningham said when I pointed to my car. "If I get here late I can park across the street."
When talking to Porter, Cunningham speaks frankly about some of the mistakes he made while he was one of the most recognizable athletes in the U.S. He doesn't try to hide the fact that even though he is the pastor of a prominent church, there are areas of his life in which he still struggles.
During our conversation, Cunningham pointed to the welterweight sitting next to him and said, "Shawn, I respect him, he is a son in the Lord, but I am going to push him to do what God wants him to do. I see a man who is light years beyond where I was when I was his age. I went through years of pride and craziness before I figured it out. I need to be vulnerable to Shawn because he needs to see the real me."
Most Sunday mornings, Shawn Porter places a name tag on his sport coat and serves as an usher at the church. "I am proud of what I am to my church" said Porter. Depending on how the week's sparring sessions went, he may lead people to their seats with swelling around an eye or cuts on his face from his opponent's gloves. But this is the sort of reciprocal relationship the pastor expects from the church's members. They should both serve and be served by others.
Pastor Cunningham and other church members serve Shawn Porter by praying before and during his fight—or boxing match. They pray for the safety of both fighters, that Shawn Porter will box the best he can and that God will give the Remnant Ministries usher wisdom in how to use the national stage where he performs. But according to Cunningham, a Saturday night match "is about little brother going out and little brother coming back. When he does come back to church, it brings joy because we all share in the experience. It is not just about him, he doesn't get to have it all by himself, we all get to share in the experience."
Andrew Johnson is a contributing fellow with the USC Center for Religion and Civic Culture.