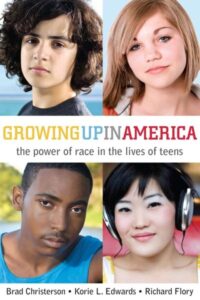 Growing Up in America: The Power of Race in the Lives of Teens
Richard Flory with Brad Christerson and Korie Edwards
(Stanford University Press: 2010)
People's experiences of racial inequality in adulthood are well documented, but less attention is given to the racial inequalities that children and adolescents face. Growing Up in America provides a rich, first-hand account of the different social worlds that teens of diverse racial and ethnic backgrounds experience. In their own words, these American teens describe, conflicts with parents, pressures from other teens, school experiences, and religious beliefs that drive their various understandings of the world.
As the book reveals, teens' unequal experiences have a significant impact on their adult lives and their potential for social mobility. Directly confronting the constellation of advantages and disadvantages white, black, Hispanic, and Asian teens face today, this work provides a framework for understanding the relationship between socialization in adolescence and social inequality in adulthood. By uncovering the role racial and ethnic differences play early on, we can better understand the sources of inequality in American life.
An excerpt from the book:
Our intent is to understand the "precursors to racialized outcomes"; that is, we ask, Does society differentially invest in youth of different racial and ethnic backgrounds, thereby predisposing them to follow certain paths and particular roles to fill in society as adults?
Richard Flory is the executive director of the USC Center for Religion and Civic Culture.
Brad Christerson is a contributing fellow with the Center for Religion and Civic Culture.