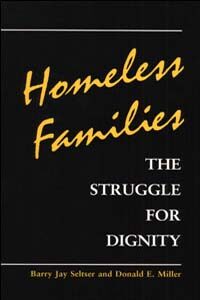 Homeless Families The Struggle for Dignity
Donald E. Miller & Barry Jay Seltser
(University of Illinois Press: 1993)
How do homeless people perceive their plight? Specifically, how does their situation affect their sense of personal dignity? In intensive interviews with one hundred adult heads of homeless families, Barry Seltser and CRCC's co-founder Donald E. Miller ask these questions, previously not dealt with in the growing literature on homelessness. Homeless Families sensitizes readers, challenging them to consider their own moral and social responses to homeless people.
An excerpt from the book:
Although usually submerged, the question that appears to gnaw at the spirit of mothers and fathers is, Why is it that other parents are able to provide for their children, but I have failed? Many things can be taken from  persons without breaking their spirit, but the loss of a sense of dignity is particularly tragic.
Donald E. Miller is the co-founder of the USC Center for Religion and Civic Culture.