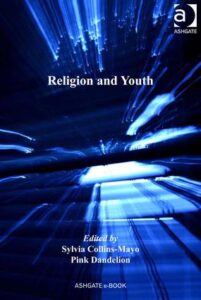 Religion and Youth
Sylvia Collins-Mayo, Editor
(Routledge: 2011)
What is the future of religion given the responses of young people? What impact do existing religious forms have on youth? What kind of spirituality and religion are young people creating for themselves? Religion and Youth presents an accessible guide to the key issues in the study of youth and religion, including methodological perspectives. It provides a key teaching text in these areas for undergraduates, and a book of rigorous scholarship for postgraduates, academics and practitioners. Offering the first comprehensive international perspective on the sociology of youth and religion, this book reveals key geographical and organisational variables as well as the complexities of the engagement between youth and religion.
The book is divided into six parts organised around central themes: Generation X and their legacy; The Big Picture – surveys of belief and practice in the USA, UK and Australia; Expression – how young people construct and live out their religion and spirituality; Identity – the role of religion in shaping young people's sense of self and social belonging; Transmission – passing on the faith (or not); Researching Youth Religion – debates, issues and techniques in researching young people's religion and spirituality. James A. Beckford writes the Foreword and Linda Woodhead the Epilogue.
CRCC's Richard Flory and Donald Miller co-authored a chapter in the book titled, "The Expressive Communalism of Post-Boomer Religion in the U.S."
Donald E. Miller is the director of strategic initiatives with the USC Center for Religion and Civic Culture.
Richard Flory is the executive director of the USC Center for Religion and Civic Culture.