He was many things rolled into one: A committed community peace builder, a passionate promoter of religious tolerance and a tireless advocate of free education for children. Above all, Edmund Kaszibuloh Koroma was a loving and caring man who sometimes risked his safety and that of his family to protect others, especially children, from physical and mental harm.
His strength was in the smile he wore almost always, an outward expression of his inner conviction that God had called him to help others. With his loving wits, Koroma made those around him feel happy.
My heart boiled with sorrow when I learned from his son on August 22, 2022, that he had died that morning at his home in Makeni, his town in Sierra Leone's Northern Province, after a brief illness.
Edmund Koroma believed in life after death. So I am sure his spirit has no regrets, for he lived a life of purpose.
He was only 63. But he lived more than half of those years rendering selfless humanitarian services as a psychosocial expert and educator in Makeni, which has more than 100,000 people.
I met Koroma in Makeni in July 2019 when I traveled from Nigeria to Sierra Leone to interview him. That was after he accepted his nomination to participate in the USC Center for Religion and Civic Culture's global Spiritual Exemplars Project, which aims to determine the role religion plays in motivating people to solve humanitarian problems.
Before traveling to Sierra Leone as CRCC's journalist fellow, I had researched and read how Koroma, in 2000, saved 87 children from rebels who previously used the kids as child soldiers and sex slaves during the country's 11-year-civil war (1991-2002). (In the photo on the right, Mr. Koroma poses with John Timoconte, a former child soldier who had his secondary school education at Mr. Koroma's school.)
Then, he was manager of an interim care center built by Caritas, a Roman Catholic charity, to rehabilitate former child soldiers retrieved from the rebels during a peace deal with government forces. When the rebels broke the pact, resumed fighting and moved to get back the kids, Koroma took them through bush paths, hiding and trekking for five days from Makeni until they arrived at government-controlled Freetown, the capital, covering 120 miles.
I also researched how he was giving free education to more than 1,200 children from impoverished families in Africa's third poorest country per GDP through Alagendra Secondary School, which he founded after the war. As a devout Catholic and member of Makeni's Inter-religious Council until death, Koroma worked for coexistence and tolerance among Muslims and Christians.
With all this knowledge about Koroma, I was eager to meet him to hear his story firsthand, learn about his motivations and observe how he conducted his life.
For three days, through formal interviews and friendly chats, I interacted with the man whom friends jokingly called "two-in-one" to imply that he was partly Muslim and partly Christian because of his close friendship with Muslims.
I confirmed all I read about him to be true. I met his direct beneficiaries, including two former child soldiers he saved, tens of kids receiving free education from his donations-sustained school, and others who worked closely with him.
But what was more thrilling for me was the simplicity, respect, love and friendliness with which he related to people around him—old and young.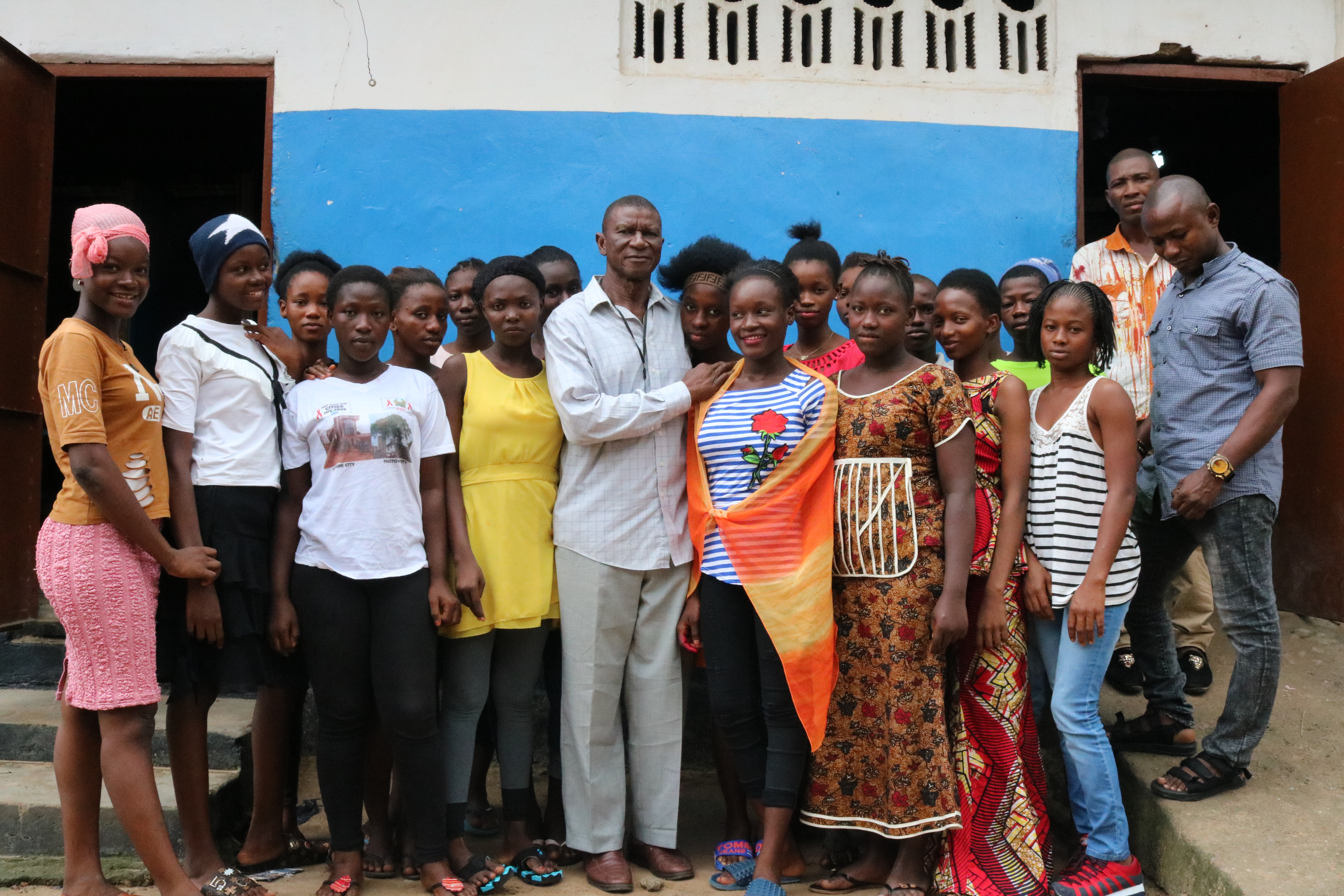 Mr. Koroma (center) with two volunteer teachers (right) and candidates for West Africa Senior Secondary Examination.
Underneath that friendly demeanor was a strong risk taker.
During the 2014 highly contagious Ebola outbreak that killed more than 4,000 Sierra Leoneans, Koroma risked his safety and volunteered for the International Medical Corps (IMC). He provided support and counseling to affected children and their parents while engaging communities on safe practices.
In 2019, I asked Jatin Hiranandani, an emergency response professional who worked with IMC to build an Ebola treatment centre in Makeni, what he thought of Koroma volunteering during the outbreak.
"He (Koroma) knew the risk, but he came to that job with great courage and passion," Hiranandani said.
Koroma believed in life after death. So I am sure his spirit has no regrets, for he lived a life of purpose.
He left Makeni and her people better because he lived serving his town and was a patriotic ambassador of Sierra Leone. And I am better because he impacted me personally.
As a solutions-focused journalist reporting on efforts towards solutions, I try to connect with and stay in touch with people solving social problems. But staying in touch with Koroma as friends for three years after we first met was easier because he was genuine, open and easy-going. We talked often via Facebook, phone calls and Whatsapp, asking about each other's welfare.
He knew I travel a lot around Nigeria, and he understood our security challenges here. So during those chats, he would say a little prayer for me: "My God protect you!"
Mr. Koroma with his (Anmarie) and three children (Alex, Alpha and Ibrahim).
Koroma is dead, yet he lives on as a hero. He is alive in all the children whose lives he gave meaning to and in the heart of everyone who knew him closely.
I am glad I had the chance to tell his story, publishing four stories about his life and work. The life he lived inspires me to keep strong as a solutions-focused journalist reporting how people are solving humanitarian and social problems in Africa.
I will miss you, my friend!
Rest in peace, savior!
Emmanuel Innocent Eteng is a journalist fellow with the Spiritual Exemplars Project.