There's a spider alive because of Nick Shindo Street.
Nick, a Buddhist, had convinced his colleague Najuma Smith, a Christian minister, that spiders were God's creation and deserved to live. So when Nick became seriously ill this summer, Najuma could not bring herself to clear an Orbweaver's huge web that was terrorizing her and her kids above their parking spot. "You're only still here because of Nick!" she told the spider.
It is just one act that Nick's colleagues at the USC Center for Religion and Civic Culture pray will be added to his list of good deeds.
Nick died on Friday, September 8, 2023. His legacy at CRCC is both personal and professional, influencing his colleagues through his storytelling and editing, as well as through his spirit.
As CRCC's storyteller, Nick eloquently crafted articles and reports that showed how faith leaders and organizations operate in the world. Read Nick's work at CRCC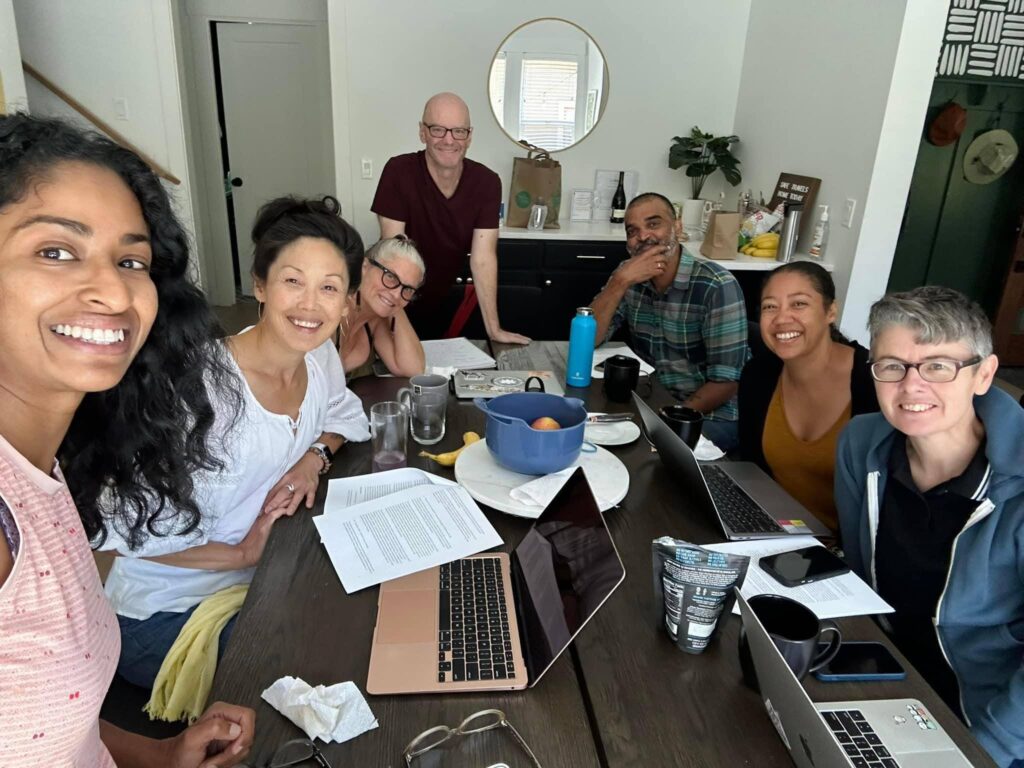 Moreover, he was generous in editing his colleagues' work, helping academics pull out a key story into the lede, craft a solid nut graph and stay focused on the "so what?" as he would say, quoting his former journalism professor Diane Winston.
"I can't remember how I used to write before meeting Nick. I will forever hear his voice in my mind reminding me to 'show it, not tell it,'" said Hebah Farrag, CRCC's assistant director of research.
A former book editor with a master's degree in theology, Nick helped the Rev. Dr. Cecil L. "Chip" Murray write his memoir, Twice Tested By Fire: A Memoir of Faith and Service. He also edited Richard Flory and Melinda Denton's Back Pocket God: Religion and Spirituality in the Lives of Emerging Adults.
Former colleague Andrew Johnson said he would trust no one else to edit his award-winning book, If I Give My Soul: Faith Behind Bars in Rio de Janeiro. Nick would improve the readability of text while retaining the author's intent. "It's you but better," Nick would joke, referencing the Maybelline tagline.
He helped Tarra McNally complete her dissertation, and his last work trip was to help Nalika Gajaweera with her forthcoming manuscript on Buddhists of color navigating and working to change predominantly white convert Buddhist meditation institutions.
He was more than an "ally," Nalika said. "He put in the work to empower other minorities like myself to feel emboldened and find our voice, without shouting to make a point that he was doing something. My colleague Ann Gleig pointed out that he was comfortable around strong feminist women, never feeling like he had to impose himself."
His colleagues found it remarkable that whomever he interacted with – Catholic nuns, Muslims, Pentecostals – were drawn to him and felt comfortable opening up to him, even if they might not accept who he was as a gay man. Nick was genuinely curious about the world and its people, particularly those on the margins of society. He was always eager for an adventure – whether journeying inward or to far-off lands, Nigeria being a favorite destination. People trusted that Nick would tell their stories with integrity.
Nick came to USC in 2005 to study journalism with Diane Winston, the Knight Chair for Media and Religion, and by the time he graduated in 2007 had become her good friend. Nick worked for Diane, editing a media criticism website and helping her arrange programs and student reporting experiences abroad.
The happiest Diane saw him was when he became a Zen Buddhist priest at the Hazy Moon Zen Center, where he was known by his dharma name, "Shindo." A Zen priest for 15 years, Nick described himself as a Buddhist with a touch of hedonism. He still enjoyed drinking Manhattans until illness made him decide to cut out alcohol. At CRCC, Nick's practice was evident, not only in the incense in his office (that he was instructed not to light), but also in his mindful, focused energy.
"He taught me the importance of slowing down, listening and focusing on people instead of my to-do list, and everything he produced was done with care," said Megan Sweas, CRCC's editor and director of communication.
Nick started working at CRCC in 2011, getting the opportunity to travel the world to capture the work being done by researchers in 20 countries through the Pentecostal and Charismatic Research Initiative. He created a magazine-style report, "Moved by the Spirit," summarizing the impact of the global initiative.
Nick frequently lent his storytelling skills to the Cecil Murray Center, capturing the impact of programming to help Black and Brown church leaders transform their communities through economic development and civic engagement. He also interviewed fellows with CRCC's American Muslim Civic Leadership Institute (for instance, this story on Umar Hakim's work in South LA), and earned a Pulitzer Center award to learn about Muslim civic leadership in Europe.
Journalists must find and tell stories of "invisible Muslims" rather than write about Muslims only in the context of terrorism, he argued in Nieman Reports. In a video on his experience reporting in Europe, he compared the coverage of Muslims to that of LGBT people, both confined to a limited range of emotional registers, either fear or pity. "It was gratifying for me to offer a corrective to that narrowcasting in news media coverage, but also lift up voices that weren't being heard," he reflected.
"He built relationships with marginalized communities, centered their voices and experiences in all aspects of the work," said Soraya Ahyaudin, AMCLI director and CRCC's assistant director of learning design and programs.
Working with CRCC researchers, Nick had the opportunity to put on a social scientist hat and do data analysis, which his detail oriented brain enjoyed. At the same time, he relished in being able to "make broad generalizations with a few data points" as a journalist, while his colleagues looked for nuance in large samples.
In a project on religious creativity and innovation, Nick worked alongside researchers to conduct case studies on groups like Laundry Love, Share-a-Meal, and The Burrito Project, that allowed people of all faiths and none to find meaning. He documented how religious organizations moved around a neighborhood and found unlikely partnerships. Nick also led presentations and panels on religious "nones" (1:05 into video) and new communities of healing, which he started with a meditation: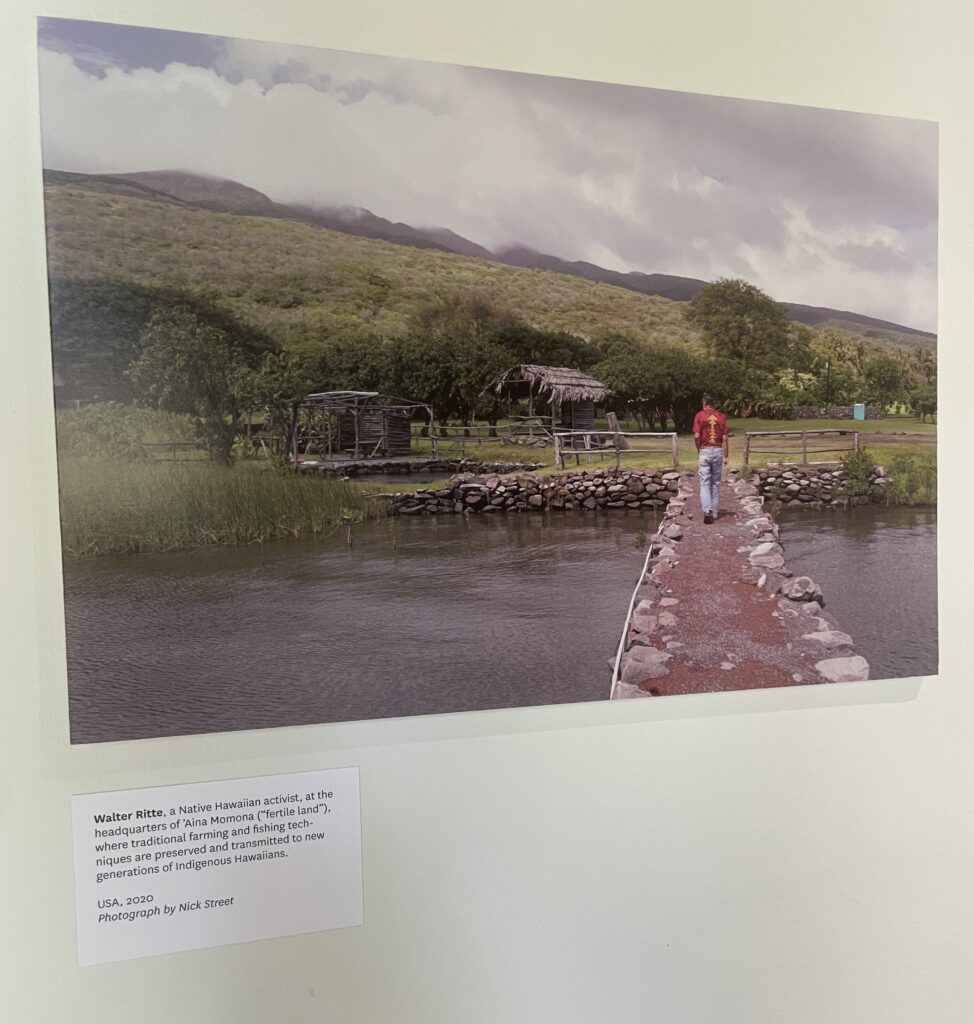 Most recently, he wrote about six people dedicated to human flourishing through the Spiritual Exemplars Project. Though the pandemic kept him from traveling as much as he would have liked, he was able to meet culture bearers and activists preserving Indigenous traditions for future generations in the Philippines and Hawaii, while also helping his researcher colleagues tell their stories. The Hawaii trip was also personally meaningful, as his dad had been stationed at Schofield Barracks in northern Oahu before Nick was born.
During the pandemic, Nick moved to Birmingham, Alabama to be closer to family, but continued to work remotely for CRCC. He profiled a local woman who spearheaded an effort to open a shelter for homeless youth, and connected CRCC with faith leaders working to improve Birmingham. During this time, he also began to apply what he had learned at CRCC about leadership, innovation and collaboration, and created the Alabama Meditation Network.
Having disrobed as Buddhist priest when he left Los Angeles, he filled his spiritual needs by sitting in meditation with as many groups as possible in Birmingham. He saw that by connecting these groups, they could collaborate to offer their members more than they could create on their own. Through the Alabama Meditation Network, Nick organized two successful retreats among the various groups, and was looking forward to taking a step back and seeing others lead a retreat this fall.
Outside of work, Nick was working on a sci-fi novel. He frequently put on a "tin foil hat" during our annual discussions of trends in religion, and joyfully contributed predictions on cults, UFOs and dystopian futures among more serious topics.
Yet Nick was ultimately hopeful.
A lover of science, Nick often described how a caterpillar becomes a "goo" of imaginal cells within its chrysalis (listen at 1:12). Though no discernable brain remains during this stage, the butterfly could remember experiences from its caterpillar stage of life. Like the caterpillar's metamorphosis into a butterfly, Nick suggested, religious institutions could transform as well, their imaginal cells bringing their essence into the future.
As he wrote on Facebook a while back:
"I'm basically an optimistic person. In the midst of loss, suffering and hardship, there's always beauty and kindness. The thangka I bought around this time last year–depicting an androgynous being who embodies wisdom and compassion–reminds me to jettison assumptions and be open to possibilities. Come apocalypse or utopia or some muddle in between, imma be ready!"
"Through his quiet manner, incisive thinking and quick wit, Nick had an enormous impact on the work of CRCC and on each of our lives," said Richard Flory, CRCC's executive director. "His absence leaves a void that will be difficult to fill. It is our hope that Nick's personal spiritual practice helped him find peace at the end of his life. His beauty and kindness will live on through his words, his deeds and the tremendous influence he had on his family, friends and colleagues."
Nick is survived by his brother James (Tad) Street and his wife Christin Street, his nephew and niece, Sam and Emily, and numerous extended family members that adored him. You can read the family's obituary here.
In lieu of flowers, donations may be made in Nick's honor to the Alabama Meditation Network.
Share your story
Nick Street was the USC Center for Religion and Civic Culture's storyteller. We would love to hear your stories about Nick. Please fill out this google form to do so.
---
We recognize the loss of a peer, colleague or friend can cause great distress. At these times, it may help to seek grief counseling. We encourage you seek out resources from your congregation or community group. If you are part of the University of Southern California community, counseling resources are available for grieving students through Counseling and Mental Health at (213) 740-9355 (WELL) and for faculty or staff through the WorkWell Center at (213) 821-0800. 

If you are concerned about the well-being of a fellow student, faculty or staff member, please let us know through Trojans Care 4 Trojans so we may reach out directly with support and intervention.