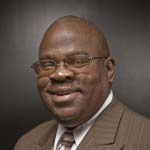 Keith Johnson grew up just a couple of miles from the park that serves as the training center for the Southern California Falcons Youth Football and Cheer Program, which he founded in 2005.
"Back in the day you could still play in the streets," says Johnson, who's in his mid 40s. "And there was a certain level of respect for the church. Now kids are tagging churches. Times have definitely changed."
Johnson cites both social stresses accompanying demographic shifts in South Central Los Angeles—"The neighborhood used to be predominantly African-American," he says, "now it's mostly Latino"—and the failure of many black churches to respond to those changes as key contributors to the uptick in violence.
"The worst you would expect used to be black-on-black fisticuffs," Johnson says. "Now warring black and Latino gangs are settling scores with drive-by shootings."
Johnson says that many black churches have been slow to adapt to the evolution of their communities and the changing needs of the young people they serve. In a part of Los Angeles where a third of the households are living at or below the poverty line, those unmet needs quickly compound problems—truancy, drug use, family instability and economic stagnation—that make gang membership seem like one of the few choices offering upward mobility.
Focusing on the key age-bracket when children are being shaped by their interaction with peers—from ages 6 through 14—Johnson decided to create an organization that would replicate the functions of the institutions that had molded him when he was a young person.
"Falcons Youth uses football and cheer as magnets to bring kids in," Johnson says. "But it's really a social recovery program for at-risk youth."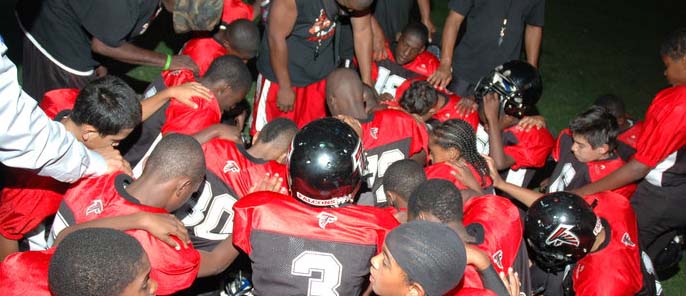 Johnson hopes the mentoring and social skills that boys and girls acquire through Falcons Youth will not only diminish the appeal of gangs and drugs but also prepare them to make positive contributions to their communities—an aspiration embodied in the organization's motto: "New school kids, old school values."
As the football and cheer programs have thrived, Falcons Youth has expanded to include a mobile homework station for training participants as well as several other intervention initiatives to address needs ranging from character development to physical fitness. The ongoing community enhancement strategies at Falcons Youth reflect many of the networking skills that Johnson says he acquired through the Institute for Violence Prevention. And the flourishing of the organization is also deeply rooted in both the nostalgia and the optimism of its founder.
"Children need to play again," Johnson says.
Nick Street was a senior writer with the USC Center for Religion and Civic Culture.