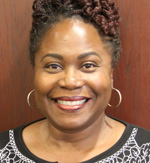 Not long ago, Lydia Hollie's nephew, a young veteran of the war in Iraq, was stopped by the police in central Long Beach.
"Are you on probation or parole?" one of the officers asked Leon Hollie, who's now a senior at Clark Atlanta University.
After Leon related the story of the officer's grim assumption to his aunt, he told her, "Now I know what it feels like to be an Iraqi."
Understanding how unexamined social narratives can cause conflict—along with how community activism can help to get people on the same page—is one the underlying imperatives for Lydia's work as co-chair of the Long Beach Weed and Seed Strategy Steering Committee. An even deeper motivator is her intimate acquaintance with the wages of urban decay in her native Long Beach.
"A lot of the social ills we're dealing with now didn't exist for me when I was growing up here," Hollie says. "The ghetto came to me."
The twin plagues of violence and desperation have claimed the lives of many young people known to Hollie, who's also a teacher in the Lynwood Unified School District north of Long Beach. Even closer to home, Hollie's younger brother was caught in his community's downward spiral. Robert Hollie is currently serving 25 years to life in a federal penitentiary.
"Despite my family's poor relations with law enforcement," Lydia says, "I'm committed to working with them for the greater good. I credit my father"—a career military man—"for instilling in me the importance of keeping things in a broader perspective."
That broad-minded commitment to bringing stakeholders together to reverse destructive trends in her community led to service on the Long Beach Human Rights Commission and, subsequently, to a four-year stint as chairperson of the city's Youth and Gang Violence Prevention Task Force. Her current leadership position with Long Beach Weed and Seed entails overseeing a comprehensive spectrum of programs—from gang intelligence and community policing to drug-use intervention and green-space development—intended to retool the social machinery of the city from top to bottom.
"Every society is perfectly engineered to get the results it is getting," Hollie says. "So with the resources we have, how do we get deeper into root causes to bring about the kind of change we desire?"
Her experience with the Institute for Violence Prevention was particularly helpful in helping her "pull back the layers" of the issues that will likely someday come into play for her brother.
"Does a perpetrator have a responsibility to the community?" she was compelled to ask. "How do they repay that debt? How do we help them reconnect?"
Weed and Seed's reentry employment plan for ex-offenders embodies Hollie's belief that building social capital is a matter of both good policy and intimately focused advocacy.