"Stories of Social Change: Spirituality in Action" is a multimedia exhibit at USC Annenberg.
Listen to music by people featured in the exhibit while touring the exhibit or at home.
Spirituality
In the act of responding to a human need, one is drawn into a deeper understanding of religion and moral values. Religion can inspire people to engage in humanitarian work. It can sustain them when facing difficult issues. The work also can transform the individual and affect their understanding of theology, spirituality and humanitarianism.
On this page, explore how humanitarians and activists draw on the traditions of Buddhism, Christianity, Islam, Humanism, Indigenous beliefs and more.
Banner Legend
Fabric banners throughout the exhibit share quotes from interviews with the exemplars. The patterns on each banner represent the faith tradition of the person quoted.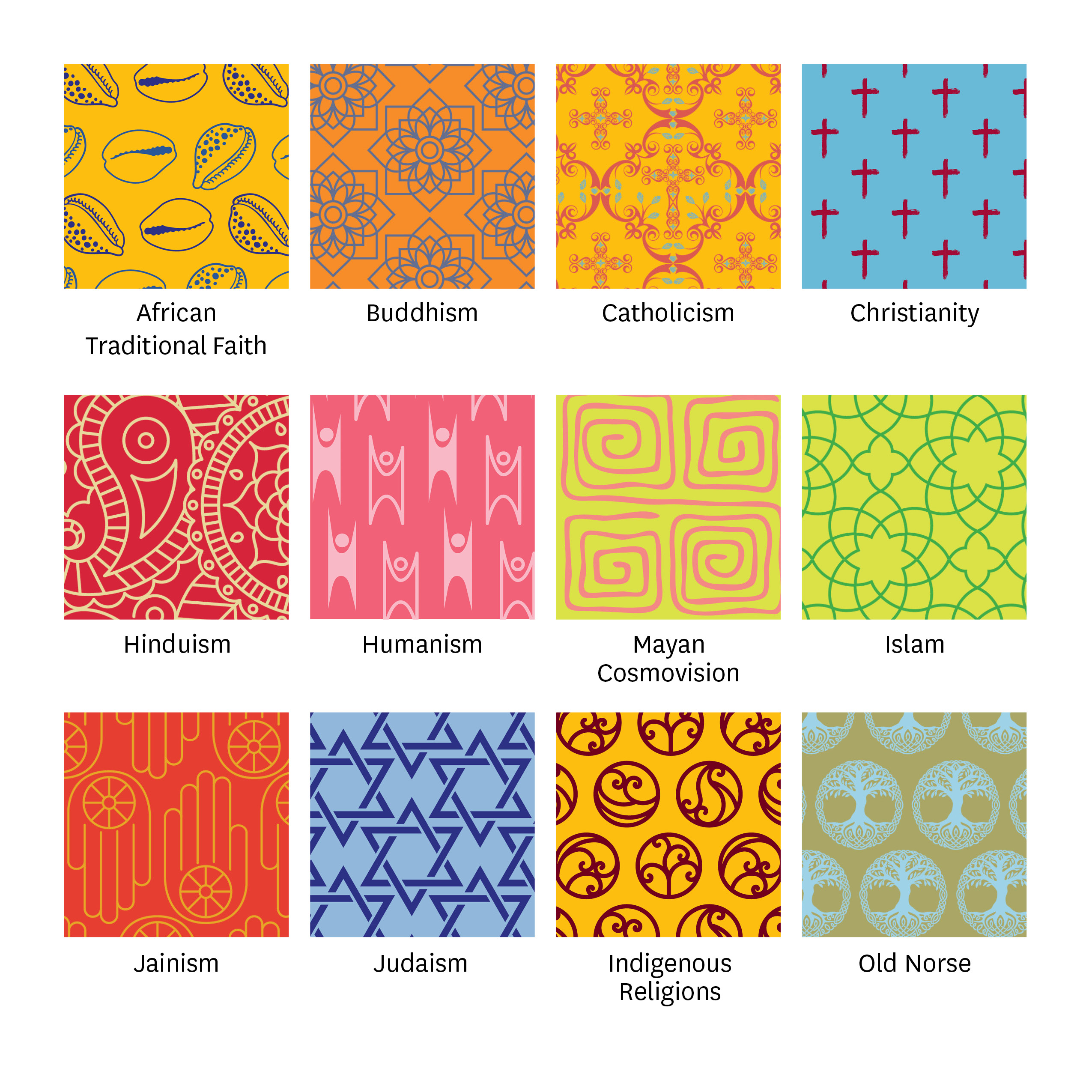 ---
Sister Rosemary Nyirumbe
Hear Sister Rosemary Nyirumbe share how being a Catholic sister inspires her and helps her deal with trauma:
Nyirumbe, a CNN Hero, works with orphans and former child soldiers through the Sewing Hope Foundation in Gulu, Uganda.
Read a profile of Sister Rosemary Nyirumbe
Researcher: Donald E. Miller
---
Plum Village
Visit Plum Village Mindfulness Practice Center, founded by Thich Nhat Hanh (deceased 2022) in the south of France. See and hear scenes from the New Years Retreat 2020:
The Plum Village monastic community carries on the efforts of Vietnamese monk and activist Thich Nhat Hanh (deceased 2022) to spread mindfulness and apply Buddhism to modern-day social challenges.
Read about Plum Village after the death of its founder
Journalist: Megan Sweas
---
Sister Pat Murphy
Hear the story of how Sister Pat Murphy and Sister JoAnn Persch were arrested on Capitol Hill, protesting for migrant rights:
The two Mercy Sisters have provided shelter and comfort to migrants in Chicago for decades.
Listen to the full a podcast episode about them from The Spiritual Edge:
Journalist: Heidi Shin
---
Zikr in Georgia
Listen to women chanting Islamic prayers in Georgia:
A group of Kist women perform a Zikr every week led by Raisa Margoshvili. Makvala Margoshvili (deceased 2021) started a musical ensemble to share the culture of the Pankisi Valley.
Read about her efforts to support her community
Journalists: Julien Pebrel and Clemént Girardot
---
Imam Muhsin Hendricks
Hear how faith guides Imam Muhsin Hendricks as he takes on the controversial work of creating space for gay Muslims. Imam Hendricks is the world's first openly gay imam:
Watch the full video profile of Imam Muhsin Hendricks
Journalist: Kim Lawton
---
Layli Miller-Muro
Hear Layli Miller-Muro, a lawyer and women's right activist, say Bahá'í prayers and explain how the daily practices of the Bahá'í faith influence her.
Tahirih Justice Center, founded by Layli Miller-Muro, has provided free legal defense to 27,000 women fleeing human rights abuses.
Watch the full video profile of Layli Miller-Muro
Journalist: Kim Lawton
---
Father Zerai
Watch Eritrean Catholic priest and Nobel Prize nominee Father Mussie Zerai celebrate mass with the Eritrean Catholic community in Zurich.
Known as the "migrant priest," Father Zerai has helped save 150,000 people from the Mediterranean Sea by answering distress calls from migrant boats and compelling the authorities to act.
Watch a documentary about Father Mussie Zerai
Journalist: Linda Freund
---
Carmen Santiago Alonso
Watch a water ritual organized by Flor y Canto, an organization that helped Indigenous communities gain water rights in Oaxaca, Mexico. Founder Carmen Santiago Alonso (deceased 2022) describes what inspires her environmental activism:
Read an obituary and watch the full video interview with Carmen Santiago Alonso
Journalists: Magdalena and Noel Rojo
---
Sameer
Peace activist Sameer (pseudonym) screams into the void, a spiritual practice he uses to surrender his pain to the emptiness of the desert. Listen as he leads reporter Shaina Shealy in the ritual:
Listen to the full a podcast episode about the peace activist from The Spiritual Edge:
Journalist: Shaina Shealy