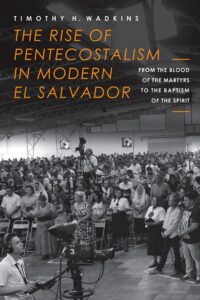 The Rise of Pentecostalism in Modern El Salvador: From the Blood of the Martyrs to the Baptism of the Spirit
by Timothy H. Wadkins (Baylor University Press, 2017)
The writing of this book was supported by the Pentecostal Charismatic Research Initiative.
El Salvador has experienced a dramatic religious transformation over the past half-century. In what was once an almost exclusively Catholic nation, more than 35 percent of the people are now evangelical Protestants, mostly identified as charismatic or Pentecostal.
While having some roots in Protestant missions from North America and Europe, the religious renaissance overtaking El Salvador is both homegrown and closely related to the nation's social, cultural, and economic upheavals. Since the end of the Salvadoran Civil War, the traditional social order—which was established in colonial times, ruled by elites, enforced by the military, and supported by the Church—has been overturned. Once a world of haciendas, plantations, and old merchant firms, El Salvador is now home to new factories, shopping malls, fast food restaurants, and call centers. Modernization has brought new ideas too—about asserting individual rights and making choices, forming communities, voting in elections, consuming material goods, employing technology, and engaging with global culture.
The Rise of Pentecostalism in Modern El Salvador explores how this vast social transformation has opened the gates to runaway religious creativity and competition. In weaving together the lively and complex story, author Timothy Wadkins employs the scholarly tools of historical reconstruction, theological analysis, and ethnographic interviews, as well as the results of a pioneering national religious survey. The outcome is a comprehensive and detailed picture of El Salvador's religious renaissance against the backdrop of El Salvador's fitful path toward modernization and democratization.