This post originally appeared on Huffington Post.
Leo Santa Cruz is the undefeated, undisputed champion of America's best boxing city, Los Angeles. He won that title after defeating Abner Mares, a fellow Angeleno, at the Staples Center last August. But boxing has never been just a sport to Santa Cruz, it has always been a means to an end.
As a kid, Leo's dad Jose, worked as day laborer in and around Compton. When Jose could find steady work washing dishes, painting houses and mowing lawns, he paid the rent for the family's one-bedroom apartment and the food that went on the table. When the work was hard to find, so was money for rent and food.
I sat down to talk with Leo Santa Cruz at his gym earlier this year. When we talked about his childhood, he remembered two things about living in Compton: food and fear. There was too much of one and not enough of the other.
"It was hard growing up," Leo told me. "We used to live right there in Compton. When I was small there were a lot of shootings and a lot of gangs. I remember not having enough to eat and praying that my trainer would bring us something to eat."
Jose saw that his family was scared and suffering, and he was skeptical that his line of work offered a solution for their problems. As head of the household, he made a high-risk/high-reward wager that would change the trajectory of the Santa Cruz family. He began training his four sons as boxers and told them, "One of you will be world champion."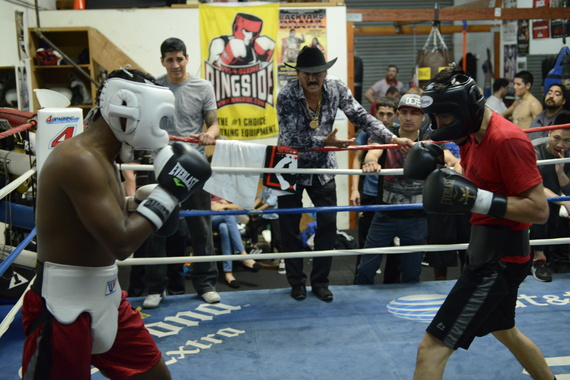 The oldest didn't take to the sweet science, but under their father's tutelage, Robert, Jose Armando and Leo, the youngest son, showed promise in the ring. Lupus ended his brother Robert's career (and almost his life), and swelling in the brain derailed Jose Armando's shot at a championship.
Jose Armando's boxing-related brain injury was the risk side of his father's wager. Leo's career would be the reward.
With his brothers on the sidelines, Leo trained and fought with the weight of his family's future on his shoulders.
"I wanted to fight for the future of my family," Santa Cruz said. "I thought, 'I am going to work hard for this and sacrifice and hopefully it will pay off.' Thankfully it did. We live in a big house now. We each have our own room, and we always have enough to eat, so I can't complain."
The family's journey took them from Compton to an apartment on the east side of Monterrey Park and eventually to a house in Lincoln Heights, East Los Angeles. Their destination was appropriate, said Andrew Rodriguez, a life-long friend and Leo's executive assistant who had a front-row seat to struggles and victories of what is now the first family of L.A. boxing. "East Los Angeles is always going to be home to boxers. You could say that it the mecca of boxing."
Maybe East L.A. should be called the "Vatican of boxing" because of the neighborhood's historic and visible Catholic identity.
The Virgin of Guadalupe, the patron saint of Mexico, is the star of East L.A.'s street art. Images of the saint color the neighborhood and turn profane streetscapes into something sacred.
Her brown skin and merciful eyes look over Los Angeles' east side from countless street corners, freeway sound barriers and hanging from the necks' of its boxers.
"To us and the boxing community, the Virgin is where you go to draw strength," Rodriguez said. "You see it all over East Los Angeles, you always see it. It is embedded in our minds, it is embedded in our hearts."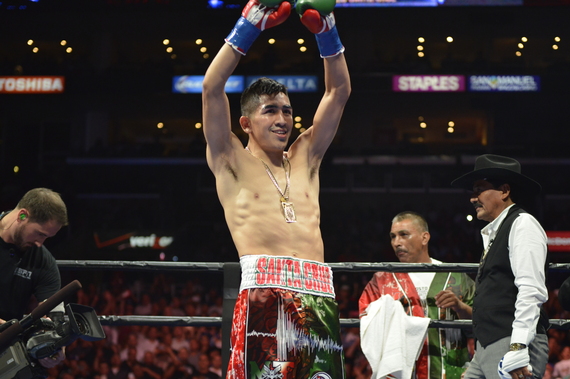 Leo Santa Cruz, a Catholic himself, entered the ring for the fight against Mares with a gold medallion of the saint dangling over his shoulders, but he no longer asks the Virgin of Guadalupe to intercede in order to put food on his family's table or to provide a better place to live. Those pleas have been answered.
Now Santa Cruz asks her to help him build his legacy and help him become one of the greatest fighters to come out of the City of Angels (and saints).
Photos of Leo Santa Cruz courtesy of Raymond Rodriguez.
Photos of Our Lady of Guadalupe by Mike Arzola
Andrew Johnson is a contributing fellow with the USC Center for Religion and Civic Culture.