This post originally appeared on Huffington Post Religion.
Many professional athletes pray before they compete, but boxers' prayers are special. On a recent Saturday night, Artur Szpilka was carried from the ring inside Brooklyn's Barclays Center on a stretcher after a brutal right from Heavyweight Champion Deontay Wilder rendered him unconscious. I watched the fight and when I saw the punch land, I thought Szpilka was dead.
Szpilka recovered from the blow and wants to fight again, but Prichard Colon, a welterweight from Puerto Rico, currently lies comatose in a hospital bed as a result of his October 17th fight in Fairfax, Virginia. The Twitter handle #PrayForPrichard provides updates on the fighter's condition. Boxers put their lives on the line in every time the bell rings.
The perils of his chosen profession are not lost on Robert "The Ghost" Guerrero. "This is a sport where anything can happen," the former world champion said. "One punch could change your whole life. It brings you closer to God."
In the lead up to his fight with Philadelphia's Danny Garcia, I asked the "The Ghost" about his faith and the content of his prefight prayers.
"I pray that God puts a hedge of protection over the whole ring–myself, the other fighters, all of the participants fighting that night," he said. "It is dangerous; one punch can change everything…. But when it is over you want to see your opponent walk away and be able to spend time with his family."
Guerrero also prays for supernatural support during the fight, "I always pray that God gives me wisdom in the ring, to keep my eyes sharp, my hands sharp, my legs sharp and my reactions sharp."
The boxer's prayer asks God for both protection and violence.
Prayer has been an integral part of Guerrero's six-week training camp in preparation for the main event at the Staples Center in Los Angeles. "Throughout my training camp and throughout my day, I talk to Jesus. I pray to stay grounded and to stay as humble as possible."
Robert's manager, Bob Santos, believes that his fighter's spiritual life is integral to his success in the ring. "If you are not right spiritually, nothing else matters. His body can be in the greatest shape of his life, but if he not there spiritually and mentally, none of that matters."
Can you punch someone in the face for Jesus? It depends who you ask. On the surface there seems to be an inherent conflict between the biblical command to turn the other cheek and the violence that boxing demands. Guerrero is content to let the theologians debate the question because he is at peace with being a Christian fighter. He told me emphatically after his Wednesday workout at City of Angels Boxing Gym, "I fight for the Lord."
In fact, Guerrero sees the upcoming bout as a platform to share his faith. He believes God has put him on an international stage to "inspire others and plant that seed in peoples lives." When he enters the ring, he will have Acts 2:38 sewn onto his trunks. It is his way of letting God speak through him. The New Testament verse reads, "Repent and be baptized, every one of you, in the name of Jesus Christ for the forgiveness of your sins. And you will receive the gift of the Holy Spirit."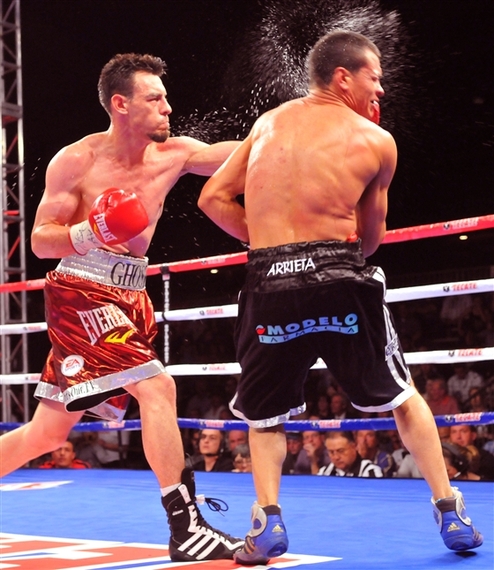 Boxing fans in general organize around tribal affiliations. In their eyes, the fighters are not just skilled athletes, they are the fighting pride of their country, race, ethnicity or hometown. Guerrero's upcoming battle with Garcia has provoked an especially emotional response from boxing fans because it is the latest chapter in the decades old rivalry between Puerto Rico and Mexico. This is boxing's version of Yankees versus Red Sox, Lakers versus Celtics or Vikings versus Packers. Guerrero is of Mexican heritage and Garcia is a Puerto Rican-American and both countries' flags will be waving in the stands on Saturday night.
When Guerrero was asked if he was excited about fighting in Los Angeles, he responded, "Oh, most definitely. That is where most of my Mexican fans are, all those Latinos out there, all those — I like to call them Chicanos out there — because that's what we are."
Christian and Chicano fans inside the Staples Center and watching on television rooted for Robert Guerrero because of who he is. He is a member of their tribe and they cheer as if he was fighting for them.
But at its essence, boxing is the most individual of sports.
The fans will not have to dodge or throw any punches, their eyes will not swell shut as the fight progresses and they will not taste blood in their mouths or wipe it from their eyes. Fans will not have to rise from their corner's stool every three minutes to face what may be a life-changing round of boxing. The futures of the fans' families are not on the line.
Robert "The Ghost" Guerrero fights. But before he enters the ring, he will pray the boxer's prayer and ask God for both protection and violence.
Photos courtesy of Robert Guerrero.
Andrew Johnson is a contributing fellow with the USC Center for Religion and Civic Culture.