This post originally appeared on Huffington Post.
Last November Andre Berto made an unannounced trip to Inova Fairfax Hospital. He went to visit both a comatose Prichard Colón and a family pleading with God to wake up their son. Colón collapsed from a brain injury on October 17, 2015 immediately following a welterweight bout versus Terrell Williams. He remains in a coma. "I went to the hospital," Berto told me in a phone interview, "to show my support and pray with the family."
When I asked about the content of his post-fight prayers with the Colón family, he responded, "I prayed that the Lord would bring healing to Prichard, strength to the family and to cover the situation in the blood of Jesus."
The content of boxers' pre-fight and post-fight prayers can be very different from each other. Many fighters' ask God for both protection and violence before they enter the ring, whereas their post-fight prayers may give thanks or plead for healing. Berto's prayer in Colón's hospital room room is an example of the latter.
When I spoke with Berto, he was in pre-fight mode preparing for a rematch with "Vicious" Victor Ortiz.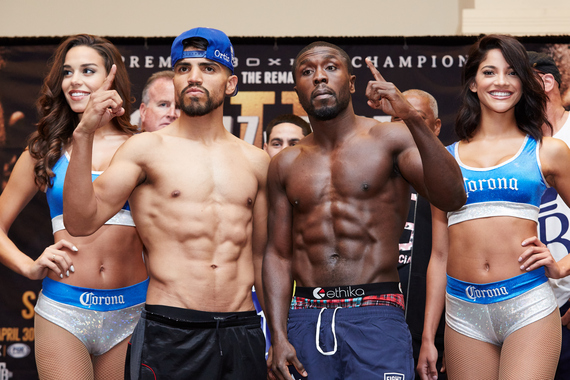 Berto faced Ortiz for the first time in 2011 in a furious fight that changed the trajectory of his career. He entered the fight undefeated and a heavy favorite against a skilled, but wildly unpredictable Victor Ortiz. Each boxer knocked the other to the canvas in the early rounds, but the fight hit its violent crescendo in the sixth when Berto flattened Ortiz with a right hand. As the referee counted, both Ortiz and the crowd rose to their feet. Ortiz got up to keep fighting, but the fans stood anticipating Berto would finish the fight with a knockout. Ortiz absorbed the next wave of punches, waited for an opening, then landed a pair of left hooks on Berto's chin that folded the fighter into a motionless heap in the center of the ring.
The crowd lost their collective senses, erupting into an uncontrolled frenzy. Berto crawled to his feet, beat the count and finished the fight, but the damage was done and he lost a unanimous decision to "Vicious" Victor.
The fight was great for the fans, but not for Berto. I asked how he felt after the loss, "It was devastating" he said, "I closed myself in and I just stayed in the house." His situation worsened when he lost two of his next three fights and then hit bottom after he tore a tendon in his shoulder during a 2013 fight against Jesus Soto Karass.
The surgery and rehabilitation required to repair Berto's shoulder left him physically and emotionally wounded. Unsure if he would ever fight again the boxer faced an unfamiliar foe, depression. His family stuck close, but his managers and promotional team vanished, focusing their attention on younger, more profitable fighters. Along with the support of his family, Berto credits the friendship, support and prayers of fellow fighter, Andre Ward, to help him navigate what he referred to as "dark days" and inspire a return to the ring.
"Me and my boy Andre Ward," said Berto thinking back to 2013, "we sat down and talked and prayed together. I literally remember the words of our conversations…I really felt the spirit (of God) during that time." The post-fight prayers the two boxers prayed together kept Berto "sane" during his recovery and emotional struggle. They helped reignite both his faith in God and his career in boxing.
Berto trained with Andre Ward at his gym near Oakland to get ready for the rematch against Ortiz. Some of Ward's influence will be on display in Berto's boxing on Saturday night, but another aspect of his impact has already materialized. Just like Ward showed up to support Berto when he was hurt and in need of a praying friend, Berto has visited Prichard Colón twice and says he will keep praying until his colleague emerges from the coma.
Examining pre-fight/post-fight prayers and the religious practices of boxers does not culminate in a neat, cohesive theology. In fact, one could argue that more boxers should direct their prayers towards asking God the following question, "Should we be fighting each other for money?"
Instead of producing a "theology of boxing" the religious lives of fighters serve as examples of how people live out their faith in an uncertain, unpredictable world where not everything makes sense. As theologian Greg Boyd argues in his book Is God to Blame?, "We pray as we live: in a sea of ambiguity."
Many boxers practice their faith in churning, choppy theological waters and pray in the midst of ambiguity, triumph and tragedy. Boxers may participate in a unique profession, but all of us who pray have our own versions of pre-fight and post-fight prayers.
Andrew Johnson is a contributing fellow with the USC Center for Religion and Civic Culture.