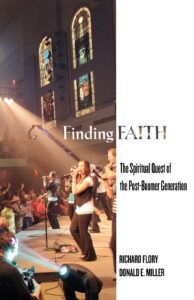 Finding Faith: The Spiritual Quest of the Post-Boomer Generation
Richard Flory & Donald E. Miller
(Rutgers University Press: 2008)
Despite the masses still lining up to enter mega-churches with warehouse-like architecture, casually dressed clergy, and pop Christian music, the "Post-Boomer" generation-those ranging in age from twenty to forty-is having second thoughts. In this perceptive look at the evolving face of Christianity in contemporary culture, sociologists Richard Flory and Donald E. Miller argue that we are on the verge of another potential revolution in how Christians worship and associate with one another.
Just as the formative experiences of Baby Boomers were colored by such things as the war in Vietnam, the 1960s, and a dramatic increase in their opportunities for individual expression, so Post-Boomers have grown up in less structured households with working (often divorced) parents. These childhood experiences leave them craving authentic spiritual experience, rather than entertainment, and also cause them to question institutions. Flory and Miller develop a typology that captures four current approaches to the Christian faith and argue that this generation represents a new religious orientation of "expressive communalism," in which they seek spiritual experience and fulfillment in community and through various expressive forms of spirituality, both private and public.
An excerpt from the opening chapter:
Although this book is framed around issues of Post-Boomer religious beliefs, and in particular, focuses on Christian groups, we believe that it is also helpful to think of the approaches/perspectives presented here as places where new and emerging forms of religious expression will start and then filter into and entire religious institutions and belief systems.
Richard Flory is the executive director of the USC Center for Religion and Civic Culture.
Donald E. Miller is the director of strategic initiatives with the USC Center for Religion and Civic Culture.