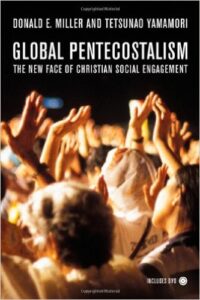 Global Pentecostalism: The New Face of Christian Social Engagement
Donald E. Miller & Tetsunao Yamamori, Authors
(University of California Press: 2007)
How and why is Christianity's center of gravity shifting to the developing world? To understand this rapidly growing phenomenon, CRCC Co-Founder Donald E. Miller and Contributing Fellow Tetsunao Yamamori spent four years traveling the globe conducting extensive on-the-ground research in twenty different countries in Africa, Asia, Latin America, and Europe. The result is this vividly detailed book and accompanying online material, which together contain the most comprehensive information available on Pentecostalism, the fastest-growing religion in the world. Rich with scenes from everyday life, Miller and Yamamori dispel many stereotypes about this religion as they build a wide-ranging, nuanced portrait of a major new social movement. The online ancillary material features footage of Pentecostal religious worship, testimony, and social activism, and includes interviews with Pentecostal pastors and leaders from around the world.
Donald E. Miller is the director of strategic initiatives with the USC Center for Religion and Civic Culture.