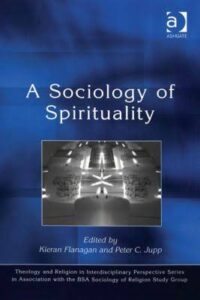 A Sociology of Spirituality
Kieran Flanagan, editor
(Routledge: 2007)
The emergence of spirituality in contemporary culture in holistic forms suggests that organised religions have failed. This thesis is explored and disputed in this book in ways that mark important critical divisions. This is the first collection of essays to assess the significance of spirituality in the sociology of religion.
The authors explore the relationship of spirituality to the visual, individualism, gender, identity politics, education and cultural capital. The relationship between secularisation and spirituality is examined and consideration is given to the significance of Simmel in relation to a sociology of spirituality. Problems of defining spirituality are debated with reference to its expression in the UK, the USA, France and Holland. This timely, original and well structured volume provides undergraduates, postgraduates and researchers with a scholarly appraisal of a phenomenon that can only increase in sociological significance.
CRCC's Richard Flory and Donald E. Miller co-authored a chapter in the book titled, "The Embodied Spirituality of the Post-Boomer Generations."
Richard Flory is the executive director of the USC Center for Religion and Civic Culture.
Donald E. Miller is the director of strategic initiatives with the USC Center for Religion and Civic Culture.