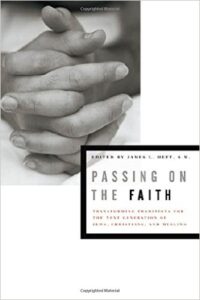 Passing on the Faith: Transforming Traditions for the Next Generation of Jews, Christians, and Muslims 
James L. Heft (ed.)
(Fordham University Press: 2006)
This books was supported by the USC Center for Religion and Civic Culture through a grant from the Lilly Foundation.
CRCC's Tobin Belzer, Richard Flory, Nadia Roumani and Brie Loskota contributed a chapter on "Congregations that Get It" for this book. In this chapter, they examine the common traits among Jewish, Christian, and Muslim congregations that are successful in their efforts to incorporate adults in their 20s and 30s.
Book description:
From the beginning, the Abrahamic faiths—Judaism, Christianity, and Islam—have stressed the importance of transmitting religious identity from one generation to the next. Today, that sustaining mission has never been more challenged. Will young people have a faith to guide them? How can faith traditions anchor religious attachments in this secular, skeptical culture?
The fruit of a historic gathering of scholars and religious leaders across three faiths and many disciplines, this important book reports on the religious lives of young people in today's world. It's also a unique inventory of creative and thoughtful responses from churches, synagogues, and mosques working to keep religion a significant force in those lives.
The essays are grouped thematically. Opening the book, Melchor Sanchez de Toca and Nancy Ammerman explore fundamental issues that have an impact on religion—from the cultural effects of global consumerism and personal technology to pluralism and individualism. In Part Two, leading investigators present three leading studies of religiosity among young people and college students in the United States, illuminating the gap between personal values and organized religion—and the emergence of new, different forms of spirituality and faith.
How religious institutions deal with these challenges forms the heart of the book—in portraits of "best practices" developed to revitalize traditional institutions, from a synagogue in New York City and a Muslim youth camp in California to the famed French Catholic community of the late Brother John of Taizé. Finally, Jack Miles and Diane Winston weave the findings into a broader perspective of the future of religious belief, practice, and feeling in a changing world.
Filled with real-world wisdom, Passing the Faith will be an essential resource for anyone seeking to understand what religions must, and can, do to inspire a vigorous faith in the next generation.