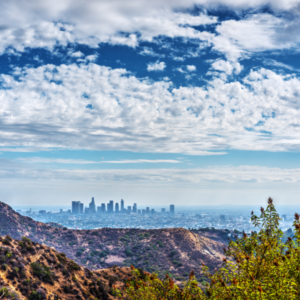 A little over a year ago, I was preparing to offer communion to my congregation. Los Angeles First United Methodist Church owns land on the corner of Flower and Olympic, near the Staples Center. We met outdoors under pop-up tents in the middle of our beloved, drowsy city, and on a gray January day, our parking lot was beginning to fill up with sleek black vehicles transporting attendees to the Grammys. As I approached the first parishioner to offer him the communion elements, he whispered over the low din of traffic: Kobe Bryant is dead. 
As days stretched into weeks of mourning, the news cycles continued with reports about the helicopter crash which took the lives of nine innocent people. Interspersed were ongoing updates about the virus, which was slowly starting to appear in the United States. For many Angelenos, we couldn't imagine anything worse than a beloved sports hero, in the prime of his life, dying alongside his daughter and so many of their friends. As the flowers began to fade and the murals began to dry, the tears of mourning shifted into the quiet dread that the deadly strain of the coronavirus was not being contained. 
March 15, 2020 was the last day my congregation met for worship in person. Since then, we have moved from our tents in the parking lot to our own homes, for those blessed to have them. I went from being a street preacher to being a televangelist. We are in exile, our makeshift tabernacle is packed away in the POD sitting on our lot, and we have traded passing the peace for greetings in the chatbox. 
The Christian tradition has just begun the season of Lent, which is our opportunity to enter into the wilderness as Jesus did at the start of his ministry. This season is dedicated to spiritual disciplines of fasting, prayer and austerity. We are invited to "give something up," just as Christ sacrificed on our behalf. 
But this year, it felt wrong to invite my congregation to "give something up." We have given up so much already: our health, our work, our normal ways of being. The grip that sorrow has on our hearts is unyielding, and we are living through ongoing trauma. The prayer of my heart is less often one of praise and more often an echo of the Israelites' plea with God: "Why have you brought us up out of Egypt to die in the wilderness?" (Numbers 21:5) 
The Christian tradition is steeped in suffering. We believe that God entered the world as Jesus. We believe that God lived, suffered and died so that none of our human experiences would happen outside of God's own experience. God chose to suffer because we suffer. But, we also believe that suffering does not have the last word on our experience. 
"Indeed, God did not send his son into the world to condemn the world, but in order that the world might be saved through him" (John 3:17). I continue to hope that, even if what we've lost cannot be restored, that we can be saved from our despair. 
Rather than being defined by our suffering, we have dedicated our Lenten discipline to hope. This year, we are choosing to be defiant in our joy and subversive in our hope.