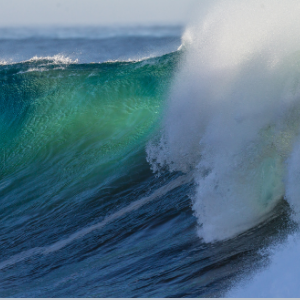 Psalm 89:9
You rule the swelling of the sea;
When its waves rise, You still them.
So often we think of imagery, metaphors and symbols that relate to water when we think of our faith. Water is truly the essence of life as we process what the earth is made up of, what the body is made of and how we eliminate toxins in the body. We can often become dehydrated, both in the spiritual sense and the physical sense, and long for something fresh, something new, something life-giving to wash over us. Have you ever been in this place where the well ran out, where your heart just hurt or you couldn't quite understand why your reality felt like it was lacking a little something or a whole lot of something?
This past year, the waters were troubled, the waters were stirred up, the waters reached a boiling point…a tsunami, even, in its impact. So many of us felt consumed and overtaken by what we thought was going to be the year of perfect vision and smooth sailing. Instead, we succumbed to close to 1,000 people dying by the hands of law enforcement, most of whom roamed this earth in Black skin. We witnessed the poor handling of a global outbreak and, now in the United States of America, sit with half a million lives lost, and counting. As a member of the queer community, trans siblings were murdered and brutally beaten in the street, folks were in need of healing due to chronic conditions of the body and the mind. We isolated ourselves from one another, broken-hearted, devastated, defeated–and now the collective trauma and grief is washing up to shore.
At 33 years of age, I know a little something about the waters running dry–see, I lived with kidney disease for some time in my life. I know a lot about having expectations, and they suddenly halt, as if by magic. I remember the long nights of dialysis, edema in my feet, swelling in my face, cycle halting, toxins building up and only being able to take small sips of water throughout my days.
During those times, I remembered as a child they would sing:
"Wade in the water, God's-a-gonna trouble the water."
Our scripture, and this spiritual, remind us that we are not in charge of the storm. We are in charge of how we show up in it. We are not in control of the elements, but we surely have the power to work with them. Yes, we thought Jesus was sleeping on that boat, but we are the ones sleeping on the role we are to play in the midst of this pandemic we are in. In the midst of the pain, in the midst of the rebuilding, in the midst of pressing on, in the midst of wading and waiting.
2020 was an example of what happens when waves arise. But surely life-giving waters are flowing through my body yet again. Have faith and know: Our Creator will calm the swelling seas, still the troubled waters and empower us to live again!